2013 World Championships for Young Dressage Horses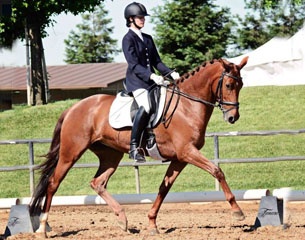 The 5-year old Dutch bred mare Dalina DG and the 6-year old Dutch bred and Westfalian licensed stallion Vitalis became the grand winners of the young horses classes at the 2013 CDI Flintridge, which served as American qualifier for team selection for the 2013 World Young Horse Championships in Verden this summer.
The 19-year old Ashlyn DeGroot saddled DG Bar Ranch's chestnut mare Dalina DG (by Jazz x Contango) for the Flintridge young horse trials and put big scores on the board. She placed second in the preliminary test with 80.200 points but dominated the Finals test with a strong 87.200 to produce an overall mark of 84.400. Flintridge was only DeGroot and Dalina's second show ever. Ashlyn is the grand daughter of Tony and Betty DeGroot, founders of DG Bar Ranch of Hanford, California. She is coached by DG Bar Ranch's head trainer Willy Arts, who competed the mare last year as a 4-year old. DeGroot was also the runner-up in the 5-year old division aboard Dancing Queen DG (by Jazz x Junior) with whom she scored an overall mark of 81.440.
In the 6-year old division Danish born American Charlotte Jorst pulled a stunt by posting the highest scores ever given to a young horse in the U.S.A. at a Verden WCYH selection trial. Jorst and the Dutch warmblood stallion Vitalis (by Vivaldi x D-Day) won the preliminary test with 91.80 points and the Finals' test with 92.00 points to average 91.92. Trained by Volker Brommann, the 48-year old Jorst acquired Vitalis in the autumn of 2012. The chestnut stallion was owned by Eugene Reesink and Willeke Bos and became the reserve Westfalian Licensing champion in 2009. The stallion was leased to the Westfalian state stud for two years and then moved back to Holland to be trained by Hans Peter Minderhoud. Due to the Olympics, assistant trainer Marieke van der Putten competed the stallion at the 2012 World Young Horse Championships in Verden. Ashlyn DeGroot and the Dutch bred Calvin Klein (by Dolany x Weyden) were the runners-up with an average of 78.36 points.
In order to be considered for Verden, American pairs have to score 8.2 or higher.
Photo © Amy McCool
Results - 2013 Young Horse Dressage Western Selection Finals - Flintridge
5-year olds
1. Ashlyn DeGroot - Dalina DG - 80.200 - 87.200 --- 84.400
2. Ashlyn DeGroot - Dancing Queen DG - 81.00 - 81.600 --- 81.440
3. Kathleen Raine - Finesse - 76.200 - 77.200 --- 76.800
4. Karen Ball - Calimero - 74.000 - 75.000 --- 74.600
5. Stacee Collier - Deja Vu - 72.400 - 74.400 --- 73.600 
6. Morgan Barrows - San Siro - 72.200 - 74.200 --- 73.4000
6-year olds
1. Charlotte Jorst - Vitalis - 91.80 - 92.000 --- 91.920
2. Ashlyn DeGroot - Calvin Klein - 77.400 - 79.000 --- 78.360
3. Craig Stanley - Caliente DG - 74.400 - 77.000 --- 75.960
4. Jaye Cherry - Santana - 73.000 - 77.200 --- 75.520
5. Jo Moran - Franchesca - 74.200 - 73.600 ---- 73.840
Related Link
Eurodressage Coverage of the 2013 World Young Horse Championships