Finnish Dressage News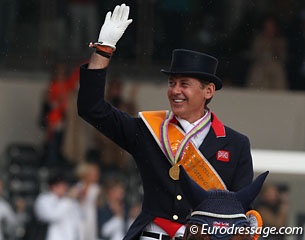 British Grand Prix rider and 2011 European team gold medallist Emile Faurie has been appointed official team trainer for Finland. Faurie will be coaching the Finnish Grand Prix riders up to 2016. 
Faurie has been negotiating a contract with the Finnish Equestrian Federation for a while and was already seen coaching several Finnish FEI level riders at the 2013 CDI Hagen mid April.
"We are very pleased for having the opportunity to establish a new long-term training program for our riders in co-operation with Emile Faurie. The main goal for the team is the Olympic Games in Rio de Janeiro in 2016," said Aki Ylänne, sports manager of the Finnish Equestrian Federation. 
Emile Faurie is a double Olympic dressage rider, having competed at the 1992 and 2000 Olympic Games. Aboard Virtu he won individual bronze at the 1993 European Championships and was British National Champion in 1993 and 1994. Legrini he competed at the 1997 European Championships and the 1998 World Equestrian Games.  In 2003 he won a bronze team medal in the European Championships with Rascher Hopes and in 2011 he claimed a historic British team gold medal at the European Champinships in Rotterdam on Elmegardens Marquis.
"I want to see real harmony between horse and rider, my goal is to build a pyramid-system where the riders I train can develop horses and in their turn train other riders and spread the knowledge," Faurie told Ratsatus.fi
Photo © Astrid Appels
Related Links
Emile Faurie Treating the Ups as Something Very Special
Emile Faurie Foundation, New Independent Partner for the BHS
Emilie Faurie Named British Olympic Reserve Rider
Central London Families Muck in with Emile Faurie at Vauxhall City Farm