2013 CDIO Vidauban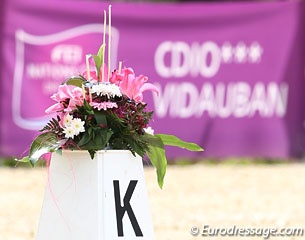 Have I told you lately that I love shows organized in France? There is always something special about them. Maybe it's the fact that they are very well organized, the people are friendly and there is always good food on offer, while the field of competitors is new and exciting. Shows in the north of europe feature the same combinations over and over again but France is refreshing!
I went to Vidauban for the first time last year in March and had a blast: great weather, fantastic horses and lots of fun on post-show evenings. I returned again two months ago with the most optimistic mood and the poor weather then (cold and damp) could not dampen my spirit. For the inaugural show of the pilot season FEI Nations Cup in Vidauban I had to return and set mid May the weather at the Cote d'Azur normally of holiday quality.
Unfortunately when I checked the weather forecast last Wednesday and saw showers predicted throughout the weekend, the frown on my face exposed wrinkles that weren't there ten years ago. Who knows, the weather might be better than Meteo France is guestimating.
On Friday morning 17 May I had an early 5.30 AM wake up call as I wanted to head to Brussels Airport before rush hour. I arrived well on time and was able to check in my large suitcase after a massive strike had paralysed the airport until Thursday evening. I wandered round the airport, drank a healthy carrot-ginger juice as breakfast, surprisingly bumped into a friend and then boarded the plane for an uneventful flight. I picked up a nice Renault rental and cruised to Vidauban. The weather in Nice was brilliant: sunny with a few clouds here and there. Things were looking great. My heart fluttered when I saw the Cannes bay with all the posh yachts at anchor for the Cannes Film Festival. Yes I was definitely having a nice work-holiday this weekend.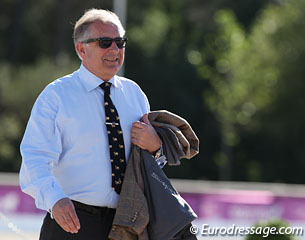 While cruising down the A80 thunder clouds gathered in the direction I was heading and it started to drizzle by the time I got to Vidauban. However, as soon as I parked my car it stopped and, although it was still cloudy, the weather was sunny and warm the entire afternoon. I keep coming back to Vidauban for the amazing photos I'm able to take there and my Friday afternoon shots were just what I had hoped for.
I was surprised that the so few nations had turned up for this first Nations' Cup event. The Rotterdam and Aachen legs of the circuit will certainly have the big timers on the starting list, but Vidauban would have been the ideal situation for B or even C-team riders from countries all over the world to represent their country at an official championship event. Also the fact that the CDI Wiesbaden and CDI Villach were hosted on the same weekend, puzzles me. If the FEI creates a brand new show circuit, shouldn't it protect and stimulate those shows by isolating the dates  and convincing riders to go there. Where were the teams of Belgium, Great Britain, Denmark, Italy, Spain, and Portugal, for instance. They have a plethora of Grand Prix riders which must be eager to get the chance to ride on a team?!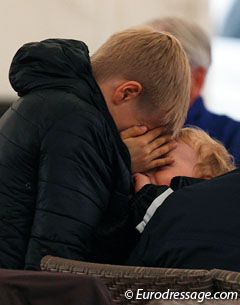 When the class was over, I headed to the hotel I booked online. Each time I come to this show I end up in a different hotel; I seem to be trying out the entire network here. This time I'm staying at "La Fontaine", a stone's throw away from the show. It's a very basic hotel, clean.. but unlike the cat-woman place I stayed in last year and the retro-gone-wrong hotel I had in March, this one is Curfew Hell. I have NEVER ever in my life been at a hotel where there is a curfew! When I checked in the lady of the house told me that at 23h00 the gates and doors are closed and there is no coming onto the property after eleven. No key, no code, locked in front of the gate-type of curfew! Of course I resisted at first, couldn't believe what she was saying. "Yes, we sent this to you when we confirmed your reservation." Well I must have missed that fine print. All of a sudden I felt 15 again and not allowed to go out and party by a strict mom. 
I dragged my bags up the stairs, changed and went out to dinner at the Vidauban hot spot, "La Vache". It's not the official name of the restaurant but everyone refers to it like that because a plastic cow stands in front of the restaurant on the parking lot. I had some very nice salmon carpaccio as a startes and tuna with veggies as main course. The Aloxe Corton red wine was wonderful! By the time of the I finished my desert (moelleux) I got anxious to go, afraid I would need to sleep in my car if I didn't get back by eleven. So I rushed out of La Vache in a hurry to make it on time.
I didn't sleep very well. I woke up early and struggled to fall asleep again in the bed with not enough blankets on. I need to feel the weight. I heard it drizzle outside and opened my laptop to check the rain radar. Oh lord.. That didn't look good. A huge blue-reddish blotch covered up the entire French mediterranean coast and this meant rain all day.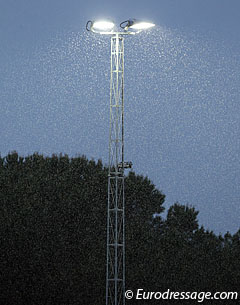 The rain radar was not joking because it poured rain all day long. From the first to the last rider. Poor Mattias Jansson closed the freestyle on a soaked Tsarevitj in the gushing rain. At 20h I sighed in relief when the day was over. Pictures of wet horses don't look good so I didn't make too much of an effort to shoot everyone today. I ended up chatting a long time with Linda Hoad and Erik Granmark who popped by for a visit. A lovely riders' party was planned for this evening, but I hadn't registered myself for it.
During cocktail hour I only nibbled on some nuts and chatted with brand new Dutch team trainer Wim Ernes before I took off to the hotel to do some more work. The street from the Domaine Equestre to the main road was completely flooded and water splashed more than a meter high when I drove through the street-turned-canal. I felt like I was in Africa on a safari with a 4x4. Tomorrow the forecast is more promising. I'm definitely in the mood for sunshine now!
Text and Photos © Astrid Appels
Related Links
Dutch Victorious in Opening Leg of Pilot Season for FEI Nations Cup Dressage at Vidauban
Scores 2013 CDIO Vidauban