Spanish Dressage News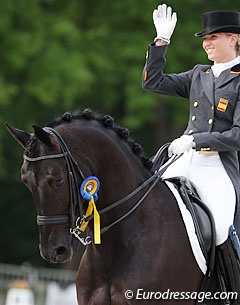 Spanish Olympic team rider Morgan Barbançon Mestre and Spanish Young Riders team member Alexandra Barbançon Mestre have parted ways with their trainer of two and a half years, Anky van Grunsven. 
The sister duo has been training with Van Grunsven in Erp, The Netherlands, since August 2010, when Morgan acquired the Dutch warmblood licensed stallion Painted Black (by Gribaldi x Ferro). 
Before Van Grunsven the duo was coached by Jan Bemelmans and Jan Nivelle and already enjoyed tremendous success in the show ring. Morgan Barbancon was a successful junior rider with triple European team gold medal winning Beaujolais and Ahorn in 2009 and with Dankeschön (by Douceur) in 2010, sweeping the trophies at the 2010 CDI Addington, CDIO-JR Moorsele, and CDIO-JR Saumur. Younger sister Alexandra Barbançon competed at the 2008, and 2009 European Pony Championship with Domino Dancing and as a junior made an impression with the black gelding Mr Q (by Matcho AA). Alexandra and Morgan both represented Spain at the 2010 European Junior Riders Championships in Kronberg. Alexandra did not shy away from a challenge and started competing the inexperienced Webbe (by Jazz) at junior riders level in 2010. Alexandra recently made the transition to Young Riders level and swept the board at the 2013 CDI Vidauban.
In the summer of 2010 Barbançon purchased the internationally competed Grand Prix horse Painted Black as Olympic hopeful. Morgan immediately connected with the horse and was able to score high 70 percentage marks in a strong field of competitors at high profile shows such as the CDI Drachten, CDI Addington, CDIO Saumur, CDI Compiegne and CDIO Rotterdam. On her Olympic debut Barbançon qualified for the Grand Prix Special and finished 23rd individually.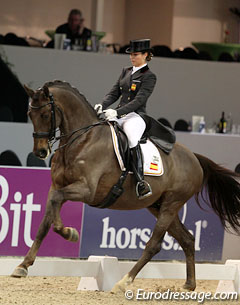 After the Olympic Games the Barbançon family felt that they needed more support and commitment of their trainer to participate at more international competitions. "I learnt so much from Anky with Painted Black during my time in Holland and am grateful for that, but now I need a trainer who is full time with me at international competitions world wide," said Morgan who is aiming for the 2016 Olympic Games in Rio de Janeiro, Brazil.
The Barbançon girls have no problems finding a new path for the future development of their dressage career and are currently making final arrangements with a new coach. Further negotiations are taking place to stand the licensed and proven breeding stallion Painted Black back at stud to fulfil the wishes and requests of numerous breeders world wide.
Photos © Astrid Appels
Related Links
Heimliche Liebe, New Grand Prix Horse for Morgan Barbancon
Alexandra Barbancon "Intouchable" on Young Riders' Debut at 2013 CDI Vidauban
Morgan Barbancon On the Road to the 2012 Olympic Games
Barbancon on Top in Grand Prix for Kur at 2012 CDIO Saumur
Morgan Barbancon Sweeps the Board in Kur Tour at 2012 CDIO Saumur
Gal and Barbancon Lead the Way in the Big Tour at the 2012 CDI Drachten
Morgan Barbancon Invincible in Under 25 Competition at the 2011 CDIO Saumur
Morgan Barbançon Sweeps Trophies at 2010 CDI Addington
Barbançon and Mommen Neck to Neck at the 2010 CDIO-PJYR Moorsele
Barbançon and Mommen Neck to Neck at the 2010 CDI-J Saumur
Morgan Barbançon Aims to Ace 2009 European Junior Riders Championships