2013 CDIO Saumur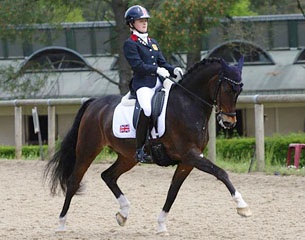 The Pony competition in Saumur's all important CDIO section was dominated by Britain's well known Phoebe Peters. After her clean sweep in Vidauban she again claimed triple victory, winning the team, individual and kur with a 72.948%, a 76.536% and a 78.050%. Fellow country mates Rebecca Bell and Amber Barton as well as Belgian Numa Verberne topped the board in the CDI leg of the pony division.
"In Saumur we had a completely super week," said 13 year-old Phoebe. "SL Lucci and I not only won the team test but the British pony team also won the Nations Cup. We were especially pleased with the individual test as we thought it was one of the best tests I have ever ridden. We qualified for the Kur and won this as well and it was absolutely amazing to get a clean sweep again like we did in February."
Riding in the pony section for the last three years, her first FEI pony Hillmen introduced her to FEI level and now the 11-year old German bred SL Lucci (by Lukas) is the number one in her life.
"SL Lucci is a really intelligent pony who loves to learn and work. Under saddle he always gives 100% and in the stable he is cheeky, funny and generally lovely to be around. He has three super paces and amazing presence - he really rises to a big occasion. I think my time in Pony FEI is very important because it gives me a grounding as a rider and sets me up really well for Juniors and Young Riders which will then lead on to seniors. Riding at this level internationally also prepares you as a rider for the pressure that you will come under all the way through your dressage career. "
Having recently been given the ride on Laetitia van der Wyck's 16.2hh Hanovarian gelding Delfiano Phoebe feels that 'Dodo' is a big moving horse but that she didn't find this too much of a challenge as Lucci moves like a big one. "I am really enjoying riding 'Dodo' and learning the more advanced movements, ready for when I move onto Juniors and I am really grateful to Laetitia for giving me the opportunity," Peters added.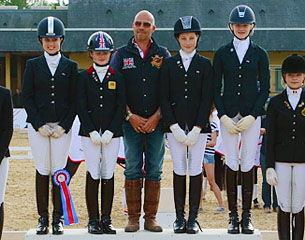 Pony CDI champion welcomed a few names into the limelight. British Rebecca Bell earned Saumur pony fame alongside Belgium's Numa Verberne. With two ponies entered at the competition, Rebecca won team gold in the CDIO Nations Cup with Valido's Sunshine and took her younger of the two, Valido's Starlight, into the CDI. With Starlight she was first in the team Championship test with 68.795% but dropped to 14th place in the individual, rising again to claim second in the kur.
"The highlight for me in Saumur was standing on the podium listening to the national anthem being played for the CDIO-P Nation's cup, along with the most amazing team and team trainer, Peter Storr," said 13-year old Rebecca. "I also had my own brilliant trainer Caron Roberts, my mum and my dad watching from the sidelines and the further team watching from home, none of whom I could have done it without!"
Bell competes at Pony FEI level and British Dressage Medium level and found that moving up to this level was the biggest step-up she has made during her riding career. "It's a great opportunity to really improve as a dressage rider," Bell stated. "The complexity of the tests have made me much more aware of the subtle things like cadence and harmony that are so important now in lifting each 7 to an 8 or a 9. Although, like every step up, it was not without its challenges, I really love riding at this level and building such a close partnership with my ponies."
Believing that pony dressage makes riders much more aware of all of the factors that contribute to a "perfect" test, Rebecca has found that it is no longer just about going on the bit and staying forward and straight. She believes you have to be mentally fast in order to stay a movement ahead of yourself and give yourself time to prepare. "You also become much more aware of how much difference each little mark makes!"
Her two international FEI level ponies are both by the same sire and bred at the same stud. Valido's Sunshine is a 10-year old German Riding Pony mare (by Valido x Marieton's Jasper) while Valido's Starlight is a 9-year old gelding (by Valido x Capri Moon).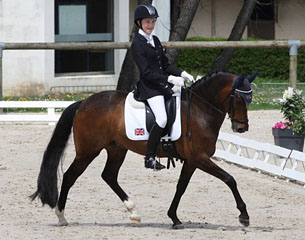 "Valido's Sunshine (Sunny) is nicknamed 'Mrs Nosey' at home and for good reason! She has to check out absolutely everything, know what is going on where and with whom, and whether she is getting less attention than anyone else! Her strength would have to be her amazing trainability. She is very intelligent, so picks things up quickly, and unlike the stereotypical mare is not at all sensitive or over-reactive if I have to correct her. One of her biggest weaknesses would have to be her continual want for anything that she doesn't have. She gets fed haylage but adores hay and when it rained in Saumur and we had to use straw to waterproof the stables, whenever we opened the door, she would try to sneak round us and eat it! My other pony, Valido's Starlight (Star) is a complete people person and adores attention, especially when treats are offered! His main strength is his gorgeous, naturally cadenced trot. When half-halted his immediate reaction is to offer passage. It is a pity he is not 16.2hh or he would make a cracking Grand Prix horse! His main weakness is undoubtedly being scratched, wherever, whenever, by whoever, Star cannot resist a good scratch!"
Training with Caron Roberts near Royal Wootton Bassett for the last seven years, Rebecca feels that Caren is so much more than a trainer. "She is a massive support and not only helps with the riding side of my career but the whole package. Her husband David runs a horsebox build and repair business and built our horsebox."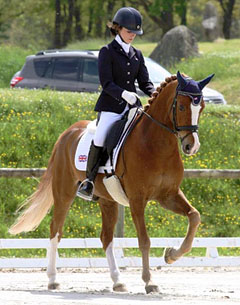 British Amber Barton was a forced to be reckoned with in the CDI pony tour. Aboard her 14-year old chestnut gelding Doctor Little (by De Vito x Marquis AA) she placed second in the team test (68.538%) and won the individual with 69.471%. She continued to score consistently and achieved a 69.375% in the Kur to Music, which ranked her 6th.
Barton's recent success at Vidauban in March and now in Saumur is the result of dedicated work and training. For the past few months she and trainer Peter Storr have been working on improving Doctor Little's throughness and way of going. "In Saumur I felt a huge improvement in those areas, especially in my winning test," said Barton.  "In the Individual test I surprised myself as I felt all my hard work was paying off. Doctor Little truly did me proud. Although by the way he felt I am sure he has a lot more to give."
Barton and Doctor Little have been a combination for the past two years. "I have felt in the last year the partnership has flourished into something quite special," Barton stated. She discovered the pont in Germany with the help of Portia Manning. "I can not thank her enough for finding me this truly amazing pony," said Amber.
Barton plans on competing next at the CDI Compiegne begin June.

Another new name that came to the fore was Numa Verberne when he won the CDI kur to music with a tidy 72.417%. The young man of Dutch/French origin interestingly lives 15 minutes from Brussels and rides for Belgium.
"This year my pony Dollarboy did very well," said 15-year old Numa. "In Saumur the last ride was by far the best one as he was really relaxed and concentrated. I hope we can have more shows like this one throughout the year."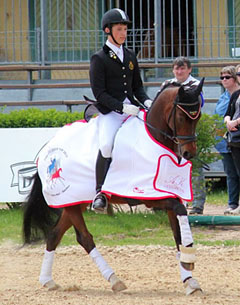 Riding since he was 8 years old, Numa is currently studying mathematics and science. He trains four times a week at the Van Lent-Baetens Stables in Grimbergen. "Before Dollarboy I had two ponies, Brauny and Don Ramiro and I learnt everything from them together with my trainer Sophie Van Lent-Baetens."
Finding Dollarboy through the Verwimp family, Numa has been riding the 9 year-old German pony (by Don't Worry) for one and a half years. "He did not have a lot of experience in competition when we got him and he is learning very fast," said Verberne. "Dollar is very nice to ride, he is always forward, has very nice paces and is always building up his confidence. We do work a lot on relaxation riding to have him more and more confident. I love the heart mark he has on his head; it fits him because on the ground he is easy to handle, joyful and playful, and loves the contact with humans."
Making their international debut at last year's Saumur competition, Numa was keen to return because of the perfect location and top organization "During Saumur we went a lot for long walks in the woods, Dollar loves that," he added.
With an aim this year to qualify for the Belgian Championships, Numa would also love to compete at the European Championships but likes to look at his future show by show. "The next competitions we are aiming for are Moorsele and probably Compiègne. I could do an extra year on the ponies but I am growing quite fast and we are already looking for a horse so I can move onto juniors after the Belgian Championships," said Verberne.
by Sarah Warne for Eurodressage
Photos © Camille Peters - private
Related Links
Scores 2013 CDIO Saumur
A Trio of J's Reign the 2013 CDIO Saumur Young Rider Classes
Belgian Teams at Full Force for 2013 CDIO Saumur
Team Hester-Dujardin Sweep the Board at 2013 CDIO Saumur