2013 CDIO Saumur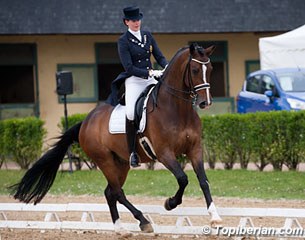 A trio of lady J's - Jorinde Verwimp, Jill Huybregts and Josefine Friberg -- reigned supreme in the young riders classes at the 2013 CDIO Saumur on 2 - 5 May. The most imporant CDIO division was dominated by Belgium's Jorinde Verwimp. Aboard her steady partner Tiamo, she stole victory in all three tests with scores above 70%.
"Saumur went really well, much better than I expected," mentioned 18 year old Jorinde. "It's my first year as a young rider and my first outdoor international."
Verwimp scored 72.894% in the team championship test and was instrumental in Belgium winning silver in the Nations' Cup. She continued her winning streak with a 72.947% in the individual test and a whopping 77.900% in the kur to music.
Jorinde's horse, Tiamo, a 13 year-old Dutch warmblood gelding (by Lester x Hemmingway) is known for his extensions in both trot and canter and Jorinde can usually count on a 9 for these movements. "However, his difficulties are the flying changes because he has a huge canter and it is very difficult to keep the changes 'small' and straight," Verwimp confessed.
Tiamo's name on the starters' lists and show results is always printed as "Tiano" but this is due to a misregistry by the FEI. When they created the horse's FEI passport, they misprinted the horse's name.  Avoiding an additional multiple euro cost to have it changed, Verwimp is now competing Tiamo as Tiano.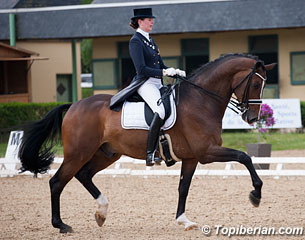 Working with the horse for 2 and a half years, Jorinde has been training with Anky Van Grunsven since December 2012 and knows that Tiamo (Timmie) has improved a lot during the last four months. "We have spent a lot of time on the pirouettes to keep his canter even throughout the pirouettes," she said.
Although he is a horse that can be difficult at home, Jorinde feels he always gives his best at competitions and hopes to keep on showing his best into the higher levels. "My goal this year is the Europeans but we are not sure about next year as to whether I will keep riding young riders or move to a higher level," she explained. "The plan is to get Timmie ready for the Grand Prix as soon as possible but we don't want to force him. First, let's just be good at the young riders and then focus on the next step!"
Jill and Josefine Swap Places in the CDI Tour
The victory in the second Young Rider division or CDI tour in Saumur was shared between Holland's Jill Huybregts and Denmark's Josefine Friberg. Both admitted that they found it challenging to make the transition to Young Riders level this year.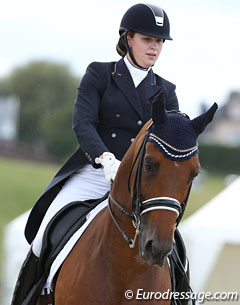 "It was quite difficult to move into the Young Rider's division because my horse was still very young (8 years) when I became a Young rider," said 19-year old Jill.
First in the team championship test with 68.283% and the kur to music with 73.425% on her Dutch bred Zamacho Z (by Rousseau x Rossini), Jill stated that her Saumur highlight was definitely her freestyle in the main arena. She added that she notices her horse is getting more used to the competitive atmosphere. "I feel we are now both more mature and my horse is more relaxed," said Jill. "I think these aspects are particularly important at this level and Young Rider's must also concentrate on having nice forward movements without any mistakes."
Jill's horse, Zamancho Z is always very eager to do his job. "Sometimes a bit too eager because when I start to do an exercise, he already thinks 'Ooh I know what we are going to do!' Most of the time that's not a good thing because then we make mistakes," she stated. "However it can be a good thing that he is so eager because when I teach him a new thing he understands it very quickly."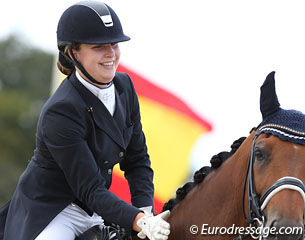 Bought as a 4 year-old when Jill was 15, Zamache has been trained to Prix St Georges level by Jill. She works hard to stop him thinking more than he does. "The challenge in training with him is to make him stop thinking before I give him aids but besides that it is very fun to train him because he always wants work. But he is not the same in the test as at home because he is always a little tensed in the test but I am used to it, it has always been like that and I know how to deal with it."
With another young horse in work, a 4 year-old Dutch Warmblood by Tuschinski x Tango, Jill spends her time off studying to be a primary school teacher. She trains at a private stable with her mum's help. "Once a week I also go to my trainer Theo Hanzon. My plan for 2013 is to ride some nice international shows and try to get my horse more trained in the U25 exercises," reckoned Jill.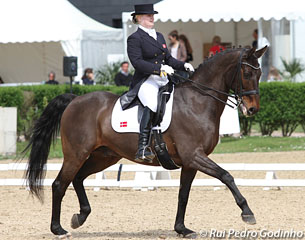 Winner of the Individual test, Danish Josefine Friberg, also struggled a bit with the move to small tour level as her horse can easily become tensed.
"His tension is not because he wants to be disobedient but because he wants to do everything right!" said 20 year-old Josefine. "When I was too old to be a junior and moved up to being a Young Rider, it took a lot of time to get him confident and fully controlled in the program. Now he has no problem controlling himself and it pays off in the tests."
Agreeing that young riders need to show accuracy and relaxation, Josefine wants to show that she has "grown" from when she was a junior "The tests are much more difficult and you need to show what you have learned," she believes.
Learning a lot from her 17 year-old master Langagers Lorambo (by Loran x Rambo), Josefine is proud to be aboard a horse bred by her mother who rode him until he was seven. "When my mum finished with him he had two years where he was just relaxing and was not ridden. I started riding him when I was 13 and we have won a lot of national competitions together. He is my best friend, and we have a very special bond."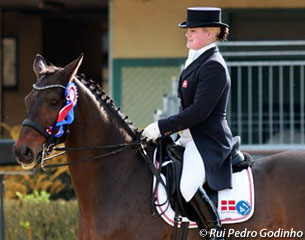 With two other home bred horses in work, the 5-year old Langagers Quality Design (by Quaterback x Laurentius) and 8-year old Langagers Milliano (by Milan x Rambo), Josefine has some talented competition partners on the way. "Quality Design is already well known as one of the best young horses in Denmark. I am sure they will be as good as Lorambo is."
Friberg has been trained by her mom her entire life. "She knows me and my horses and that is a big plus when we are training," she stated. "We are doing really great now and we hope to get a good result at the Danish Championship for Young Riders in the end of May."
by Sarah Warne for Eurodressage
Photos © Top Iberian - Astrid Appels - Rui Pedro Godinho
Related Links
Scores 2013 CDIO Saumur
Belgian Teams at Full Force for 2013 CDIO Saumur
Jorinde Verwimp, Runner Up in 2012 Belgian Talent of the Year Competition
Arl, Verwimp, Waelkens, Devroe Win 2012 Belgian Dressage Championships
Dutch Youth Riders Teams for 2011 Updated