2013 World Championships for Young Dressage Horses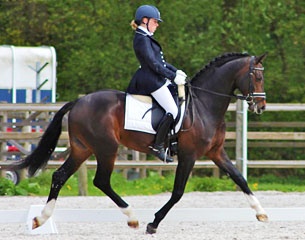 Belgian young horse competitors returned to equestrian centre De Kraal in Zandhoven for the third Belgian selection trial for the 2013 World Young Horse Championships. Held on Saturday 4 May 2012, a large field of especially 5-year olds gathered to compete in sunny weather. Five-year old Dolcherie and six-year old Bailamos Biolley ruled the roost in Zandhoven.
The 5-year old division was won by Tom Franckx on the Dutch bred and Dutch owned mare Dolcherie (by Painted Black x Krack C). Initially competed by Belgian Grand Prix rider Julie de Deken, Dolcherie was assigned Tom Franckx as rider half a year ago. The duo now won the preliminary test in Zandhoven with a 81.60 point score. They were closely followed by Amandine Prevost aboard Dynamo, another Dutch warmblood by Painted Black x Jazz. Their pair scored 81.40 points and referred Philippe Jorissen on his home bred Rhinelander licensed stallion Special Agent Amour (by San Amour x Polidiktus) to a third place with 81.20. 
Katrien Verreet and the Oldenburg licensed stallion Bailamos Biolley (by Sir Donnerhall I x Florestan) led the field in the 6-year old preliminary test with 80.40. Nick van Laer and Sir Donovan (by Sir Donnerhall I x Weltmeyer) have shown very consistent form at all three trials and landed a second place with 79.60 points. Julie Dossin was the new comer in the top three aboard her Dutch warmblood Cartier (by Hotline x Rolex) with 73.20 points.
Results - 2013 Belgian WCYH Selection Trial - Zandhoven
4-year olds
1. Verreet Katrien - Quorum Y -  88,000
2. Debie Kaatje  - Dr. Vos van het Bloemenhof - 86,000
3. Heylen Tom - Esmalia- 77,200
4. Schlack Gudrun -  QC Don't Worry Be Happy - 76,000
5. Smets Katia - Happy Feet - 75,400
6. Rombouts Dominique - Deja Vu Biolley  - 74,000
7. Vermeire Pieter - Ewald -  73,600 
8vMeisch Linda - Jane Toja - 73,200
9. De Rechter Daan - QC Fillipo Niro - 72,800
9. Gielen Yves  -  Don Pierrot  - 72,800
11. Hesters Steffi - Emporio SH - 72,200
12. Verhulst Thais  - QC Fantastik London - 71,800 
12. Verhulst Thais -  QC Fider Hit   -  71,800
14. Appelmans Eefje  - Dolce 'N' -  71,000
15. De Vlieger Andre - Escado - 70,800
15. Claeys Manon -  Decadent vh Bloemenhof -  70,800
17. Coenegrachts Jef - J2l Edelweiss -  70,600 
18. Timmermans Anoushka - So Speciale Edition - 70,400
19. Heylen Tom - Ja of Ballmore -  69,800  
20. Appelmans Eefje  - Diandra 'N' -  69,200
21. Rutten Tess -  Eternidade  -67,800  
22. Dieusaert Arthur -  Ebony S -  67,300 
23. Heylen Tom -  Jerrez H -  66,600 
24. Dewaegenaere Ona - Don Noble - 63,800 
25. Geentjens Sofie  - Ambaro Eros - 62,600
26. Gerrits Els - Daylight  - 61,300
5-year olds
1. Franckx Tom - Dolcherie - 81,600
2. Prevost Amandine  - Dynamo  -  81,400
3. Jorissen Philippe - Special Agent Amour  - 81,200
4. Engelen Leopold  - Sopresso - 76,400
5. Franckx Tom -  Rubin Carlier -74,000 
5. George Michele -  Davjano - 74,000
7. D'Hoore Brecht - Don John -  73,800
8. D'Hoore Brecht - Dashy Boy - 73,000
9. Borghys Maarten -  Isaura Ter Dolen - 72,600
9. Dries Mieke - Champione vd Kempenhoeve - 72,600
11. Franckx Tom - Dafour  - 70,600
12. Gielen Yves  - Fallada-  70,000
13. Vermeire Pieter - Chabasse XO N - 68,400 
14. Vanderbeeken Laurens -  All Inclusive  - 68,200
15. Schoolmeesters Elke -  Divano - 64,800  
16. Vermeire Pieter - Charmeur N - 64,400 
17. Carton Attilan -  Double D -  60,800
18. Cornelis Eva - Dolores van de Kwikaard -  60,200
19. Dieleman Astrid  - QC Loverano  - 57,000 
20. Chauvet Diane -  Dawn Maude  - 47,000
6-year olds
1. Verreet Katrien  - Bailamos Biolley -   80,400 
2. Van Laer Nick - Sir Donovan  - 79,600
3. Dossin Julie - Cartier - 73,200
3. D'Hoore Brecht -  Sniper van de Helle  -  73,200
5. Van Den Bogaert Natasja - Corinna - 71,400
6. Coenegrachts Jef - Cambel B -   71,000 
7. George Michele - Sagaminne  - 70,400
8. Van Orshaegen Mario - Lorenzo Lamas  -  69,800
9. Claessens Conny - Hamlet vd Stuyver -  68,800 
10. Dewaegenaere Ona - Calucci Utopia  - 67,600
11. George Michele -  Sir Henry -  67,400
12. Vanderbeeken Laurens - Happy-Pia van de Bergenhoeve  - 67,000
Related Links
Eurodressage Coverage of the 2013 World Young Horse Championships
Sopresso and Cambel B Score at Second 2013 Belgian WCYH Selection Trial
Coolhorses Dario and Sir Donovan Win First Belgian WCYH Selection Trial at 2013 CDN Zandhoven