2013 Bundeschampionate Qualifier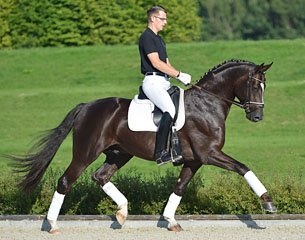 Three Bundeschampionate qualifiers took place on the weekend of 3 - 5 May 2013. Whereas the Bremen qualifier was the biggest one and have no less than four winners, the qualifiers in Redefin and Lubeck on 3 May were on a smaller scale and featured only classes for 5-year olds. Loveliness and Solitaire were the winning horses at these events.
At the Redefin qualifier Sandra Frieling and Herbert Kruse's Hanoverian mare Loveliness (by Lord Loxley) dominated the field and topped the leader board with an 8.4 score. Closely on her heels was Norwegian Isabel Bache on the Hanoverian liver chestnut gelding De Nino (by Don Schufro x Sandro Hit), which is owned by Heinz Tiedje jr. This duo scored 8.3. Helen Langehanenberg rode Gisa Löwe's Oldenburg mare Chere Amie (by San Amour x Furst Heinrich) to a third place with 8.1. Frederic Wandres and Gestuet Bonhomme's Oldenburg stallion Black Ruby (by Belissimo M x Donnerhall) was the fourth combination to score 8.0 or higher and qualify for Warendorf with their fourth place and 8.0 score.
Twelve horses competed at the Lübeck Bundeschampionate Qualifier, which was won by Christoph Koschel aboard the 5-year old Oldenburg mare Solitaire (by San Amour x Davignon). The pair received 8.5 for trot, 8 for walk, canter, and submission and 8.5 for general impression to total 8.2. Portuguese Antonio Teixeira do Vale finished second on the Oldenburg stallion Bailarinio (by Breitling W x De Niro). This new duo earned 8.5 for trot, 8 for walk, 7.5 for canter, 8 for submission and 8.5 for general impression to average 8.10.
Results - 2013 Bundeschampionate Qualifier - Redefin
5-year olds
1. Loveliness - Sandra Frieling - 8.40
2. De Nino - Isabel Bache - 8.30
3. Chere Amie  - Helen Langehanenberg - 8.10
4. Black Ruby  - Frederic Wandres - 8.00
5. Baccara - Ronald Lüders - 7.70
6. Bertolini - Roland Volkmann - 7.60
7. Dezent  - Sandra Frieling - 7.50
7. Sereno  - Laura Aromaa - 7.50
9. Stern von Afrika OLD - Anne-Marie Großmann - 7.40
9. Lopping Louie - Falk Rosenbauer - 7.40
11. Fillipa K - Julia Voigtländer - 7.30
12. Herbstkönig  - Theresa Wahler - 7.20
13. Saumur  - Julia Voigtländer - 6.90
Kaisertanz - Anna-Lena Kracht - RET
Results - 2013 Bundeschampionate Qualifier - Lübeck
5-year olds
1. Christoph Koschel - Solitaire - 8.2
2. Antonio do Vale - Bailarino - 8.1
3. Anika von Holdt - San Weltina - 7.8
4. Christoph Koschel - Baggio - 7.6
5. Catharina Haren - Heaven's Delight - 7.5
5. Katalin Garrn - Dornkaat - 7.5
7. Lena Günnel - Donna Karan - 7.3
8. Christina Lebens - Hamilton - 7.1
8. Christina Stark - Lady Leticia - 7.1
10. Jan Lens - Laurano - 7.0
11. Hannes Lütt - Schneezauber - 6.8
12. Ingeborg Atefi - For Fantasie - 6.5
Related Link
Eurodressage Coverage of the 2013 Bundeschampionate