2013 CDI Stadl Paura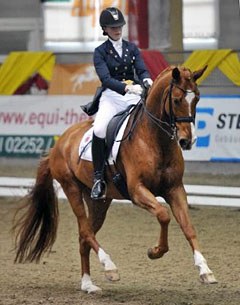 With a triple win in the junior riders' division at the 2013 CDI Stadl Paura CDI, Luxembourg's youngster Michèle Thill made a clean sweep putting three scores over 70% on the board on her brand new junior riders' horse Windhook, a 12-year old Hanoverian gelding by Waikiki x Arogno. 
The 17-year old Thill was awarded 71,53% in the team championship test, 71,71% in the individual test and 73,83% in the Kur to music, producing a hattrick of victories.
"The highlight of the show for me were the scores we earned together, as it was only the second time Windhook and I were competing," Thill told Eurodressage. "For my horse those FEI tests were something new."
Thill lists as highlights of her dressage career, so far winning classes at the 2009 CDI-P Turin with Virgil and as a junior aboard her schoolmaster Don Cardinale winning the 2010 CDI Leudelange and placing second in the kur at the 2011 CDI-J Roosendaal with 72,96%
The 5-time Luxembourg champion of her class found Windhook just five months ago and already feels they have created a partnership. Bred by Jörn Hormann, Windhook was previously competed by Inga von Helldorff between 2005 and 2012. Michele is elated and satisfied that everything is going so well, particularly so early on in her career.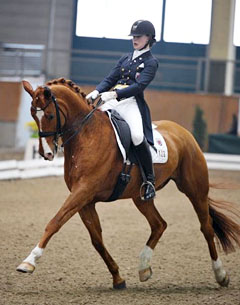 "We found Windhook through trainer Johann Hinnermann," she said. "He likes to work and likes to learn and is a really good boy. He has an optimistic attitude towards human beings and he always wants to be the centre of attention. He likes to be spoilt."
Trained at home by Tim Keersmaekers, Michele also draws knowledge from a range of her nation's best and says that variety is important in reaching the top.
"I also train with the national trainer of Luxembourg, Christoph von Daehne, and our chief trainer Johann Hinnemann. I need these three trainers to be successful and I feel we are a good team."
Winning a lot with the well-known Don Cardinale (by Donnerhall x Feinbrand), Michele confirmed the horse had been out with injury but is now again ready to commence training. With two other horses also in work, Wisconti (by Wolkenstein II x Calypso II) and Don Chaplin, Michele hopes to compete at the CDI Roosendaal this weekend and the CDI Compiègne in June. She aims to compete at the 2013 European Junior Riders Championships in Compiegne in July and the National Championships later on.
by Sarah Warne for Eurodressage
Related Links
Eurodressage Photo Database: Michèle Thill