Spanish Dressage News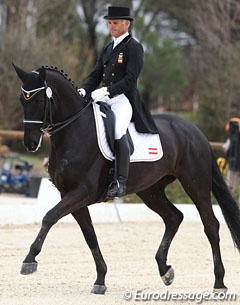 Spanish Grand Prix rider Juan Antonio Jimenez has lost his top horse Naomy on Monday morning 29 April 2013. At the national competition CDN Segovia near Madrid, the Hanoverian mare Naomy fractured her short pastern. After careful inspection by veterinarian Gerardo Gross it was decided to have the mare put down.
"It's a nightmare," Juan Antonio Jimenez told Eurodressage. "There was no solution to save her life since the other hoof could not hold the weight, even after the operation. I cannot believe it."
The 9-year old black mare (by Hofrat x Espri) was owned by Yeguado Hispano Suiza and was being prepared for a Grand Prix debut this year.
On Sunday 28 April Naomy was groomed for her last competition class of the weekend. The groom had her fully tacked up for the warm up for the Intermediaire I Kur test. In the warm up Naomy spooked, jumped aside and took a wrong step. The mare immediately lifted the fractured leg and stood on three legs.
"At the equine clinic, Clínica Norte, we saw that the pastern was fractured in six places," Jimenez explained. "Naomy is a horse of 700 kg and the other foot would not support the weight post-operatively. We did not want Naomy to suffer."
Jimenez discovered Naomy as a youngster and trained her up to Grand Prix level. The mare was initially owned by the Yeguada Hnos. Gómez and as a 6-year old Uvan Pozas Gomez competed her briefly. Last year Gomez sold their share to Yeguado Hispano Suiza. Jimenez and Naomy were the 2012 Spanish Small Tour Champions.
Photo © Astrid Appels
Related Links
Juan Antonio Jimenez Returns to the Big Time with a Foursome of FEI Stars
Carmen Naesgaard Wins 2012 Spanish Dressage Championships
Historic Entry Record at 2012 CDN Festival de Doma Clasica RACE