German Dressage News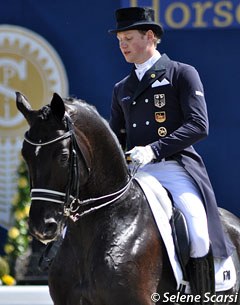 Totilas' co-owner Paul Schockemohle has stated in an interview with German tabloid Bild that the 2013 European Dressage Championships will be an unlikely event for the stallion this season. Instead the Totilas team is focusing on the 2014 World Equestrian Games.
The 68-year old Paul Schockemöhle told Bild that "the 2013 European Championships are not our goal. The 2014 World Equestrian Games next
year are our goal."
In January 2013 the 13-year old black Dutch warmblood stallion Totilas (by Gribaldi x Glendale) sustained an injury while fulfilling his breeding duties. The knee injury has proven to take longer to heal than expected.
In order to qualify for the German team, Matthias Rath would have to compete at the mandatory trials in Balve and Aachen in June. The 28-year old rider has been training his horses with Sjef Janssen in Erp, The Netherlands, but has been completely tight-lipped about setting a date for his show come back. Totilas' last public appearance was at the German Dressage Championships in Balve in June 2012 almost a year ago.
"Totilas lost muscles. He hasn't been trained at top level for a long time," Schockemohle explained. "The next time he appears in the ring it all has to work well; after all that has gone wrong. I'm not thinking about the European Championships."
Schockemohle still believes in his stallion. "I believe it will work now. At least I hope," he added. "We're dealing with animals. It's not the first time that something went wrong."
Source: BILD
Photo © Selene Scarsi
Related Links
State Attorney Drops Charges in PETA-Totilas Abuse Case
The World Keeps Turning: Totilas to Stand at Stud in 2013
Rath and Totilas Removed from German A-Team
Matthias Rath and Totilas to Return to the Show Ring in 2013