2013 World Championships for Young Dressage Horses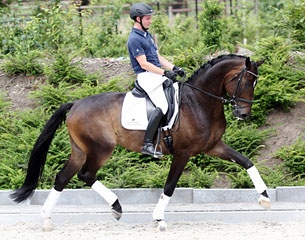 The 5-year old Oldenburg bred Sopresso and 6-year old Dutch warmblood Cambel B scored the highest marks to win the classes at the second Belgian selection trial for team representation at the 2013 World Young Horse Championships. A large group of young horses gathered at the Zilveren Spoor equestrian centre in Moorsele, Belgium, on 20 April 2013 to collect more points in the ranking which will determine the two qualified horses per age division. 
The cards were totally reshaken as new youngsters moved into the forefront. The top scorers of the first trial in Zandhoven were unable to position themselves at the top again, with new horses claiming the spotlight.
Int he 5-year old division Leopold Engelen aced the test with a whopping 86.200 score aboard the Oldenburg Sopresso (by Serano Gold x Depardieu x Feiner Stern). The bay gelding is owned by the Retie based Dutchman Rob van Puijenbroek.  Amandine Prevost and her Dutch warmblood stallion Dynamo (by Painted Black x Jazz) were the runners-up with 83 points, while Nick van Laer and the SBS stallion Coraggio van het Bloemenhof (by Quaterback x Florestan) finished third with 81.400 points.
In the 6-year old division Belgian rider Jef Coenegrachts, who recently relocated back to Belgium after a stint in the South of France, competed Gerlinde Lauwers' Dutch warmblood Cambel B (by Numero Uno x Equador) with success. They won the class with 79.20 points and referred Zandhoven winner Nick van Laer on Sir Donovan (by Sir Donnerhall I x Weltmeyer) to a second place with 77.6 points. Katrien Verreet and the Oldenburg licensed Bailamos Biolley (by Sir Donnerhall I x Florestan) slotted in third with 74.60 points.
Results - 2013 Belgian WCYH Selection Trial - Moorsele
4-year olds
1. De Rechter Daan - QC Fillipo Niro  - 78,400
2. Heylen Tom - Esmalia - 77,000
3. Meisch Linda - Jane Toja -  76,600
4. Mohimont Dominique - Espresso W - 73,600 
4. Appelmans Eefje -  Dolce 'N' - 73,600
6. Verreet Katrien - Quorum Y -  71,200 
7. Vermeire Pieter - Eldorado-A  - 70,800
8. Vermeire Pieter - Ewald - 70,000
8. Timmermans Anoushka  - So Speciale Edition  - 70,000 
10. Gielen Yves - Don Pierrot - 68,800
11. Appelmans Eefje - Diandra 'N'  - 67,400 
12. Hesters Steffi -  Emporio SH  -  66,600
13. Van Laer Nick - Earl Scandic  -  66,200 
13. De Coker Cyriel - Romeo van Oudenhove - 66,200 
13. Coenegrachts Jef - J2l Edelweiss - 66,200  
16. Flury Estelle - Borsalino  -  64,600 
17. Van Laer Nick -  Silberrose - 63,000   
5-year olds
1. Engelen Leopold  - Sopresso   - 86,200
2. Prevost Amandine - Dynamo -  83,000 
3. Van Laer Nick -  Coraggio VM Bloemenhof -  81,400
3. Franckx Tom - Dolcherie -  81,400
5. Vermeire Pieter - Charmeur N - 81,000
6. Jorissen Philippe - Special Agent Amour - 80,800
6. D'Hoore Brecht - Darcy -   80,800
8. George Michele - Davjano  -  80,200 
8. D'Hoore Brecht - Don John -  80,200
10. Vermeire Pieter - Chabasse XO - 79,800
11. Cool Isabel - Coolhorses Dario  - 77,800 
12. Franckx Tom  - Rubin Carlier - 75,600
13. Van Dun Julie -  Fiderprincess - 74,000
14. Vileyn Bjorn -  Feel Good  - 73,800
14. Van Puijenbroek Rob - Seymour  - 73,800
16. Gielen Yves - Fallada - 73,600
17. Van Laer Nick - Double Dutch - 73,200
18. D'Hoore Brecht -  Dashy Boy-  72,800
19. Verhulst Thais - QC Star Performer  -  69,600
20. Van Deursen Laure -  Fashion Maker  - 69,000
21. Gielen-burger Verena - Farazzano -  68,200
22. Borghys Maarten - Isaura Ter Dolen  - 67,000 
23. Franckx Tom -  Dafour - 65,800
24. Dieleman Astrid -  QC Loverano -  60,400
6-year olds
1. Coenegrachts Jef - Cambel B - 79,200
2. Van Laer Nick - Sir Donovan  - 77,600 
3. Verreet Katrien -  Bailamos Biolley - 74,600
4. Van Den Bogaert Natasja - Corinna - 73,600 
5. George Michele - Sagaminne  -  73,200
6. Dossin Julie - Cartier -  73,000
7. Franckx Tom - Charisma - 71,200
8. Claessens Conny  - Hamlet vd Stuyver - 71,000 
9. Horsting Toby -QC Delicious  - 70,400
10. Van Laer Nick - Hydane van de Kerkhoeve - 68,200
Related Links
Eurodressage Coverage of the 2013 World Young Horse Championships
Coolhorses Dario and Sir Donovan Win First Belgian WCYH Selection Trial at 2013 CDN Zandhoven