2013 World Cup Finals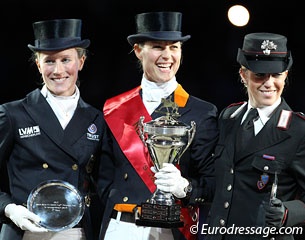 With the sport of Dressage enjoying its highest popularity rating ever, there are great expectations ahead of the 2013 World Cup Dressage Final in Gothenburg, Sweden next week. And the stage looks set for a thrilling showdown between some of this elegant equestrian discipline's brightest stars.
For defending double-champions, Adelinde Cornelissen and her big chestnut gelding Parzival, it is time to reclaim their place as the most consistently dominant partnership on the indoor international circuit. They have been strongly challenged while competing in the Western European League qualifying series over the winter months, but have taken it all in their stride and may just need to raise their game a little in order to keep their keenest opponents at bay.
Change
In the aftermath of Cornelissen's team bronze and individual silver medal winning performances at the London 2012 Olympic Games, the decision to change her floorplan and musical score was a big one. And, as she pointed out after topping the last qualifier of the season at 's-Hertogenbosch in The Netherlands last month, it takes time to perfect a new routine. But Parzival blends pure power with great agility, his trademark expertise in pirouette in particular is always a delight, and when this duo is on song they are the toughest nuts to crack.
Cornelissen has also taken up the challenge thrown down by Stephen Clarke, President of the Ground Jury in London, who said Parzival needs to demonstrate more lightness and self-carriage if the pair are to better their greatest rivals, Great Britain's Charlotte Dujardin and Valegro who claimed individual Olympic gold in London. Many would have found that suggestion extremely daunting, as riders develop unique messaging systems with their horses down the years and it can be very difficult to introduce major change without causing confusion.
Adding to the degree of difficulty is the fact that Cornelissen and Parzival have been working together for such a very long time. They won their first senior title at national level back in 2004 and developed their way of working together some considerable time ago. So altering that understanding after so many years is a formidable task, but the 33-year-old Dutch rider is no shrinking violet and has willingly, and courageously, set out to do so with clearly evident results.
Surprise Result
At 's-Hertogenbosch, however, her Dutch colleague and 2010 World Cup Dressage champion, Edward Gal, sprang a big surprise. The man whose partnership with the great stallion Totilas attracted a fresh generation of Dressage fans while breathing new life and energy into the sport during their spectacular record-breaking spree together prior to the horse's sale in 2010, turned on the style with a fabulous performance from Glock's Undercover to finish a very close second to Cornelissen and the mighty Parzival. Gal was almost speechless afterwards, hardly daring to believe that he has found himself another black horse with such star quality and that he is finding form just ahead of the World Cup Dressage Final.
One of the greatest secrets to success in indoor Dressage however is the horse's ability to stay concentrated, and that is why Germany's Helen Langehanenberg is a real threat, particularly this year after a super-strong string of performances over the winter months. Her stallion Damon Hill NRW simply thrives on the electric atmosphere of indoor venues and, unlike many of his rivals, is most likely to produce his very best in a pressure-cooker environment. "He just loves the buzz of the crowds and he can't get enough attention," the 30-year-old rider says, and that could pay dividends in the intensity of the Scandinavium Arena next week.
Back-to-Back Victories
On top of that, the pair enjoyed back-to-back victories on the Western European League circuit earlier this year and come to the series finale in the knowledge that they have already beaten the defending champions after edging them out for the very first time in Amsterdam in January.
Langehanenberg is a very grounded personality however. "We all have so many hopes and so many dreams, but they don't always come true," she said after her victory in Neumunster, Germany in February. "My dreams and aims have always been clear, but I don't let them put pressure on myself or my horse. You just never know how it will work out. We stay focused and we work hard to achieve our goals. I am just very happy that we are succeeding right now," she said that day.
For all her stoicism, there is an added sense that her time has come to shine. She first rose to prominence during the 2010/2011 season and has blossomed into a super-star during the subsequent seasons of the Reem Acra series which, as she says, has been really important to her development as a top athlete. "It's true, I have grown up in this series, it has helped me to be better in every way," she insists.
Four Different Leagues
Of course riders from four different leagues - Western European, Central European, North American and Pacific - have worked hard to earn their place amongst the 18 from 10 different nations who will line out in Gothenburg next week for the 28th annual season-closer. Each one of them also has their own hopes and dreams and none more so than the strong home contingent that includes Patrik Kittel, Minna Telde and Tinne Vilhelmson-Silfven. Sweden has claimed the World Cup™ Dressage title just once before, in 1998 when Louise Nathhorst and Walk On Top reigned supreme in Gothenburg.
A lady who can never be discounted is the multi-medalled Isabell Werth from Germany, who clinched the title in 2007 and who has been runner-up on numerous other occasions, while Italy's Valentina Truppa has enjoyed a great winter season. Denmark's Anna Kasprzak was also in sparkling form, and fellow-countrywoman Sidsel Johansen has earned herself an enormous following because of the joy she expresses in her performances with her 14-year-old gelding Schianto. The sport is not all about perfection, it is also about personality and appeal, and the crowds simply love this pair who have skipped their way into one of the coveted qualifying spots.
The history books show that the Dutch have dominated this series, due in the main to the extraordinary success of nine-time champion Anky Van Grunsven, whose name will always be linked to the emergence of Freestyle as the showcase of this continually-progressive sport. It remains to be seen if Cornelissen can increase the overall Dutch success-rate to 13 victories, or if Langehanenberg can bring the German tally to eight wins instead.
The story will begin to unfold as the action gets underway with the Grand Prix next Thursday ahead of Saturday's Freestyle which will bring the 2013 World Cup™ Dressage 2012/2013 series to a dramatic conclusion. One way or another, it looks set to be a thriller...
Facts and Figures
18 riders from 10 nations - Canada, Denmark, Germany, Italy, The Netherlands, Norway, Russia, Switzerland, Sweden and Ukraine - will compete at the Reem Acra FEI World Cup™ Dressage 2012/2013 Final.
The Netherlands' Adelinde Cornelissen and her chestnut gelding Jerich Parzival are seeking to register their third successive series title. Only fellow-countrywoman Anky Van Grunsven has succeeded in recording a hat-trick before. She did it twice during her extraordinary career, first with Bonfire and later with Salinero, who was officially retired at their home event in 's-Hertogenbosch, The Netherlands last month.
Sweden's Gustav Svalling is President of the Ground Jury and the remaining members of the judges' panel are Andrew Gardner (GBR), Jean-Michel Roudier (FRA), Gotthilf Riexinger (GER), Elizabeth McMullan (CAN), Wojtek Markowski (POL) and Maria Colliander (FIN), while Maja Stukelj (SLO) is the Foreign Technical Delegate.
This is the 28th season of the FEI World Cup™ Dressage series, and the third season of sponsorship by New York fashion designer Reem Acra.
Ms Acra has extended her sponsorship for a further three years, bringing it up to 2016.
Reem Acra first put her name to the series at the start of the 2010/2011 season.
The most prolific winners of the FEI World Cup™ Dressage title have been the Dutch, with 12 victories.
Nine of those wins were recorded by Anky van Grunsven, who enjoyed a winning spree that extended over a 13-year period, beginning in 2008.
The 18-strong start-list is made up of 15 lady riders and just three men.
Of the 18 horses that will line out, 13 are geldings and five are stallions.
Riders from four different leagues - Western European, Central European, North American and Pacific - competed in the FEI World Cup™ Dressage 2012/2013 qualifying series.
by Louise Parkes for the FEI
Related Link
Eurodressage Coverage of the 2013 World Cup Final