2013 CDI Toledo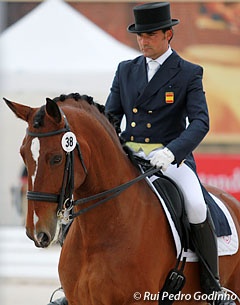 Spanish 2010 WEG team rider Jose Antonio Garcia Mena has returned to the big time after an almost two year sidestep from the international spotlight. With a new rider and his 2010 WEG team horse making a strong come back, Garcia Mena dominated the 2013 CDI Toledo in Spain on 5 - 7 April 2013.
Jose Antonio claimed first place in five of his six test performances in Toledo, rounding it off with a tidy second in the Grand Prix.
"I am very happy will all my results in Toledo and I was really proud of all three of my horses: Dragao Figueiras, Batuta and Norte Lovera," Jose Antonio told Eurodressage. "To win 5 of out of six, with one second, what more can I ask?"
Aboard the 5-year old Lusitano bred Dragao Figueiras (by Unico out of Valeria) Jose Antonio won the preliminary and finals test with 75.200 and 75.800 points. Astride his new shining FEI star, the 7-year old Lusitano mare Batuta, Garcia Mena swept the Prix St Georges and Intermediaire I with top sixty percentage scores.

"There are lots of things that stand out for me about the Toledo competition, particularly the fact that for both Batuta and Dragao Figueiras it is only the second show we have ever made together," he stated. "Plus, of course, the great satisfaction I have with my Grand Prix horse Norte, because in the two days of competition he just got better every day."
Second in the Grand Prix, Jose Antonio brought Norte back to the CDI show ring by producing a solid 68.213% earning ride. He went on to win the Special with 69.042%.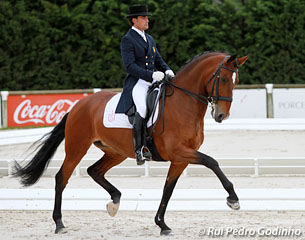 With all three horses on form, the sympathetic Spaniard had a good feeling throughout the competition and also had a lot of fun. "Dragao Figueiras is like a small boy with a character that likes to play and have fun but when he goes in the arena, he knows it is the time to work and he puts on his serious face," he said about the benjamin in his band.
Both Dragao and Batuta are owned by Portugese breeder Antonio Simoes. Batuta (by Quixote x Icaro) is more sensitive and an explosive horse but Jose Antonio feels she is top class.  "Batuta is a mare with a super class, spark and three very good gaits. However, sometimes she is a bit scared of new places and she still doesn't have the experience in the arena, but I'm sure that she can improve a lot," Garcia Mena explained. "Batuta is still young but she is a very serious and super worker. She always gives you more and more. She is really a pleasure to ride."
Finally Miguel Lovera's PRE bred Norte is Jose's gentleman. Always polite and with a big heart, Norte everyday strives to give Jose his very best. "They are 3 very different horses but they are all really nice to ride every single day!"
Training to get the best from all of them and to keep them going everyday, Jose Antonio doesn't really have a favourite horse to ride but says that Norte is his most famous horse at this moment. "With Norte we haven't had good luck these past two years, but now we are back again. We are positive and optimistic for this year," he stated. "Norte has talent in passage and piaffe, in trot and really all the collected parts. Day by day, we will see. "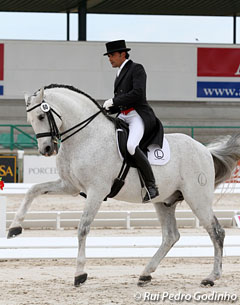 Jose Antonio started Norte as a 5-year old and has had the horse with him all his life. He has already learnt so much from him. "It is thanks to him that I was in the WEG at Kentucky in 2010,  one of the most special moments of my life," he admitted.
Based in Jerez de la Frontera at Jaime Baselga's private training facility Finca Encinasola, Jose Antonio has worked with Rafael Soto from the start. "Rafael continues to come to me and Jan Bemelmans also comes here or I go to visit him in Germany," he said.
Believing that horses teach you things every day, Garcia Mena knows that good horses are easier but the rest challenge the rider the utmost. "Difficult horses require the maximum from you and in the end, make you a better rider."
With a training philosophy that centers around keeping the horse in a positive frame of mind, Jose is lucky that his supporters are also positive about their thinking toward his riding ability. "The owners of my horses put 100% of their support behind me and we talk, make decisions and always make things easy for me and the horses. I feel that we are always on the same side."
Set to spend 2013 continuing to improve and learn, Jose Antonio believes in working hard and taking his training day by day. "Then it's up to God to decide," he added.
Text by Sarah Warne for Eurodressage
Photos © Rui Pedro Godinho
Related Links
Scores: 2013 CDI Toledo
Garcia Mena and Norte Bring Dash to the Arena at 2011 Sunshine Tour
Jose Antonio Garcia Mena Gets Married