2013 World Championships for Young Dressage Horses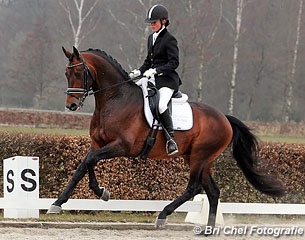 At the second selection trial for Dutch horses vying for a spot to compete at the 2013 World Young Horse Championships, seven new horses were submitted to the long list and six combinations, that qualified last week, were now rejected from continuing the selection process. The second trial took place at the KNHS equestrian centre in Ermelo, The Netherlands, on Tuesday 9 April 2013.
A few horses that couldn't make it to the first trial last week got the opportunity to present themselves on 9 April for the first time.
The selection committee, consisting of Wim Ernes, Johan Hamminga and Gert van den Hoorn, upped the 5-year old division from 16 to 18 horses and they reduced the 6-year old division from 16 to 15.
Newcomers are Don Juan de Hus, Didando, Djack Johnson, Davina, Capri Sonne, Che de Jeu and Citho. Drop-outs are Kim Vugt's DJ Jazz, Laura Zwart's Dylan and Chakakhn, Jenny Schreven's Chocolate Cookie, Roy van den Heuvel's Cidamorka, and Clementine Voest's Corleone.
The following horses can come back for the third selection/observation trial on 19 April 2013:
5-year old horses:
Dream Boy (Vivaldi x Ferro) - Gerdine Maree
Desperado (Vivaldi x Havidoff) - Emmelie Scholtens
Dagasus (Painted Black x Elberton) - Judith Pietersen
Dundee M (Lord Leatherdale x Sandro Hit) - Sharon Loeffen
Don Tango B (Contango x Jazz) - Diederik van Silfhout
Dancer (Vivaldi x Tango) - Kirsten Brouwer
Dark Pleasure (Ufo x Jazz) - Gerdine Maree
Dibert L (Vivaldi x Balzflug) - Stephanie Kooijman
Double Trouble Two (Jazz x Ferro) - Cindy van Vugt
Dorado (Krack C x Rousseau) - Emmelie Scholtens
Dolcevendy (Lord Leatherdale x Jazz) - Judith Ribbels
Dude (Vivaldi x Havidoff) - John Tijssen
Devil Diamond N (Florencio x Flemmingh) - Jessica Nijpjes
Danci (Ziesto x Oscar) - Gerdine Maree
Don Juan de Hus (Jazz x Krack C) - Jessica Michel
Didando (Tuschinski x Jestset-D) - Vai Bruntink
Djack Johnson (Johnson x Roman Nature) - Mandy Dokter
Davina DVB (Johnson x Ulft) - Lisanne der Nederlanden
6-year old horses:
Capetown (Rubiquil x Democraat) - Thamar Zweistra
Charmeur (Florencio x Jazz) - Emmelie Scholtens
Chicago M.H. (Vivaldi x Montecristo) - Jonna Schelstraete
Charleston B (Jazz x Rubinstein I) - Lotje Schoots
Casper (Westpoint x Goodtimes) - Hans Peter Minderhoud
Chardonnay (Winningmood x Flemmingh) - Vai Bruntink
Clarc (Dreamcatcher x Lord Sinclair) - Lars op 't Hoog
Charon (Rubiquil x Havidoff) - Thamar Zweistra
Cachet L (Jazz x Ferro) - Mirelle van Kemenade-Witlox
Charisma (Painted Black x Contango) - Tom Franckx
Cirano (United x Jazz) - Lobke de Jong
Coco Chanel (Sandreo x San Remo) - Patrick van der Meer
Capri Sonne jr (Rhodium x San Remo) - Dinja van Liere
Che de Jeu (Voice x Jazz) - Marieke van der Putten
Citho (Johnson x Florestan) - Emmelie Scholtens
Photo © Bri'Chel Fotografie
Related Links
Eurodressage Coverage of the 2013 World Young Horse Championships
First Dutch WCYH Selection Trial Harvests Crop of 32 Horses
Three Horses Receive Wild Card for 2013 Dutch WCYH Selection Process