2013 CDI Addington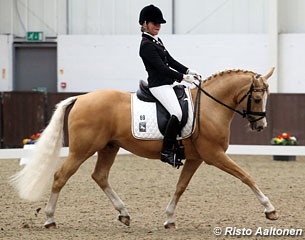 Claiming both the number one and two spots in the pony classes at the 2013 CDI Addington on 29 - 31 March 2013, German pony team rider Nadine Krause swept the field with all her five tests scoring over 70%. She accomplished this despite her belief that she played it a little too safe, particularly in the first test.
"In my first test at Addington I rode my "safety version" which means that I didn't take a lot of risks, particularly with Danilo," the 13-year old told Eurodressage. "This test with Danilo would have been better with more energy, but I was still very pleased with him." Nadine played it safe because it was Danilo's first test this year and she says she may have been a little too excited.
Despite the challenge Krause took out the team, individual and kur tests on her number one pony Danilo (by Dornik B x Power Boy). She  also brought along her second pony Cyrill (by Champion de Luxe x Power Man), with whom she made a very successful FEI debut to come in for a close second. "With Cyrill it was his first time ever for him to go into an FEI Test, so for this special occasion it went very well," she stated.
Improving in the individual test, Nadine feels that her ponies proved they are in top form and that she is also in her best shape this year. "The second test on Danilo was one of the best tests I ever rode in my life and with Cyrill I was, again, very pleased. On the final day I rode Danilo in the kur and I really enjoyed riding the freestyle to music," said the teenager.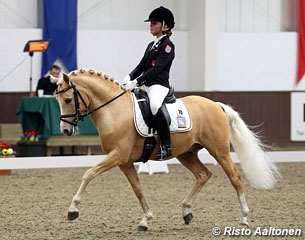 The Bad Homburg based Krause considered Danilo's individual test the highlight of her show in Addington. "They both felt just like at home," Krause said about her ponies. Nadine enjoyed the venue and atmosphere in Addington very much. "The boxes were great for them and also really big. Both of my ponies also loved the arena because it was so big and they love showing themselves off. For the horses and for everything else Addington was perfectly organised."
While Danilo is the calmer of her two ponies, Nadine knows both very well and says both always try hard to produce their very best. "Danilo always has the overview, he is always calm and he always gives me great confidence," she said. "You would never believe that he is a stallion. Cyrill I have already had for four years so I know him very well. He is very cheeky at home, but the second we come to a show he behaves like a mature horse. Cyrill always wants to play but when riding, both are always in a good mood."
Coached by Stefanie Meyer-Biss at a stable near Düsseldorf, Nadine sticks to the same training concept with both ponies. She considers herself  lucky to have the trainer that will help her achieve her goals. "Stefanie Meyer-Biss has a concept which fits very well to my riding," she added.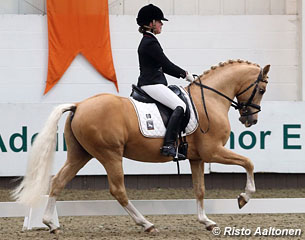 If she has any extra time Nadine has another older pony at home which she rides into the forest sometimes, but other than that she must focus her riding time on just her two competition stars. "I can't have more because of school and training Danilo and Cyrill takes up a lot of time," she admitted. "Plus, I don't have enough time to ride at home very much because I also play tennis, piano and saxophone."
Supported by her parents and her whole family, including her two brothers and sister, Nadine is also grateful to Jessica Krieg, who became the 2010 European Pony Champion on Danilo.  "She is always with me and also her family," Krause said about her foster support team.
Unable to imagine a life without horses, Nadine knows that no matter what career she chooses, dressage will be in her future. "I go to the Frankfurt International School of Oberursel and I am maybe going to be a doctor just like my father," she said with determination.
Hoping to bring Cyrill into the German Pony A-Team, Nadine is also aiming to qualify Danilo onto the German team for the 2013 European Pony Championships in Arezzo (ITA) for a second time.
by Sarah Warne for Eurodressage
Photos © Risto Aaltonen
Related Links
Scores 2013 CDI Addington
Peter Storr and Belmondino Shine in Thinned Out Field at 2013 CDI Addington
Cathrine Dufour Makes a Clean Sweap at the 2013 CDI Addington
British Junior Erin Williams Lands Top Spots at 2013 CDI Addington