2013 CDI Vidauban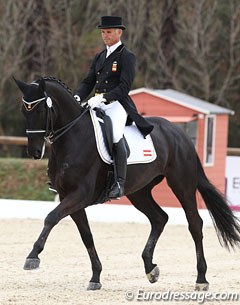 Returning to the international dressage scene, Spain's Olympic medalist Juan Antonio Jimenez was delighted with his two FEI stars Naomy and Elevado at the 2013 CDI Vidauban begin March. The 2012 Spanish Small Tour Champion is ecstatic to have four Grand Prix horses on the rise with as fourth iron in the fire the Lusitano Vietkong, which reminds him of his hay days with Guizo.
At the 2013 CDI Vidauban the Madrid based rider brought along his own 9-year old Hanoverian gelding Elevado (by Falkenstern II x Weltmeyer) and Yeguado Hispano Suiza's 9-year old Hanoverian mare Naomy (by Hofrat x Espri) for the small tour classes. Elevado scored up to 69.632% in the young horse Prix St Georges, whereas Naomy posted a score of 71.100% in the Intermediaire I Kur to Music.
"Vidauban was my first competition of this season and I am very happy with the results," Jimenez told Eurodressage. "Vidauban is a competition I like to go to every year because it is is very well organised and I like the level. I feel very comfortable there, even though this year I thought we weren't so very lucky with the weather!"
Taking out the team bronze medal at the 2002 World Equestrian Games, the team silver medal at the 2004 Athens Olympic Games and finishing in a fantastic individual fifth place at the 2005 European Championships in Hagen, Jimenez achieved major career highlights aboard the crowd favourite, his Lusitano stallion Guizo. Unfortunately the bay stallion unexpectedly passed away in the autumn of 2006 and abruptly ended Jimenez' days in the international spotlight.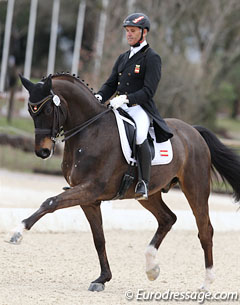 Certain that every career has its ups and downs, Juan Antonio never stopped competing and preparing horses. Nevertheless, he was happy to admit he could show off his hard but patient work in Vidauban.  With four horses currently in competition, Juan feels as though he now has top quality in his stable that will get him the great results again.
The black mare Naomy he praises for her wonderful temperament. "She is psychologically very balanced and very collaborative in her work," he said. With the dark bay Elevado he has set his hopes on Grand Prix next year. "He has very elegant, has large movements and is already at Grand Prix level, but I hope to compete him in Grand Prix next year."
While the two dark coated warmbloods have recently kept Juan Antonio's name high in the international show results, the Spaniard has not denied his roots and still has a big heart for the Iberian bred horse. His third exciting horse in his string of show mounts is the 11-year old Lusitano Vietkong (by Estoiro), who is particularly special because Juan has had him for nine years. "I'm the owner of Vietkong and he is very strong with spectacular movements. He was born in a stud in Portugal and then sold to Spain. I got him when he was two. This year I will start showing him in Grand Prix and his first competition will be the 2013 CDI Toledo. I think he's a horse that will give me great satisfaction."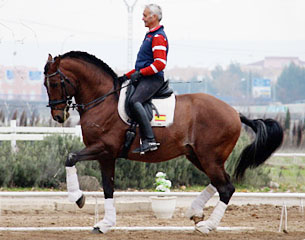 His second Lusitano Raio is 15 years old and has been his seasoned Grand Prix horse, while he worked on preparing the next super stars at home. "Raio has an excellent temperament with very correct movements. He is very even in his work, every day," he explained.
Owning all the horses except Naomy, Juan has set unique goals for each of his upcoming talents and is determined to get them where he wants them to be. "Raio I hope to continue competing at international level and Vietkong I want to start in Toledo and achieve a high level," said Jimenez, disclosing this his dream would be making the Spanish team again. He wants to move Naomy and Elevado up to Grand Prix at the end of 2013.
While each of his horses needs a different training plan, Juan Antonio knows that some give him more work than others. His goal is to obtain the same feeling under saddle at shows as at home. "My overall aim is of course to ensure that my horses enjoy the work," Jimenez added. Occasionally coached by Jack Van Hulsteyn and Luis Lucio, Jimenez manages his own riding school in Madrid and loves to have students but only a few as his training duties take up the majority of his time. "I can only take on a few students at a time, because I am too busy training my own horses at an international level," he admitted.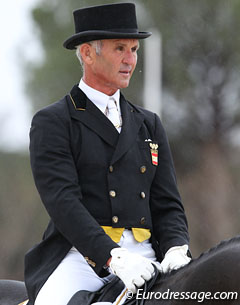 Looking forward to this weekend's CDI Toledo, Juan Antonio is excited to bring along Vietkong and Naomy. He feels this is an important competition not just because of its location, but also because this is a Spanish team selection event. "I like to go there because it's close to my stables are and it's an opportunity to compete internationally," he said. "On top of this, because of the changes in the management of the Spanish Equestrian Federation, the selection for the national team will be done there."
The greatest challenge of his career has been his journey back to the top and Juan Antonio is working towards this goal every day. The pleasure of riding such talented horses on a daily basis keeps him motivated to get up in those early mornings.
Photos © Astrid Appels - private
Related Links
2012 Madrid Horse Week, a New Equestrian Event in Spain
Carmen Naesgaard Wins 2012 Spanish Dressage Championships
Historic Entry Record at 2012 CDN Festival de Doma Clasica RACE
Guizo Passed Away
Jimenez Wins 2005 Spanish Dressage Championships in Home Town