2013 CDI Addington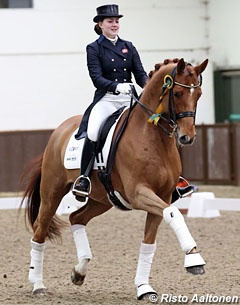 At the 2013 CDI Addington in Great Britain, Danish young rider Cathrine Dufour, the 2012 European Young Riders Champion, has proven that she is also the one to beat this year. Dufour took out both number one and two positions in all three YR classes; not bad for a scheduled "training" competition.
"It went very well for me in Addington," Cathrine told Eurodressage, adding that "the success wasn't planned. I was just intending to use Addington as training this year: to get the horses out again and start the season."
Winning the team, individual and kur tests with 72.982%, 73.333%, and 78.042% on her 10-year old Atterupgaards Cassidy (by Caprimond x Donnerhall), Cathrine thought the horse was not in 'summer-perfection-shape' but more in his 'spring-shape'. "Cassidy always produces his best work outside. He can get a bit hot inside but he did fine," she said. "Although it was not at all as good as at the 2012 European Championships and that wasn't planned. It was just planned to use Addington as training this year and just to get him out again to start the season."
Her younger horse, the 8-year old Danish warmblood mare Atterupgaards Orthilia (Gribaldi x Donnerschlag x Rambo), came in close behind to finish second in the team and individual tests on 71.184 and 72.939%, capping off a very successful first international competition. "My highlight of Addington was to show Orthilia in the international arena as she is a young horse that I expect a lot from in the future," she stated.
With her biggest challenge being to get Cassidy back down on earth, Cathrine feels he is always more ready than she wants him and willing to produce more than is required at the time. "He just loves to be in the arena and wants to give me almost too much. Therefore I always compete early, through January to March, just to make him come down for the summer's more important competitions."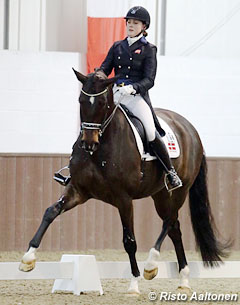 Cassidy is confirmed Intermediaire I level training for the Grand Prix and Cathrine feels his personality is his greatest weapon. "His personality is just amazing," she gushed. "I've never had a horse like him. When you get into him, he trusts you 110% in all situations. He is a very, very sensitive horse with a lot of energy in all paces, just the way I like a horse; sensitive and loves to work, and he gives his rider more, more and more. I just love Cassidy and he's my little favorite of all the horses in the stable."
Cathrine has only been riding Orthilia for little over 6 months, after her previous rider left owner Kristine Sinding for new ventures. Nevertheless their short time together the dark bay mare is already solid at small tour level. "She's very straight forward and always very honest. She's fantastic to train and goes just as well in competition." Orthilia is also a very sensitive horse but is not nearly as hot as Cassidy.  "To ride they are actually rather alike: best to ride with small signals and very happy to work."
Cathrine trains both horses in a similar way, working on the basics and the gymnastics of the horse. "Both horses need to go round in the neck almost every day because it's so easy for them to go in the 'competition shape'. Therefore I use a lot of time riding them out of the collected frame to make them use their neck and back everyday," she said. "In the beginning it was a bit hard to trust that I could then get them up in the right position for competition, but both horses give me just that little more when they're out, so it's no problem at all. When we enter the ring, they're ready to perform."
Working out of Danish breeding farm Atterupgaard with coach Rune Willum supervising, Dufour went back to the roots where her Cassidy was born. "I ride everyday and stay with my horses at the breeder's Atterupgaard, so it's rather funny that Cassidy is in the place where he was born," she said. "However, I own Cassidy myself, while Orthilia is still owned by Atterupgaard."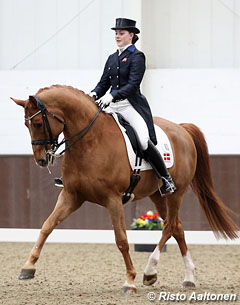 Hoping that Cassidy will go to the European Championships for a second time, Cathrine is glad that Orthilia is also now qualified should something happen to her number one. "After the European Championships the plan is to get Cassidy totally ready for Grand Prix. All the canter work is there. I just need to get the piaffe ready for the test. Orthilia has to go to some more Prix St Georges and Intermediate level first, but the long term goal with her is also Grand Prix. She shows amazing potential for piaffe and passage."
Like any ambitious rider, Dufour also dreams of the Olympics. "I think all athletes are dreaming about that, but my first goal is to ride Grand Prix," she admitted. "Aand after that see how it goes and train hard every day all that I can, and then we'll se how far that will get me. I know I have potential in Cassidy and maybe Orthilia - the question is whether I'm good enough to show it. So my plan is: practice, practice, and more practice!"
By Sarah Warne for Eurodressage
Photos © Risto Aaltonen
Related Links
Scores 2013 CDI Addington
British Junior Erin Williams Lands Top Spots at 2013 CDI Addington