2013 CDI Addington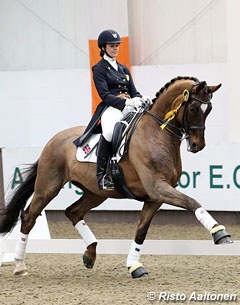 Making a clean sweep of the junior division at the 2013 CDI Addington in Great Britain on 29 - 31 March 2013, British youngster Erin Williams produced a hattrick on her Hanoverian mare Fleurie but also competed very successfully in the pony classes with Dynasty. She believes that her results were well beyond her expectations.
"Addington went far better than I could have hope," the 15-year old Williams told Eurodressage. "To win three junior classes and be the top British rider in 2 of the 3 pony classes is a dream come true, especially on home turf."
Williams won the team, individual and Kur test in the Junior division with scores of 72.387%, 73.640% and 79.042%.  Erin was very happy with her 13-year old liver chestnut mare Fleurie (by Florestan x Akzent II) which she started competing in 2012. Aboard her 9-year old German Riding pony mare Dynasty (by Deinhard B), Erin placed second twice and once third in the pony category.
Her smaller but equally talented palomino mare has  been teaching Erin a lot. "I have had her since she was 6," Erin explained. "I think we are really maturing as a partnership and have had some great scores this season already!"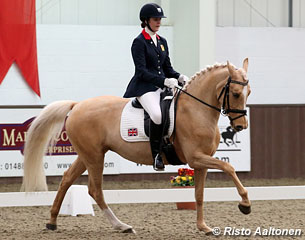 The highest scoring and placed British combination at the 2012 European Pony Championships in Fontainebleau, Erin has spent her time since the Europeans fine-tuning her pony's talent. "I have been working with my trainer Sonia Webster Baines on getting softness whilst keeping Dynie's power and unbelievable paces," she said. "Recently I have focused on her walk, keeping it through and connected and on improving the throughness and uphill tendency in our simple changes."
Currently studying for her GCSE exams, Erin is in her final year in ponies. She is determined to use her time and show what her Dynasty can produce. "There is more to come with Dynie.  Our full size outdoor arena was under a foot of snow before Addington and I had to practice riding my test in a 20 x 40 which is not easy with Dynie's huge movement," she said. "I am happy that our scores improved each day at Addington and I hope to take on board the judges' comments to earn higher marks next time."
Kick-starting her junior career earlier than her parents and trainer had anticipated, Erin was pushed to make the move after sadly losing her 2010 European Team pony Danny Boy B to a cancerous tumour 18 months ago.  "Last season I competed both Dynasty and Fleurie and was long listed for the junior Europeans, but I opted to go with the ponies."
Nevertheless, Erin was delighted with her 2012 show campaign with Fleurie and worked hard through the winter on her partnership with the sometimes tricky mare. "Fleurie is a very clever mare and started to prefer to do things her way!  It has taken time but now we understand each other and I was so pleased with the way she was at Addington. I felt that Fleurie really wanted to perform for me," she explained.

However, Erin's lead up to the local competition was not without its challenges and both she and her family felt they deserved some winning moments. "It has been a very challenging week for my family. My 8-month old cousin has been critically ill with pneumonia and septicemia since last Friday and given less than 50% chance of survival," she said. "A week later to the day, just as I was in the prize giving with Fleurie and the national anthem was  being played my Mum had a message to say that Freddie was doing so well that he could come off the life support machine.  Lots of happy tears!"
Now set to compete abroad, Erin just hopes to keep her mares happy and healthy and prepare them for the European Team selection in June.  "The girls can have some easier time in the next few weeks, hacking and stretching, whilst I work with my 7-year old stallion Billionaire (by Romanov). I hope to have him ready for junior competitions later in the season."
by Sarah Warne for Eurodressage
Photos © Risto Aaltonen
Related Links
Scores 2013 CDI Addington
Erin Williams, Rising to the Top Supported by an Inspirational Team
Antoinette te Riele's Fleurie Sold to Erin Williams