2013 World Championships for Young Dressage Horses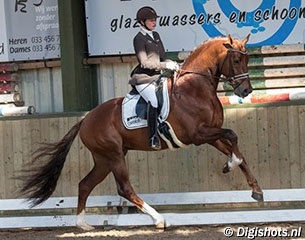 Three Dutch bred horses have received a wild card to participate in the Dutch selection process for the 2013 World Championships for young dressage horses, which will be held in Verden, Germany, on 7 - 11 August 2013. The KWPN society and Dutch Equestrian Federation annually stage one wild card day for horses who were unable to compete in the selection trials last year to be eligible to be submitted to the selection process.
The wild card day was held at Stable Groenendaal in Bunschoten, The Netherlands, on Wednesday 27 March 2013. The selection committee consisted of Wim Ernes, Johan Hamminga and Gert van den Hoorn.
"During the day we saw overall good quality and from that field we picked three horses, who in our eyes are, could become one of the best WCYH-horses of their age division," said Ernes.
The wild card recipients are the French owned Don Juan de Hus (by Jazz x Krack C), the 5-year old Diego (by Valeron x May Sherif) and the 6-year old Coco Chanel (by Sandreo x San Remo).
"We hebben gedurende de dag gemiddeld een goede kwaliteit gezien en daaruit gekozen voor drie paarden die in onze ogen bij de beste WK-paarden van hun jaargang kunnen komen. 
The first Dutch WCYH selection and observation trial will be held on Tuesday 2 April 2013, where the combinations have to ride the preliminary test under the watchful eye of the selection panel.
The complete Dutch WCYH selection process involves:
Tuesday 2 April - 1st selection (preliminary test)
Tuesday 9 April -  2nd selection (preliminary test)
Friday 19 April - 3rd selection (preliminary test/ coaching from Johan Hamminga)
Tuesday 18 June - 4th selection (main arena - finals test/coaching from Johan Hamminga)
Monday 1 July - 5th selection (main arena - finals test/coaching/videoing /vet inspection)
Tuesday 16 July - 6th selection (main arena - preliminary test/coaching from Johan Hamminga/definitive selection)
Photo © Leanjo de Koster
Related Links
TC Dolly Wins 2012 VSN Trophy Finals
Don Juan de Hus, Danciero de Hus, Dona Primera Win 2012 French Young Horse Championships