2013 World Cup Finals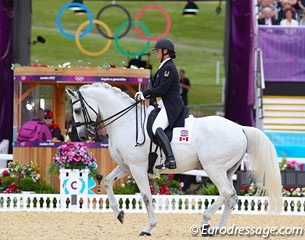 Canadian Grand Prix riders Jacqueline Brooks and Jaimey Irwin will be the representatives for the North American League at the 2013 World Cup Finals in Gothenburg, Sweden on 24 - 28 April 2013. The United States and Canada are eligible to send two riders to the World Cup Finals but several riders have opted not to make the journey because of financial reasons or because the show does not fit their schedule.
Originally Brooks would be joined by Canadian David Marcus, who was the highest scoring rider in their league. The North American League World Cup riders are selected for the Finals based on a Kur score average and not based on a point system like in Europe. Marcus accumulated the highest average score and was the number one rider to go to Gothenburg, but he decided not to make the journey.
"Upon careful reflection and after many discussions with my trainer Robert Dover and owner, Deborah Miculinic, we have made the very difficult decision to step aside from the World Cup this year," Marcus told Eurodressage. "Capital has had an incredible 6 months since the Olympic Games, winning at Devon and then on a meteoric rise through the winter dressage season in Wellington where his recent win at the CDI-W Wellington freestyle was just shy of 75 percent, proving he is a legitimate contender for the world stage in the future and we will work towards representing Canada at the World Equestrian Games."
Jacqueline Brooks and her Swedish warmblood gelding D Niro (by D-Day) were the second highest scoring North American pair and they are ready for the trip across the puddle.
"I am very excited about coming to Gothenburg," Brooks told Eurodressage. "It has been our goal all year and I have been in Florida to take advantage of training full time with Ashley Holzer in preparation of the final.  Goose has really matured in the larger stadium venues and has had his best results at the Olympic Games, Dressage at Devon, the Royal Winter Fair, and the Global show grounds which are all stadium type venues with lots of atmosphere. So I feel confident short of being on an indoor circuit, we have managed the best preparation possible in North America."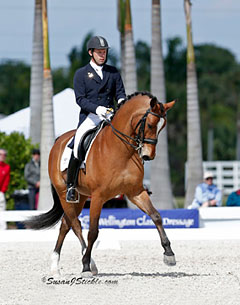 Brooks will be joined in Gothenburg by fellow Canadian Jaimey Irwin on Sylvia Carleton's and Ute Busse's Canadian warmblood Lindor's Finest (by Eastern Ruler). Irwin took over the ride on the 16-year old gelding last summer and obtained World Cup scores in Devon, Wellington and Loxahatchee. The pair will fly to Munster to train with Holger Munstermann before heading to Sweden.
"I am very excited to be able to represent Canada at such a great event as the World Cup Finals in Sweden," Irwin told Eurodressage. "Lindor and I have 'clicked' quite well together and the partnership just seems to become better every week. We did very well in the Fall at Dressage at Devon on the Freestyle which is where one of my colleagues, Evi Strasser,  said "you should really go for World Cup," so I did.  I had my mind on going to Sweden so when I was invited I was quite happy."
Having ridden in only one CDI-W freestyle, American Tina Konyot was in the lead for a while and had to show at last weekend's 2013 CDI-W Loxahatchee to earn her second mandatory score. Unfortunately, Konyot did not present Calecto V at the trot-up as she was injured herself.
"I have a cut on my knee, and it turned into a small hematoma, and I couldn't ride for five days," Konyot told The Chronicle. "It's the sixth day now (March 25), and I'm just sort of walking around."
Shelly Francis and the 10-year-old Oldenburg gelding Doktor (by Diamond Hit x Renoir I) were also eligible for a North American League World Cup spot, but declined.
Photo © Astrid Appels - Sue Stickle
Related Link
Eurodressage Coverage of the 2013 World Cup Finals