Eurodressage F.O.C.U.S.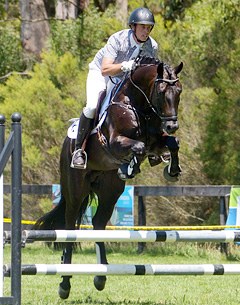 Two of Australia's top dressage competitors, David Shoobridge and Brett Parbery, made a pact they would have a crack at a one-day event just for a bit of fun. The adrenaline seeking duo were surprised that on top of all the excitement they never expectecd to also come home victorious.
"Dressage is our sport, " David told Eurodressage. "However, we just wanted to have some light hearted fun!"
Currently training an event horse owned by Olympian Stuart Tinney, Brett was offered a deal by the eventing gold medallist and thought he would make the most of his new stable addition.
According to David, Brett was brought in to work on the horse's flying changes and in return was granted the opportunity to take him to a competition. "The only catch was I didn't have an eventing horse," Shoobridge said about the origin of the pact, adding that "so in came one of our stallions Smash Hit (by Sandro Hit x Rosenkavalier)."
Whereas Parbery got to ride Tinney's 7-year old event horse My Thai (by Our Maizcay), Shoobridge opted for the challenge to ride a dressage horse with no jumping experience. David's recruit had jumped a few times at home but had never done a round of show-jumping, let alone a cross country course.
While Shoobridge finished the event on 29 penalties and Brett on 33,  the pair took out both the "baby" classes.  It reminded both riders of what's really important! "We both enjoyed a super competition that proved to us that while we take our sport seriously, it's nice to remember why we're all in it - because we love our horses," said Shoobridge. "To go to a competition without pressure and with absolutely no expectation was brilliant.  We enjoyed our horses like we were children again; something many of us should do more often!"
Apart from the victories and shenanigans the pair also learnt more about their horses and that a talented horse is a talented horse, regardless of its chosen discipline. "My stallion, Smash Hit, soaked it up as if he was born to do it, and I felt that he absolutely loved it; even getting his feet wet at the water complex," said David with a smile. "I think it's really healthy to take the horses for a hack out, or for a jump, or for a ride at the beach. Just do something different and enjoy it.  It's not necessarily needed for their training, but occasionally it's ok to take a 'mental health break' - whether that's a gentle stroll or a flat out gallop with jumps, just think outside the box."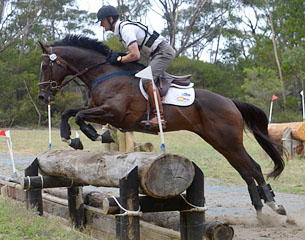 With Brett's horse being already an event expert, Parbery was very grateful to the gold medallist for loaning him the horse, particularly at a time when he needed a boost. "He offered the horse to me for a few months whilst I went through my 'mid-life crisis'," Brett admitted, "in saying that, I think he has created a monster because now all I want to do is go eventing again."
Agreeing that it is  definitely important for dressage riders and horses to let loose every once in a while, Brett only trains his dressage horses four days per week in the arena, with the other 3 days consisting of hacking out, in hand work, or a day off.  "I feel that it is imperative for the horses to be fresh and happy," said Parbery "We have been training that way for the past 10 years and wouldn't do it any other way."
Parbery found the complexities of each phase of eventing the most interesting and he believes that each phase has its own style of riding that are all slightly different. "Good riding is always going to be good riding," he added. "I also feel that eventing is a fairer sport and the ultimate equestrian challenge. I must say that galloping cross country is a real thrill."
Brett not only took "the wind in his hair" from the experience, but also learnt that balance of horse and rider is the single most important ingredient in all horse sports. "It has helped my dressage training in that I definitely felt freshened up by the cross training: the jump training and cross country schooling have been great.  I just had to do something to enjoy riding again," he confessed. "I find that the daily intensity of dressage and the scene surrounding dressage gets boring for me and I always function best when I'm fresh and having fun," Brett reckoned. 
David added that one should not take oneself too seriously. "Even if you think you should," he stated. "Remember why we all get into our game in the first place!"
by Sarah Warne for Eurodressage
Photos © Main Event Photography
Related Links
Brett Parbery Bounces Back Down Under
Brett Parbery, Working Hard to Become a Better Rider
Rozzie Ryan and GV Bullwinkle Reign Supreme at 2013 CDI Boneo
Scores: 2012 Australian Dressage Championships