2013 CDI Vidauban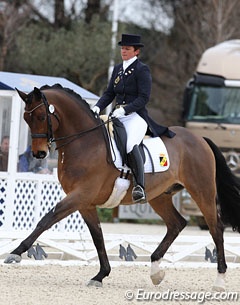 Taking the arena on two very different but equally talented horses, Belgium's Françoise Hologne-Joux arrived home from Vidauban, France, with a standout five first placings, two seconds, and three thirds. She was very happy with what Wodan and Warhol produced during the two weeks of competition in the South of France.
"Wodan and Warhol are very different to ride," the 45-year old Françoise told Eurodressage. "Warhol is always happy to work. He likes humans and is very charming. Wodan, on the other hand, needs more technical experience from his rider and is more independent in his character."
Second in the Prix St Georges and first in the Inter 1 and Inter 1 Kur in the first week of competition, 13-year old Warhol (by Warkant x Saint Cloud) backed it up with a triple third in the second week, leaving Françoise very pleased with her talented showmen. The 10-year old Dutch warmblood Wodan (by Gribaldi x Pion )won both his tests the first week,and in the second week scored 68.711% for first in the Inter II and 66.277% for a second in the Grand Prix.
With both horses in top form for the first week of competition, Françoise felt they were both a little bit tired for the second week, but were able to push through despite some interesting weather. "All the organisation in Vidauban was ok and they did all that was humanly possible to keep the ground perfect in spite of bad weather," said Hologne-Joux.
Coached by Carine Baton in Brussels twice every week, Françoise must focus her training around her different horses and matches it according to their strengths and weaknesses. "With Warhol we concentrate on the cadence, because it is very difficult to keep it regular, whereas with Wodan we train the transitions, keeping him down in the neck, and with speed in the legs," she said.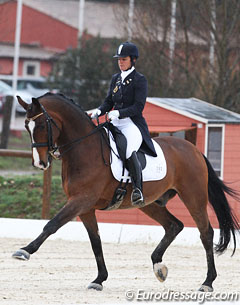 Describing Warhol as a lovely horse with a great deal of expression in his movement,  Françoise knows that while he likes to show himself off during competition, Wodan is a little different. "Wodan is a beautiful horse with a lot of elasticity, but he is sometimes still a little stressed during the test," she explained.
With four horses currently in work, Françoise also has a 7-year old to start this year in Prix St Georges level and one 6-year old mare by Lucky Dance. "I always ride in the same order and I find it best to ride Wodan first because he helps me to find the good rhythm with Warhol."
Riding dressage since she was 17, Françoise has no immediate plan to move Warhol up to Grand Prix and just hopes to keep on progressing and learning with her horses.
"This season my plan is to train Wodan to get more experience and greater percentages in Grand Prix tests, and I want to keep Warhol in small tour level."
by Sarah Warne
Photos © Astrid Appels - No Reproduction Allowed
Related Links
Scores: 2013 CDI Vidauban - Week One
Scores: 2013 CDI Vidauban - Week Two
Jeanna Hogberg and Liza Minelli, A Wickedly Winning Combination at the 2013 CDI Vidauban
Brits Reap Rewards on the Cote d'Azur at the 2013 CDI Vidauban
German Junior Lucas Alecco Roy Exceeds Expectations at 2013 CDI Vidauban
Scheufele and Remmington Steel Stand Out During Week One at 2013 CDI Vidauban
British Pony Rider Phoebe Peters Blasting Away Competition at 2013 CDI Vidauban
Alexandra Barbancon "Intouchable" on Young Riders' Debut at 2013 CDI Vidauban
Brits Book First Victories on Day One of 2013 CDI Vidauban