2013 CDI Vidauban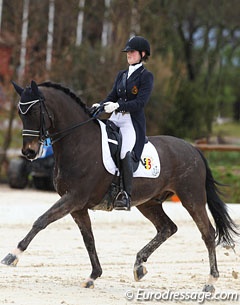 Wielding the axe of power in the young riders division during the second week of competition at the 2013 CDI Vidauban, Belgium's Alexa Fairchild dominated the field with her two horses Totall Tip Top and Timor. The American born rider swept the top two places in the team and individual test and rounded it off with a winning Kur, underlining her extremely successful international Young Riders debut.
"I was very pleased with my results in Vidauban because I feel that Totall Tip Top (Boule) and I are improving all the time as a combination,"  Alexa told Eurodressage. "This was my first international show as a Young Rider and I had only done a few national shows beforehand at this level."
With a 70.570% in the team test and a 70.026% in the individual, Fiarchild and Totall Tip Top (by Metall) completed a winning hattrick with a 69.550% Kur. Alexa was also very excited with her second horse Timor (aka Tum Tum, by Matterhorn) with whom she got a 70% in the team test and a 69.316 % in the individual. "It was only my 3rd competition with him and my first international show, as I have only had him since December," she explained.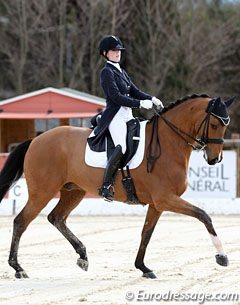 Grateful for the continued support of her trainer Virginie Deltour and her parents, Alexa feels the achievement makes all the hard work worth while. "
The greatest challenge for me was working on my canter pirouettes with Totall Tip Top and they seem to be going much better now that we worked so hard on them," she said. "For Timor, my biggest difficulty is to find the right contact and to maintain a stable frame in front. However, I really believe he has a lot of quality which I hope to bring out more in the arena.  We are still just getting to know each other."

Failing at her first jumping show, Alexa decided to change course going to a small dressage competition at a very low level, where she won. It was the decisive moment for her to choose dressage. "My current trainer, Virginie Deltour, noticed me after this and advised my parents to start thinking about a more serious dressage career," Alexa reminisced. "Since then I have been training in dressage and love it."


With her horses feeling in great condition at the show, Alexa believes that both were very giving and attentive to all her aids in the arena. Totall Tip Top is known for his extremely strong character and Alexa must be careful as he can sometimes act like a stallion. "He can be very hard to manage and it took us about a year to figure him out and to understand which buttons we could press," she admitted. "He has a wonderful canter, which is very uphill and amazing flying changes. In the second test we got two 9's in the 4 and 3 tempi changes."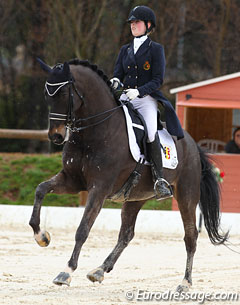 However, because of his strong character, Totall can sometimes decide not to give his best, so the challenge for Alexa is to carefully work with him and find the right solutions.  Timor on the other hand is bred as a jumping horse and has a very different character from Tip Top. "He is always seeking attention and likes to play around, and he is always willing to work and give his absolute best," she said.
Alexa is still working on gelling with her new horse Timor and says that despite his willing character he is an extremely physical horse to ride.  "Although I do love to ride him in tests, as he really tries to do his best," she added.
The 2013 CDI Vidauban was Alexa's second time competing at the venue. Last year she went and loved it. This year she really enjoyed it as well in spite of the weather. "I had as much fun this year even though I had to ride in the rain and wind quite a few times. I still enjoyed it and the show ended with beautiful weather and pleasing results. The organizers and staff are very professional and accommodating," she explained.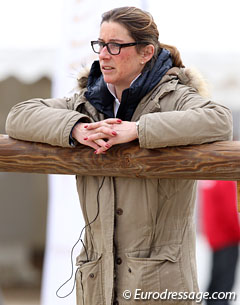 With stables based in Braine l'Alleud, Belgium, just outside of Brussels, Virginie Deltour has been working with Alexa for over eight years and has brought the youngster to no less than six European Championships so far! "We are a very good team together and are able to reach our goals every year, always working on new strategies and objectives," says Alexa. 

"I happened to ride in the stable that Virginie ran. I started training with Fanny Verliefden and then moved over to Virginie. We both started working on getting to the top level of ponies together and I went to my first Europeans when I was 12."


Alexa is lucky to own her horses and have two totally dedicated parents that enjoy the sport of dressage. "They have been extremely generous and have always been there for me during my training processes as well as in every competition. I think that they both enjoy it very much and get a kick out of it," she confessed.
Focused on getting more precision in her tests with Totall, Alexa aims to find her fit on Timor as well. However, with two confirmed 70% scoring horses the young rider is glad to have two such talented horses to ride. "I found Totall Tip Top in Germany. My trainer and I fell in love with him after trying about 30 horses. I will always remember him looking at us walk down the whole corridor of the stables with a look in his eyes saying "Buy me"," she said.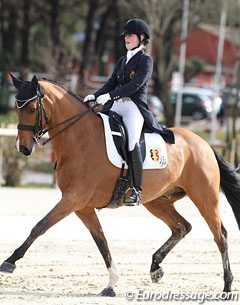 Timor was found by Alexa's trainer, who sent her a video. "I told Mom to call right away," she said. "We then tried him several times in Holland and bought him as we all found that he had a lot of talent.

Faced with the constant challenge of working hard and training to succeed in competitions, Alexa must balance her studies with all the time she puts into the sport of dressage. "Since I have my IB exams coming up in May I don't have that much time to do competitions, but I am hoping to do Addington and then Compiègne," she said about her 2013 show calendar.  "My goal this year is to go to the European Championships and in the long-term I hope to start riding the Under 25 Grand Prix as soon as we are ready."

by Sarah Warne for Eurodressage
Photos © Astrid Appels
Related Links
Scores 2013 CDI Vidauban
German Junior Lucas Alecco Roy Exceeds Expectations at 2013 CDI Vidauban
Scheufele and Remmington Steel Stand Out During Week One at 2013 CDI Vidauban
British Pony Rider Phoebe Peters Blasting Away Competition at 2013 CDI Vidauban
Alexandra Barbancon "Intouchable" on Young Riders' Debut at 2013 CDI Vidauban
Brits Book First Victories on Day One of 2013 CDI Vidauban