2013 CDI Vidauban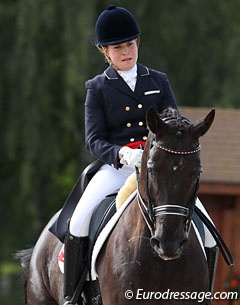 Aiming to reach young rider level by next year, Switzerland's Caroline Marie Scheufele produced stand-out results in the junior division on the first week of competition at the 2013 CDI Vidauban on 28 February - 3 March 2012. She proved that she is up to the challenge.
"I was really happy about my results in Vidauban and I thought I produced some really nice tests," the 17-year old told Eurodressage.
Winner of the Junior team test with 67.833%, Caroline dropped to second in the individual with 67.237%, but rose up to finish victorious in the Kur with 70.150%. "My horse was amazing throughout the entire competition and I felt that he was really working hard with me," she explained. "However, my score dropped a little in the individual test, because he jumped a flying change alone too early."
The only Junior to score a 70% in the Kur, Caroline revealed that she and her trainer designed the Kur themselves and sent it to a professional to match the music. "The music was chosen by the professional and we went with Spirit of Madagascar, because it is fun and it matched my horse really well," she said.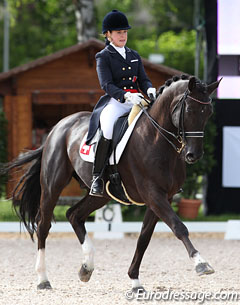 Making a start in dressage at age 10, Caroline lives next to a dressage-only stable so she was led into this discipline mainly due to proximity. "I am currently still training at my home, with Ted and Pamlea Jonker, and Suzi Eggli," she said. "I choose them as my trainers because I live just 2 minutes walking distance from their stable."
Taking the arena on a very wise dressage master, Caroline's winning horse is the 17-year old Remmington Steel (by Ravallo). "I have been riding him for that last 4 years  after school and  I love that he always wants to work and gives me his best everyday."
Given the ride on Remmington Steel by trainer Pamela, Caroline began on him when he was at M-level. Now she is facing the new challenges associated with the move up to Young Riders level, which equals Prix St. Georges. "I know it will take a lot of dedication to reach Young Rider level next year, but for the time being I'm just excited about the move," she admitted.
While she believes the S-level test to be a much harder programme, Caroline is already focusing her training on perfecting those movements. "It will be difficult to do the flying changes every fourth and third stride, so I  am working a lot on that now," she explained.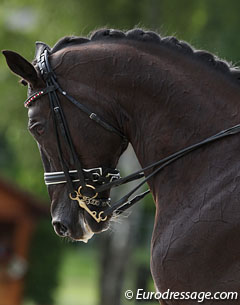 With two horses to ride everyday after school, Caroline tries to see her friends at least once a week, but knows that she must take a lot of time with her horses. Her second horse is Connection, a 13-year old Holsteiner by Caretino. She has owned him for 9 months and he is Intermediaire I ready.
Enjoying both her horses for different reasons, Caroline hopes that both will continue into the future. "I know that Remmington Steel is 17, but he still loves working and so I really have no clue when we will put him on retirement," she expressed.
Still in high scool Caroline aims to have a professional career in the family business, which should leave her the time to also follow her equestrian dream. "My family own a watch company and when I finish school I hope to be a part of that," she confessed. "My current goal however, is to go to the Europeans and be able to ride the Kür there."
by Sarah Warne for Eurodressage
Photos © Astrid Appels
Related Links
Scores 2013 CDI Vidauban - Week One
British Pony Rider Phoebe Peters Blasting Away Competition at 2013 CDI Vidauban