2013 Danish Warmblood Stallion Licensing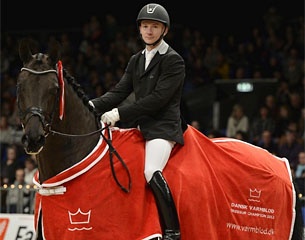 With two times 10 from test rider Hasse Hoffman the Blue Hors Zack-son Zick Flower and Blue Hors rider Allan Grøn took the lead in the 2013 Danish Warmblood Young Horse Dressage Championship. Runner-up was Blue Hors rider Maria Anita Andersen.
Blue Hors is the main sponsor of the Young Horse Dressage Championship and this year horses, riders and stallions from the stud were dominating.
Winner was Allan Grøn with the impressive and very well educated Zick Flower (by Blue Hors Zack/ x Blue Hors Romanov), bred by Andreas Gregersen. After showing with his own rider Zick Flower received 8 for walk and 9 for trot, canter, rideability and capacity. Hasse Hoffmann tested the beautiful gelding and really enjoyed the ride, describing him as a horse with unlimited capacity.
"It has been a great experience to ride this horse," said Hoffmann and rewarded the horse with maximum score; 10 for rideability as well as capacity. With those scores Zick Flower and Allan Grøn went straight to the lead with a total of 928 points.
The previous leader came second with 911 point and it was no other than stable mate Svalegårds Hottie (by Blue Hors Hotline x De Noir), ridden by Maria Anita Andersen and bred by Else-Marie & Jens Chr. Krabbe.
Sanne Henningsen broke the Blue Hors dominance and came third with 888 points on Dancer Kahn (by Dancier x Midt-West Ibi-Light) bred by Jens Aage Nielsen. Dancer Kahn was also appointed "the happiest horse" by Hasse Hoffmann.
Related Links
Dressage in Focus at the 2013 Danish Warmblood Stallion Licensing
Talented Youngsters in Spring Auction at 2013 Danish Warmblood Stallion Licensing
Friendly Duel Puts Dressage in Focus at 2013 Danish Stallion Licensing