2013 Danish Warmblood Stallion Licensing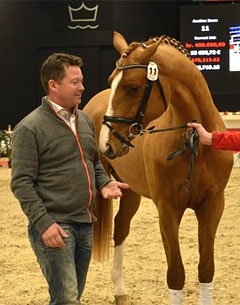 Several approved as well as premium stallions were up for auction in the 2013 Danish Warmblood Spring Auction held during the 2013 Danish Warmblood Stallion Licensing at MCH Messecenter in Herning, Denmark. For once, the auction price highlight was a jumper stallion.
One of the biggest attractions at the Danish Warmblood Stallion licensing is the Spring Auction during which approved and non-approved stallions as well as a selection of riding horses can be bought. This year was no exception, as a huge crowd had found its way to hall B. As a specifically warm welcome to the audience, Danish Warmblood engaged the singer Shaka Loveless to warm up the audience with one of his big hits.
After this musical introduction it was time for the event of the evening: the auction! This year seven approved stallions were in the collection. Six were selected just hours before the auction and the last one was a 4-year-old. Two of the stallions are premium stallions and will be in the premium ring Sunday with a possibility to be this year's winner.
The auction highlight was newly approved premium stallion Svalebo's Cellestin (by Chellys Z x A-Dur) that excelled during the loose jumping. The stallion was sold for 400,000 DKK (approx 54,000 €) to Peter Enemark in partnership with others, amongst Rikke Haastrup and Mette F. Henriksen from Stald Mak.
The most expensive dressage horse was a newly approved stallion by Fürstenball x Milan, Skovlygårds Faust will have a new home with dressage rider Helene Melsen.
Ulrik Kristensen, the chairman of the auction selection team, was satisfied with the auction result but would have preferred to see higher prices and more horses sold. "I am convinced that several buyers have acquired extremely good horses of the highest quality for a very low price, and that must be very satisfying for them," Ulrik Kristensen said afterwards.
Facts and figures:
60 % of the collection were sold
160,357 DKK  (21,500 €) average price
2,245,000 DKK  (301,000 €) total turnover
Related Links
Talented Youngsters in Spring Auction at 2013 Danish Warmblood Stallion Licensing
Dressage in Focus at the 2013 Danish Warmblood Stallion Licensing