2013 CDI Vidauban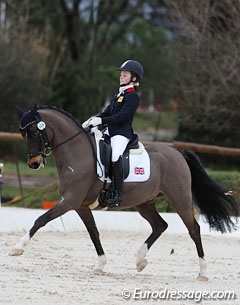 Blitzing the field with an 80% Kur during the first week of competition at the 2013 CDI Vidauban in the South of France, Great Britain's Phoebe Peters and her special pony SL Lucci ended her hattrick of Vidauban wins on a definite high!
"In the first week of Vidauban competition I won my first CDI with the team test and then went on to win the individual and the Kur on my pony Lucci," the 13-year old Phoebe told Eurodressage. "We scored 73.53%, 72.92%, and 80.33% and I was really pleased with all of the tests! I think that the reason I did so well was because Lucci has a very good balance and we have been working very hard on his rhythm in trot which has improved a lot. The simple changes are always his strong point and they went really well too. He loves to compete and he always tries really hard for me every time we compete, so that is a huge help for doing well."
Certain that her 80% earning freestyle was the highlight of her show, Phoebe designed the test with her trainer Peter Storr and inspired by her favourite films.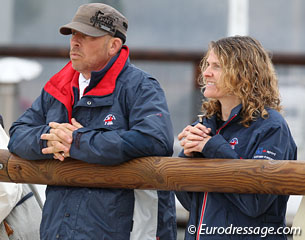 "My trainer and I put together the floor-plan. We tried to make it as technical as possible especially in the canter because Lucci has such good balance in that gait," she explained. "The music was put together by Owen Gurry. When we chose the new music we wanted something strong and memorable to suit his character. One of my favourite films is Johnny English Reborn so that is where the trot and walk music came from. Then for the canter we used Kung Fu Panda which fits perfectly and has great changes for the simple changes. The judges really liked the floor plan and were impressed by how well Lucci and I performed the difficulty while still maintaining good balance."
Encouraged to take up dressage by the yard manager where her sister Camille had her first pony, Phoebe mainly wanted to do dressage because she loved the perfection of it. "The strong bond between the horse and rider is truly special," she stated.
Lucky to have landed such a top pony, Phoebe enjoys Lucci's personality, particularly in competition. 
"Lucci is very clever, funny and just generally lovely to be around. He loves to work and gets very bored if he's not challenged. He is unique because he goes into the competition arena and has a great presence about him but will always work with me not against me."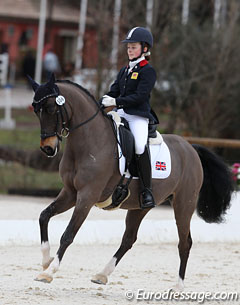 Phoebe has been based with coach Storr in Worcestershire for three years and believes that his attention to detail and pursuit of perfection is what makes him a brilliant trainer. "Whilst being sympathetic of the horses, he also has an amazing understanding of the horse's mind," Peters explained. "I have him to thank for all of my successes with Lucci and with my previous pony Hillmen."
Phoebe retired Hillmen at the end of September 2012 after he served as Phoebe's first FEI pony which got her to international level. He gave Phoebe the experience she needed to begin with Lucci. "Lucci has a great character, he is on the go all the time and just has a great personality. He loves attention and lights up the stables," she gushed.
Working through the winter with Peter, Phoebe has been focusing on the cadence and rhythm of Lucci's trot and she believes they have been making some definite improvements. "We were aiming to develop more engagement, but still maintain softness and relaxation," she explained. "We work a lot on his suppleness and relaxation over the back in stretching so that when we develop him up into the competition frame he maintains relaxed."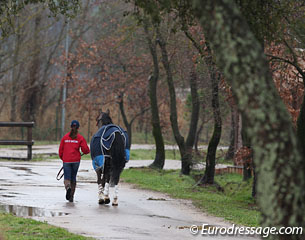 Riding 6 times a week with Mondays off for Phoebe to get some personal training done on herself, Phoebe planned her competition lead up  pretty much the same as her usual 6-day calendar. "In the lead up to Vidauban I continued to work on his way of going, rhythm and balance rather than the competition movements as I always do at home."

Already achieving her first goal of 2013, which was to win her first CDI, Phoebe now hopes to contest the 2013 European Pony Championships, improve on her placing and scores from last year. She also keeps on dreaming of an even bigger future ahead. 
"My dream ride would be either Salinero or currently Woodlander Farouche. Salinero, as he is one of the greatest dressage horses of all time and I have always enjoyed watching Farouche right from her first British National Championships as a 4-year old because she has incredible power but such great agility and presence," she said.  "
I also have to thank my mum, dad and sister for all of the support they give me. They have always encouraged me to try and achieve my dreams."
Text by Sarah Warne for Eurodressage
Photos © Astrid Appels
Related Links
Scores 2013 CDI Vidauban - Week One
SL Lucci Sold to the British Pony Rider Phoebe Peters
Brits Book First Victories on Day One of 2013 CDI Vidauban
What's Happening: October 2012 - Part 2