2013 CDI Vidauban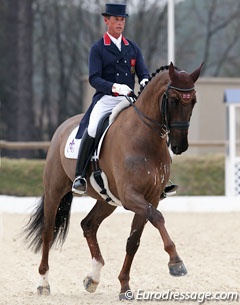 A strong British squad of 16 riders with 19 horses has landed for the annual two week Vidauban CDIs in southern France.  The riders were greeted with a heavy dusting of snow earlier this week; not what many were expecting of Spring in the region!  Competition got underway this morning and Britain already has two winners! 
20-year old Amy Woodhead won the Young Riders Team Test with her smart stallion Pardon with 68+%.   2012 Pony team debutantes Phoebe Peters and SL Lucci were victors in the Pony Team Test with a fabulous 73+%.
Olympic Team Gold Medallist Carl Hester tops the senior entry with two big tour rides, Aram Gregory's super-talented Dances with Wolves and Jenny Green's stallion Fine Time IV, who Carl is riding for new mum Gemma Appleton.  Dances with Wolves, or Golly as he's known, made his grand prix debut less than two weeks ago, scoring a great 77.45% but this will be his first test at this level on the international stage. 
Henriette Andersen has two rides in Layla II, who is in her second season at grand prix and Flavio, an eight year old who's been with Henriette for three years and makes his international debut.  Peter Storr also has rides at big and small tour level with Belmondino looking for experience to cement his GP credentials while Fabioso has had a great deal of success at small tour but has just one season with Peter in the saddle.  Judy Harvey and Richard Heley's loyal Fitzcerraldo will be looking for some good form in a bid for a European Championship team while Dan Sherriff and Bayford Hall Dallagio are back to competition after their pre-Olympia setback.  Lisa Hopkins and Lindsey Roberts' Walkman BC make their first trip abroad and with wins from their two GP starts this season look in good form.
At small tour level, Anna Davey rides Two Mills Call Me Playboy while Jonny Clarke-West has Khartoum for the second week only.
In the Young Horse Sections, French-based Amy Bird rides the Vivaldo-sired six year old Cambel B and Sam Rahmatallah contests five year old Seagry Sanay, owned by Keith Taylor.
Britain has just one Young Rider combination in Amy Woodhead and Pardon, but as mentioned, they've already made their mark on the competition with a win in the YR team test - they'll be in action on Friday again in the individual test with the freestyle on Saturday.  Five pony combinations have travelled out to make an early start to their campaign for a coveted British Team place.  2012 team members Phoebe Peters will be hoping for a continuation of the good form which earned them their flag in their debut season.  Ollie Stokes (Carlsson), Rose Hugh-Smith (Holsteins Derwisch), Isobel Berrington (DHI Langar) and Amber Barton (Doctor Little) make up the quintet.
Photo © Astrid Appels
Related Links
Scores 2013 CDI Vidauban
Fourth Edition of the Spring Tour Set to Take Place at Vidauban
Photo Report: British Tour de Force in Small Tour at the 2012 CDI Vidauban