2013 Piaff Forderpreis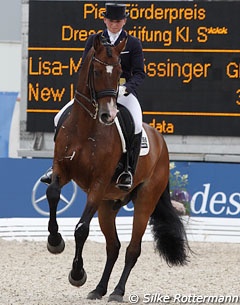 The German DOKR Dressage Selection Committee picked the combinations which will be allowed to compete on the German Under 25 Piaff Forderpreis show circuit in 2013. Based on the performances at an observation trial held in Warendorf, Germany, on 2-3 February, the committee selected 12 pairs in total.
No less than thirty German U25 combinations were invited to participate in this observation trial in order to obtain an entry ticket for the circuit. Twenty-one pairs rode a short Grand Prix in front of a judge on Sunday morning. Each ride was video taped and discussed with the riders afterwards.
German team trainer Monica Theodorescu also publically assessed the tests. "It is so much fun to work with these young people," Theodorescu commented. "You notice that they are motivated and really want it."
German Under 25 coach Jurgen Koschel was pleased with the quality of the riders though real highlights, like Kristina Sprehe and Desperados in 2011, were absent from the group. "It is maybe not the strongest group, because there are many new faces and horses. However, I'm happy that there are a lot of riders here. It proves that the Piaff Forderpreis is established. The riders and their parents know that after Young Riders it goes on," said Koschel.
Koschel also praised the current co-operation with the home trainers. "Almost all of them were there," he said.
The highest scoring pair at the observation trial was the 19-year old Lisa Maria Klössinger and her 12-year old Holsteiner New Lord (by Newton x Lordship x Corleone). Trained by Ulla Salzgeber, Klössinger scored 69.225%. Routinier Victoria Michalke and Dance On finished second with 68.45%, while Ann Kristin Dornbracht and Don Malecon were third with 67.442%. Nadine Husenbeth and Florida were closely on their heels with 67.364%. Annabel Frenzen and Cristobal completed the top five with a 66.357% score.

The combinations invited to participate in the 2013 Piaff Forderpreis are:
Ann-Kristin Dornbracht - Don Malecon
Sarah Erlbeck  - Amichelli
Annabel Frenzen - Cristobal
Jan Herrmann - D'accord
Nadine Husenbeth - Florida
Fabienne Lütkemeier - Miss Goligthly
Lisa-Marie Klössinger - New Lord
Louisa Lüttgen - Diamantenbörse
Viktoria Michalke - Dance On
Julia Sachs - Discover
Kirsten Sieber - Charly WRT
Franziska Stieglmaier - Ronaldo
Photo © Silke Rottermann
Related Links
Stella Charlott Roth Wins 2012 Piaff Forderpreis Finals
A Dancing Diva and Holsteiner Dressage Power at the 2012 Piaff Forderpreis Final
Stella Charlott Roth Wins the 2012 Piaff Forderpreis Selection Trial
Matthias Alexander Rath Wins 2006 Piaff Forderpreis
Ellen Schulten-Baumer Wins First Ever Piaff Forderpreis at 2001 CDI Stuttgart