Greatest Oldies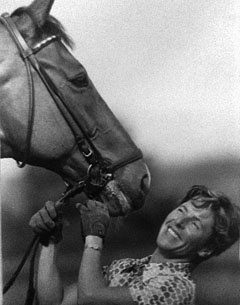 In 1991 I was 13 and had a serious problem. I dearly wanted to have the book which Dr. Reiner Klimke had written, but it was out of print. Naively I thought that the best to obtain it was to write a letter to Klimke himself. So I sat down, used my best letter paper and handwriting explaining my situation. I was quite nervous at the thought of addressing Reiner in person honestly never believed I would get a reply.
Still it was worth a try. My mother, though not amused of the fact that her horsey daughter went to such great length, still remembers the delight when only some days later a small parcel arrived, containing the desired book, several autographs and a lovely letter of Ruth, Dr. Klimke's wife. I couldn't believe my luck that such famous equestrian personalities had promptly taken care of a young dressage enthusiast's matter. Back then I had no idea what a busy woman I had bothered with my selfish desires!
More than 20 years later I get a glimpse of what Ruth Klimke, now over 70, still has to deal with and blush at the thought that I dared asking her to take care of the book which I still own to this date. However not so different to two decades I emailed Ruth, the chairman of the personal members' group and the vice-president of German equestrian federation for an appointment for Eurodressage. Promptly I received a reply that we are welcome to meet her at her home in Münster and visit also a training session with her daughter Ingrid.
Upon meeting Ruth Klimke one quickly notices the positive helping gene she is born with. She doesn't shy away from any efforts to make it right at many levels, always in the welfare of the horses, the sport and the people involved. In this sense Ruth Klimke continues, in the spotlight, what her husband did for so many decades: being an ambassador of the horse sport.
A Horsey Beginning of Her Own

In the early days it is remarkable that when dressage was still a fringe sport, it produced some early super-stars whose enduring success on the Olympic stage etched them into the memory of a and non-horsy public in Germany forever. Amongst these are Hans-Günther Winkler, Fritz Thiedemann, Dr. Josef Neckermann and of course Dr. Reiner Klimke. From those four legends, Klimke was one who remained a true amateur his entire career, riding in the early mornings before rushing off to his lawyer's practise in Münster. During lunch breaks he would speed back to the barn to exercise another horse and again in the evening.
As admirable as that energy and self-discipline was, one easily forgets that the successes Dr. Klimke had, often aboard comparatively mediocre horses which became world-class thanks to his training, this achievements would never have been possible without a relentless working and supporting wife behind him. From early on Ruth Klimke became the indispensable backbone of her husband and still operates in this role for her riding children, Ingrid and Michael. This dedication stems from Ruth's early passion for horses. A love which started long before she got to know Reiner Klimke in the early 1960s.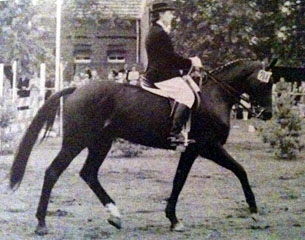 Born in 1940 as Ruth Heymanns in the capital of North Rhine- Westfalia, Düsseldorf, Ruth and her two brothers soon moved to the small lower Rhine town of Lobberich to live with her grandparents. "My father was in World War II and he died in North Africa when I was just one year old. So my mother who had married my father as a 17-year- old was on her own with us," Ruth reminisced.
With the move to Lobberich she entered a small paradise in nature. Her grandparents owned a firm for tapware and a lived in a beautiful mansion with a park-like garden and a small stable of its own. "It was a big nice house where we had many opportunities to play and have fun. My grandfather was an animal lover who always had dogs. My mother has several animals of her own, dogs, sheep or rabbits. I have inherited her love for animals as I myself had a dog all my life long, I cannot imagine living without a canine companion," Ruth admitted.
As a carriage with horses belonged to the estate Ruth' passion for horses was nurtured from early on. Even though "I was my grand father's favourite grand-child" Ruth first had to ride the horse of the Riding Club Lobberich, Hexe, in the beginning when she learnt the ABC of equitation from August Tobrock. She rode the mare "Uschi" and Ruth soon competed in A- and L-level dressage. "I was so lucky having a stable near the house! We even had a groom for the horses and an outdoor arena not far away. We just hacked the horses there for the training. That wouldn't be possible today because of all the traffic now. But back then I even could visit my ill mother in hospital on horse-back. I just hacked there and waved her hello from the parking!"
Though horses played an important role Ruth didn't consider making them her profession. As a teenager she dreamt of becoming a stewardess which was one of the most favourite female professions at a time when charter flights were in their infancy. "My grandfather convinced me to finish school with A-levels, which I did," she said.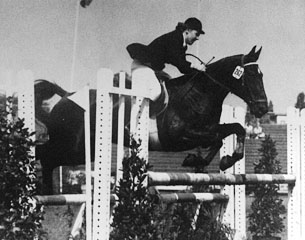 When Ruth graduated from school her grandfather gave her the beloved mare Uschi as a gift. Uschi, a German bred warmblood, was Ruth' very first horse. "I did compete a lot on her. At the beginning we only had a tractor to pull the trailer to the shows. There I met many who later became famous equestrian personalities."
Being the grand-child of a successful businessman Ruth didn't follow a career over the clouds, but visited an Economic High School. "It was okay, but soon I realised this wouldn't be my life and I wanted to become a primary school teacher. Still I think this time was useful as I profit from it until these day, it helps doing all the paperwork," she admitted.
So in 1961 Ruth decided to start her studies and moved to Münster. This Westfalian town was ideal in several aspects: located only about 150 km from her home she was allowed to take "Uschi" with her, let alone the countless opportunities to compete in the heart of Germany's equestrian scene.
Nobody knew then that Ruth would never leave Münster again. She got acquainted with Grete Klimke at the Westfalian Riding and Driving School. Grete was the sister of Reiner Klimke, a law student who was part of a young bunch of very talented riders. He had started his career as a dressage rider with the support of the legendary Dr. Gustav Rau in the 1950s. His disappointment for not being nominated on the young Hanoverian mare Doublette for the 1956 Olympic dressage team turned Klimke to eventing and he soon became one of Germany's best riders in the discpline.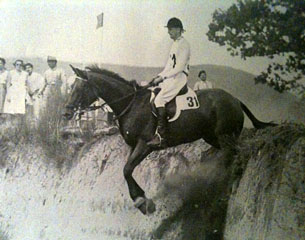 In 1960, shortly before Ruth got to know Reiner's sister Grete, she had observed her soon-to-be husband at his first Olympic Games. "When I graduated from school my mother paid me a journey to the Olympics in Rome and she and my step-father accompanied me. I didn't meet Reiner there in person, but my step-father joked that this young man would be a good rider, a smart man and an ideal husband for me," Ruth confessed.
It took four more years before her wise father's prophetical words were realised. Ruth rode mainly jumping competitions up to M-level during her university time and in the spring of 1964 she got to know Reiner Klimke through her friend Grete. "We met for the first time at the Westfalian Riding School. It is almost 48 years ago, in May 1964 we fell in love and in autumn 1964, right before the Olympic Games in Tokyo, we got engaged."
Ruth had just finished her first state exam to become a primary school teacher, but she didn't fly out to Japan to see Reiner compete on the Hanoverian Dux in his first dressage Olympics. Instead Grete went there as a groom. In January 1965 the couple married and soon after their first child, Rolf, was born. Ingrid and Michael followed within four years. Her marriage to Reiner Klimke, who soon became Dr. Klimke when he started working as a lawyer and notary in Münster, was the start of a very busy life.
"I never started working as a teacher. Right from the beginning of our marriage it was clear I would take care of the children and the horses. I would have loved being a teacher, but it came differently and believe me: I had such a wonderful life, I am grateful that I was able to live it like that and I would do it just the same way again."
Behind Every Successful Man There's a Strong Woman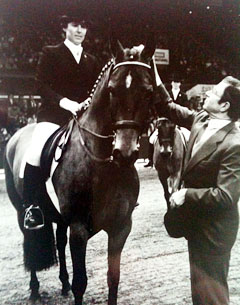 Not long after their marriage the Riding Club St. Georg Münster was founded and built in a green island near the Münster Zoo. Loose boxes, an indoor and outdoor arena, a sand racetrack and fields provided ideal training possibilities for the Klimke horses. There Klimke stabled Olympic team champion Dux,  the more elegant Arcadius, a Holsteiner by the thoroughbred Anblick xx (also the sire of Neckermann's most beautiful grey Antoinette, the Holsteiner Ronald, the bay roan Mehmed, which was a Hanoverian gelding by jumping sire Ferdinand, then  on his way to S-level. Later the Klimke string of horses expanded when the leggy narrow 4-year-old Ahlerich joined, as well as the Trakehner Fabian, the Canadian bred mare Amantiado, the short-legged KWPN Pascal only to name a few of all those horses which were trained by the Klimkes and later excelled in the FEI arena all over the world.
Ruth didn't give up competing in dressage because of her family, but had her own horses which she started successfully up to Grand Prix-level. She had been the regional dressage champion of North Rhine-Westfalia and placed highly at German Championships for ladies with the horses Privatier and Sekur. She only quit competing in 2000 after having received the Golden Riding Badge in 1972 for 10 wins at S- level. She never stopped riding and enjoyed hacking Ingrid's eventing World champion Sleep Late xx "until Ingrid gave him to a junior girl to have a more active retirement for him." Sleep Late passed away at the end of November 2012.
All too often one could read in the media what an incredibly busy and hard-working man Dr. Reiner Klimke had been, an amateur in the truest sense and  successful in many ways: an Olympic dressage champion, a member of the federal parliament of North Rhine Westfalia, a lawyer and notary, an official of the IOC, etc.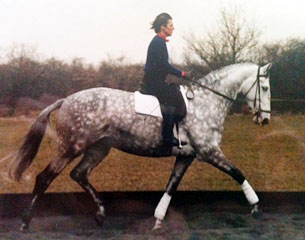 These accomplishements would have been more or less impossible without the dedicated and whole-hearted support of his wife and team. In the foreword of his famous book "Ahlerich" Klimke wrote: "One on his own cannot have great success in the sport at the highest levels. It is important to have a team (…) in which everybody does his part and dedicates himself with all he has to the well-being of the entrusted horse." In this team his wife Ruth along with groom Claudia Rosner played an indispensable part. "Every day started the same. We all had breakfast together, the kids went to school. Then we drove to the Riding Club and my husband rode one horse before he rushed off to his lawyer's practise," she said.  Ruth continued exercising more horses and took care of the youngsters before they met again for lunch around noon. "My husband would often ride another horse in the lunch-break before returning to work and we would meet again in the early evening at the horses." 
Ruth stated that Ahlerich had been the most special horse with which she had the closest relationship. When Ahlerich came into their stable as a 4-year-old auction horse in 1975 Dr. Klimke was so busy with his job he couldn't ride a lot with the youngster, so Ruth took care of the newcomer's training the next months whereas her husband mainly rode Ahlerich on the weekends. Ruth remained key to Ahlerich's training at home throughout the 17 years they had the bay Westfalian by Angelo xx. She hacked "Ali" in the mornings to give him some leg-stretch before Dr. Klimke would work him in his lunch-break.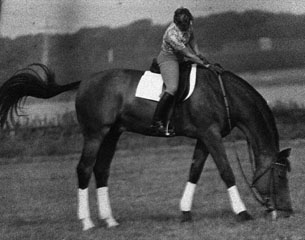 When Ahlerich retired after his fifth Olympic medal at the Stuttgart German Masters in the autumn of 1988 he more or less became Ruth's riding horse. For the next four years she spoiled the grand old horse until his untimely death in 1992 from a colic attack. A newspaper quoted Ruth with the words: "Ali was my horse" which says a lot about her part in the horse growing into the shining personality which would enchant dressage lovers all over the world.
Of course Ruth not only played an important supportive role in the riding of the horsesk but she was also a very valued advisor for her husband. Training problems, individual warm-up strategies and tactics at shows were discussed into detail by the two of them. Dr. Klimke could always count on his wife's honest opinion and her unlimited support and belief, something invaluable for a dressage rider.
Whatever Ruth could do to take the pressure off her husband, she did. "In particular I liked to reply to letters of people asking for an autograph or giving us any kind of encouragement. We always appreciated it very much."
The Helping Gene

Ruth Klimke didn't seem to mind not being in the spotlight during her husband's unique career because she apparently  has been born with the infamous helping gene. While in the 1970s and 1980s she often travelled with her children to Olympic Games and international championships  nowadays nothing has changed as she is the helping hand for her daughter Ingrid and her two grand-daughters, 10-year-old Greta and 2-year-old Philippa. Ingrid is the first and only one of the Klimke dynasty who made horses her profession and she leads an incredibly busy life.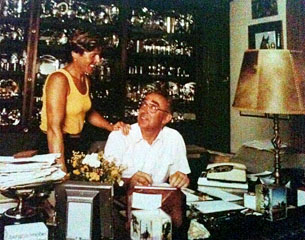 Ruth supports her daughter the same way she did with her husband and takes care of the grand children when Ingrid is away. At the 2008 Olympic Games in Hongkong daughter Ingrid became Olympic team champion in eventing and Ruth stayed home with Greta who had to start her school career at the time. A German TV crew filmed Ruth and Greta at home during those decisive seconds when Ingrid rode to Olympic gold in far-away China.
As often as possible Ruth accompanies Ingrid to all the dressage and eventing shows during the year, giving moral support and lending a hand wherever needed. "I am happy to see Ingrid and her horses, but sometimes I am also worried she might injure herself. She has difficult horses in training and eventing in general is more risky than dressage", Ruth confessed who loves to see Greta walking in her mom's foot-steps. "Greta genuinely loves her ponies and is so proud to cool down Ingrid's horses after work when Greta has school holidays." The love and passion for horses have undoubtedly been given on to the 10-year-old which might mean another chapter in the Klimke dynasty's success on four legs. Greta's genuine affection for the horses seems to be the best precondition!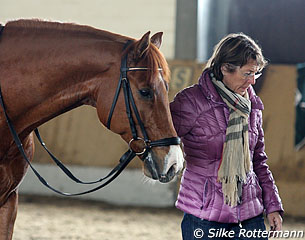 By far Ruth does not limit her support to her own family as she is very active in several functions. Already in 1981 she began working voluntarily for the personal members (PM) of the German FN, as their vice-president until 2001 when she was elected president. This function still keeps her busy in different ways as it also means being vice-president of the German FN besides Count Breido zu Rantzau.
Ruth participates in several events organised for the personal members of German FN. She takes care of the German "School Horses Cup" and is also member of the jury of the renowned contest "Unser Stall soll besser werden" (Our stable should improve); not to forget her engagement for charity within the FN, but also for the children suffering from cancer or for the "Fördercentrum Mensch und Pferd" in which disabled young people can do an apprenticeship to become an FN examined groom. The German FN didn't miss to honour one of its most active members with various accolades, among them the FN badge of honour for exceptional merits which Ruth got in 1993, followed by the German Rider's Cross in silver in 2000 and later in gold on occasion of her 65th birthday.
Last but not least Ruth' circle of friends is large and she takes great care to keep friendships alive. She loves to have people around her, even if it seems a bit much sometimes. Ruth just cannot say 'no' when somebody approaches her with an aim she feels is important enough to take care of. Her weak spot is travelling, preferably with the cruise ship "MS Deutschland" which became famous through the successful German TV series "Traumschiff". Even though Ruth enjoys going on boarding with a long-time friend, she sometimes is the guide for groups on shore excursions.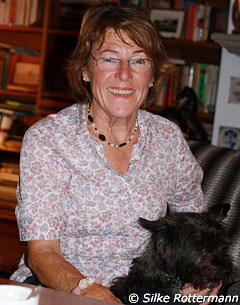 Although over 70 now, Ruth acknowledges her life is as restless and active as ever and her energy luckily never seems to fade. Not only her family, friends and several jobs keep her busy, but also her Cairne terrier bitch Fee takes care her owner making sure Ruth gets sufficient physical exercise. After Ruth badly broke her ankle she had to stop playing tennis for some time (her second great passion). Every morning and evening Fee, who loves sitting at the window of Ruth's winter garden, observes the birds and then demands for a walk. "In the past I sometimes walked my dogs across the field behind my house and over the hill and then you can already see the property of Riding Club St. Georg Münster which we founded in 1967."
While daughter Ingrid has her horses at Hof Schulze-Brüning in Münster, son Michael still runs a dressage stable in the stalls where once Dux, Mehmed, Ahlerich or Biotop got their hay and oats. Like his father he has to split time between the lawyer's practise he took over after the untimely death of his father in 1999 as well as the stables. Ruth' third child, Rolf, runs an agency for equestrian sport.
Ruth is lucky that her three children are living a stone's throw away from her own house, in which she moved in the 1970s. Michael has taken over the first Klimke house with his wife and two children and his elder brother Rolf has joined them there, being the only non-riding member of the family. "He started alongside Michael and Ingrid and also competed a bit, but one day he stopped. He still follows all horsey activities of the family with a keen interest. I think it was not always easy for the children when they rode. When they were young and on the weekend on a show with their ponies they often preferred having me instead of my husband with them. Well, on the other hand it was not easy to explain that to my husband who just wanted to help them. In general, unlike many might assume, it was not always so easy for my children to have such an equestrian personality as their father."
German equestrian sport owes the Klimke dynasty a lot: By far not just eight Olympic gold medals in two disciplines. Much more importantly they all continue to be wonderful role models: Fair to their horses and friendly and approachable to the public. Ruth and her family have created a better picture of a sport which the wider public often regards as "snobbery" and "upper class." One thing is for sure: without the relentless and modest support of Ruth Klimke in the background an immortal part of international dressage history would have never have happened the way it did.
Text by Silke Rottermann for Eurodressage
Photos © Silke Rottermann - Hugo Czerny - Private archive Ruth Klimke
Related Links
Dr. Reiner Klimke's Ahlerich
Mehmed, Triumph of Training
Rider in the Spotlight: Dr. Reiner Klimke
Dr. Reiner Klimke Suffers Heart Attack
With Dr. Reiner Klimke's Death Germany loses a Great One
Ingrid Klimke: Where Riding Becomes Art