Dutch Dressage News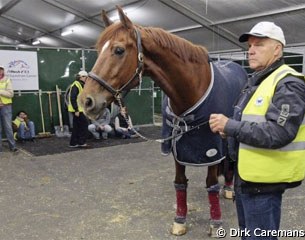 The 65-year old internationally renowned vet Jen Greve has been reappointed team veterinarian of the Dutch Dressage Team by the Dutch Equestrian Federation. He will be working alongside Dutch team captain Wim Ernes.
The Haaksbergen based Jan Greve was the long-time Dutch dressage team vet until a major dispute with former Dutch team trainer Sjef Janssen in the spring of 2012 made Greve decided to resign from his job immediately. 
Greve got replaced by Arie Hoogendoorn, a colleague at Jan's equine clinic. Hoogendoorn assisted the Dutch team at the 2012 Olympic Games.
"We are pleased to have Jan back on board," said Ad Wagemakers, high performance team manager of the Dutch Equestrian Federation. "Wim Ernes and the riders are totally behind out decision and this creates a good work environment for the upcoming European Championships in Denmark this summer."
Jan Greve operates his own equine clinic and stallion station in Haaksbergen, The Netherlands. He is the owner of Patrik Kittel's Scandic.
Photo © Astrid Appels
Related Links
Greve Resigns as Dutch Team Vet Due to Conflict with Sjef Janssen
Parzival Not Competing at 2012 Dutch Championships
Scandic Sidelined
International Veterinary Sport Horse Congress at 2011 CDI-W Amsterdam