Austrian Dressage News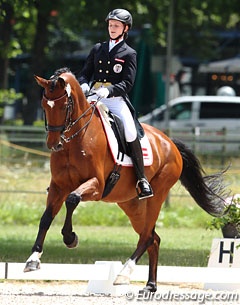 The Austrian Equestrian Federation has released the names of the riders included in the teams from FEI Pony to Grand Prix level for the 2013 show season.
Team listed riders get priority when they enter for international competitions and are eligible to participate in training seminars. Riders have to be submitted to a team before being considered for team nomination for a continental championship.
In 2013 the Austrian Equestrian Federation will be hosting training seminars for riders in all teams from pony level to small tour level with the German trainer Christoph von Daehne.  Taking place in Himberg, Austria, the seminars are scheduled for 11-12 February and 23-24 March 2013.
Grand Prix A-Team (twice scored above 68%)
Victoria Max-Theurer - Blind Date, Augustin, Eichendorff
Renate Voglsang - Fabriano
Karin Kosak - Lucy's Day
Peter Gmoser - Cointreau (only one score above 68%)
Grand Prix B-team (1x above 68)
Peter Gmoser - Two to Tango
Stefan Peter - Don Walesko
Christian Schumach - Picardo
Andrea John - Esperanto (1x above 66%)
Grand Prix C-Team (1x above 66%)
Karina Prochaska - Dow Jones
Martin Hauptmann - Frechdachs H
Katrin Wergetis - Waldano
Amanda Hartung - Wolkenritter (1x above 64%)
Markus Jungwirth - Count Basie (1x above 64%)
Small Tour Team
Victoria Max-Theurer - Della Cavalleria
Stefanie Palm - Royal Happiness
Karin Kosak - Florentino
Stefan Peter - Rhapsodie, Florinero
Christian Schumach - Rhaposario
Lea Elisabeth Pointinger - Gino
Sabine Durrheim - Hans im Gluck
Juliane Vogt - Flipper
Astrid Neumayer - Flamenco
Stephanie Dearing - Don Claudio
Bettina Wurzinger - Dorian
Katharina Stumpf - For My Love
Sabrina Reinwald - Talentfield, Impuls S (for competitions in Austria)
Young Riders Team
Lea Elisabeth Pointinger - Gino
Franziska Fries - Alassio's Boy
Junior Riders Team
Lisa Maria Kerbler - Donna Rivera
Kristina Sober - Perfect Illusion
Barbara Bresztowansky - Pommery (for competitions in Austria)
Pony Riders Team
Xenia Herta Schumann - Vito, Baribaldi
Florentina Gisi Lorenz - Golden Juicy
Victoria Wurzinger - Sappori
Photo © Astrid Appels
Related Links
Austrian Teams Selected for 2012 European Junior and Young Riders Championships
Victoria Max-Theurer Finds New Balance and Inspiration in 2012
Renate Voglsang Obtains Ticket to 2012 Olympic Games