2013 New Zealand Young Riders Championships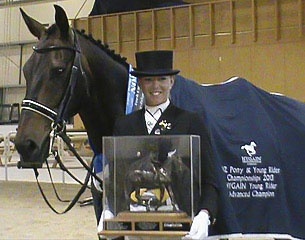 Kate Welten has retained her national title as New Zealand's Young Riders Champion by dominating the 2013 New Zealand Young Rider and Pony Championships held at Manfeild Park in Feilding on 12-13 January 2013. The Championships were set under a shining sun with a gentle breeze keeping the riders cool.
Aboard her steady equine partner, the 12-year old New Zealand bred Amajah (by Anamour x Ramzes II), Kate Welten won both championship rounds, which included the Prix St Georges and Kur to Music. Trained by Janet Shaw and based in Cambridge, NZ, Welten and Amajah reigned supreme in the Prix St Georges, scoring 66.908%, and obtained a winning 67.17% in the Kur to Music. This is Welten's third NZ Young Riders' Title in a row.
"I had an awesome weekend away at the NZ Young Rider Championships," said Welten. "I took away three trophies, NZ Young Rider champion, Captian of the winning North Island team and highest points at the competition."
The runner-up overall was the 19-year old Nicola French aboard the 9-year old imported Oldenburg Don Freese (by Don Schufro x Pik Noir). The combination placed second in the Prix St Georges (65.395%) and third in the Kur (63.47%). The Marlborough based French imported Don Freese herself from Germany four years ago. The pair is trained by Diane Wallace.
"He is the most intelligent horse I have met and takes all work in his stride, with an amazing personality," French said about her horse. "I don't know anybody who has met him and not fallen in love with him."
French did have 20-year old Catherine Tobin on her heels. On the 13-year old Riverndell Romeo (by Rasputin), Tobin was third in the first round (63.026%) but climbed the ladder and finished second in the Kur with 66.62%. Catherine hails from Wellington. She has been based with her trainer Bennett Conn in Australia, but returned to New Zealand in June 2012.
On Saturday evening 12 January New Zealand Olympian Louisa Hill gave a public interview followed by a short clinic with two riders. This was a great opportunity for the young riders to hear of Louisa's experiences and advice she had to offer. Following this she talked through some of the more difficult movements with Karen Trotter riding her Grand Prix horse Flamenco G and Wendy Hamerton on her mount Pot of Gold.
Results - 2013 New Zealand Young Riders Championships - Feilding
Round 1 - Prix St Georges
Judges: Mura Love, Judy Greenslade
1. Kate Welten - Amajah - 66.908
2. Nicola French - Don Freese - 65.395
3. Chelsea Callaghan - Royal Aspen - 63.026
4. Catherine Tobin - Riverndell Romeo - 61.447
5. Melissa Parkes - Caithness Masquerade - 60.855
6. Charlotte Grant - Going Irish - 59.803
7. Hannah Johnston - Just Hollie - 59.671
8. Rebecca Goldsbury - Avante Garde - 57.697
9. Marjorie Bentley - Dublin Bay - 56.316
10. Una Cahill - Achenbach - 55.987
Round 2 - Kur to Music
Judges: Julie Brougham, Jan Bird, Linda Warren-Davey
1. Kate Welten - Amajah - 67.17
2. Catherine Tobin - Riverndell Romeo - 66.62
3. Nicola French - Don Freese - 63.47
4. Chelsea Callaghan - Royal Aspen - 62.63
5. Charlotte Grant - Going Irish - 61.62
6. Rebecca Goldsbury - Avante Garde - 59.63
7. Marjorie Bentley - Dublin Bay - 58.65
8. Una Cahill - Achenbach - 58.00
9. Melissa Parkes - Caithness Masquerade - 56.62
Hannah Johnston - Just Hollie - RET
Related Links
Kate Welten Wins 2012 New Zealand Young Riders Championships
Kate Welten Crowned 2011 New Zealand Young Riders' Champion
Hill and Welten In Front at 2012 New Zealand Horse of the Year Show
Van Dyk and Welten to Represent New Zealand at the 2011 Trans Tasman Young Riders Derby