American Dressage News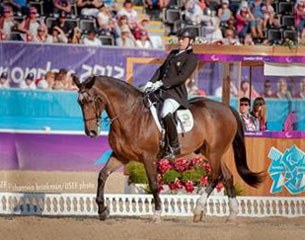 The United States Equestrian Federation has announced the nominations for the 2012 USEF Horse of the Year and Equestrian Athlete of the Year Award. Not a single Grand Prix dressage horse nor rider have been selected for the short list, but dressage Paralympian Jonathan Wentz and his horse Richter Scale are nominated.
The winners of the awards are announced at the United States Equestrian Federation's annual Pegasus Awards gala. This year's gala will be held on Saturday, January 19, 2013 at The Henry Clay in Louisville, Kentucky.
Nominees for the USEF equestrian of the year award are Rich Fellers (show jumping), Jonathan Wentz (para equestrian), Gilbert Marcucci (hackney), Jennifer Alfano (hunter), Matt Siemon (Arabian), Joe Reser (Arabian), Bruce Griffin (Friesian), and Wendy Potters (National Show Horse).
The nominees for USEF Horse of the Year are Flexible (show jumping), Manoir de Carneville (eventing), Richter Scale (paralympic dressage), CHCourageous Lord (saddlebred), Germ (Friesian), and Jersey Boy (hunter).
The late Paralympian Jonathan Wentz is commemorated with the Becky Grand Hart Trophy at the Pegasus Gala.  Wentz achieved a lifelong dream in 2012 by competing on the world's grandest stage at the Paralympic Games. Wentz was born with Cerebal Palsy and began his equine endeavors at age two in order to help combat symptoms of the disease. He was only 13 when he began forming that dream of riding at the Paralympic Games, and in 2008 Wentz took one step closer to it when he began riding at the North Texas Equestrian Center and forming a partnership with coach and supporter Kai Handt. Handt would pair the young man with NTEC Richter Scale. Wentz and NTEC Richter Scale went on to represent the U.S. at the 2010 World Equestrian Games just two years later. Then, in June of 2012, Wentz saw his dream come true when he and NTEC Richter Scale earned the USEF National Para-Equestrian Reserve Championship at the 2012 Selection Trials, and were named to the U.S. Team to compete in London at the Paralympic Games.

In London, Wentz led the U.S. team's effort in their most successful Championship finish in recent years. He and NTEC Richter Scale came within minutes of standing on the Individual medal podium, only to be edged off by the final riders. They finished fourth in the Grade 1b Individual Test and fifth in the Grade 1b Freestyle Test.

Only weeks after returning from London, Wentz tragically passed away, leaving a void in the hearts of his friends, family and the sport he loved. Wentz is the first athlete to receive the Becky Grand Hart Trophy posthumously.
Related Links
Steffen Peters Named 2011 USEF Equestrian of the Year
Linda Zang, Recipient of the Pegasus Medal of Honour
Steffen Peters Awarded 2009 Withney Stone Cup