2012 CDI-W London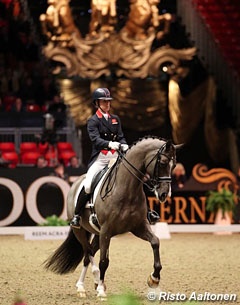 2012 Olympic champions Charlotte Dujardin and Valegro returned to the show ring after the Olympics to break the world record in the 2012 CDI-W London Grand Prix at the Olympia Horse Show on Monday evening 17 December 2012. With a faultfree ride in which power and accuracy stood out, Dujardin rode to victory with a whopping 84.447%.
Dujardin and Carl Hester & Roly Luard's Dutch warmblood gelding Valegro (by Negro x Gershwin) was powerful in the trot extensions, rhythmical in piaffe and passage and in the correct frame, uphill and with the nose at the vertical or even slightly out. The extended walk had good relaxation but the transition from collected walk to passage was tricky. The two tempi's were huge and expressive, the zig zag accurate, the pirouettes good.
The 27-year old Dujardin told Skysports after her ride: "The horse is amazing, I am just so lucky to have him," she said. "I had the worst headache this morning. I rode a bit safer than I would normally." Charlotte also wrote on her Twitter account that "tonight has been so special - a new world record for valegro and I here at Olympia 84.447%. So overwhelmed #nowords."
Dujardin broke Edward Gal's previous record of 84.08%, which he set aboard Totilas at the 2009 European Championships in Windsor. Charlotte now has the Grand Prix and Special world record to her name.
Isabell Werth and Madeleine Winter-Schulze's Hanoverian Don Johnson (by Don Frederico x Warkant) finished in second place with 76.362%. The pair entered the ring before the bell had rung but got the opportunity and re-enter the proper way. The bright bay gelding flowed in the half passes but could have been more steady with the head. The horse seemed to have improved on the balance in piaffe and passage though Don Johnson could improve on his sit in piaffe. The canter work was solid with clean tempi  changes and small pirouettes. After a neat final centerline Werth ranked second.
Edward Gal and the Austrian owned Dutch warmblood gelding Undercover (by Ferro x Donnerhall) slotted in third with 76.128%. The powerful black gelding is extremely rhythmical and powerful in the piaffe and passage. The horse got more tense in the canter work and became tight in the neck and behind the vertical, especially in the zig zag. The tempi changes were correct but the horse was tight in the frame. The pirouettes were tiny. The transition from canter to trot lacked smoothness. Undercover looked fresh, fit and willing to work. 
Text by Astrid Appels
Photo © Risto Aaltonen
Related Links
Scores 2012 CDI-W London
Glory and Gold for Charlotte Dujardin in Kur to Music Finals at 2012 Olympic Games