Young Guns in Dressage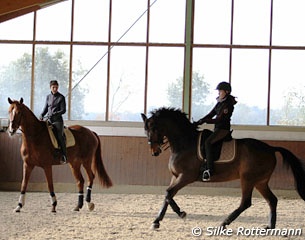 In 1980 the first dressage rider from the world's smallest continent made an appearance at an international championships. The late Judith MacKay was the very first from her far away country Australia to come over to Europe to compete with her Australian bred Debonair (by Coronet) in the 1980 Olympic Festival at Goodwood.
Maybe even more remarkably was the fact that this pioneer of Australian dressage left her country to learn more about the art of riding, then still quite unknown to her country in the southern hemisphere. She went to the Spanish Riding School in Vienna to train and many riders from down under have followed in her footsteps since then; training and competing in Europe for a period or even relocating permanently.
None of MacKay's followers have actually retraced her footsteps more closely than the now 16-year-old Jessica Blackmore. She left her home country to pursue a career in dressage at the tender age of just 12 when she and her mother Thekla moved to Great Britain to give Jessica the best possible chances realising her dream of representing her country one day.
A Little Big Fish in a Small Pond

When Jessica left Australia as a 12-year-old in 2008 -- an age most only start riding -- she already had nine years in the saddle. "I started riding at the age of 3 and was brought up around horses. My mum is very horsey, though neither her nor my father come from horse-loving families. My very first was a miniature pony called Bronco whom my mum led around the fields with me on bord. Because he was little enough for me to handle I learnt how to look after a pony," said Jessica about her early beginnings back in Australia.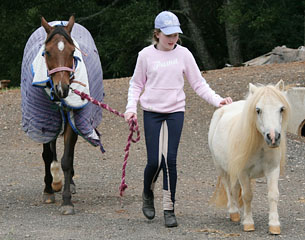 Little Bronco enabled her to compete at a gymkhana for the first time when she was only 4 and a year later Jessica joined the legendary "Pony Club" from which so many Olympic riders descended, in particular for eventing. Young Jessica's love for dressage became obvious from the start, "since I was never very keen to jump or do any other Pony Club activities other than dressage. I was a very nervous rider when I was young and even when the time moved on and I become a more confident rider, I still didn't want "to leave the ground". So as I was too scared to jump or event when I was younger I only did dressage and showing and since then have developed a love for dressage. Also, my mum was a dressage rider and it was obvious I would follow."
Jessica's first attempt at the discipline, which would soon drive her to Europe, made her victorious as she competed in an interschool competition aboard Bronco's successor. She became Junior Primary Champion. She really got completely hooked on dressage when her parents bought her Kirala Spotlight in 2004. The only 13.2 hh Australian Riding Pony was originally a show pony and that's what he looked like. A most attractive beautiful type of pony though he had little dressage education when he came to Blackmores.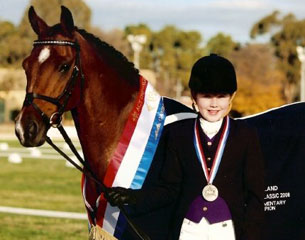 "I was only 8 then, but my mother helped me with Spotlight's training."  A dressage rider up to FEI level, Thekla helped her daughter to get the gelding FEI ready in three years. The trio, based in New South Wales (NSW), travelled almost all around Australia to take part in pony competitions which were spread over the continent. Though there were a considerable number of them as well as State championships and national championships annually, there was one big difference to the European pony circuit: In Australia there is no age barrier and Jessica at just 11 had to compete against teenagers as well as adults.
Many children of her age would be bothered by it but Jessica did not it intimidate her. "Spotlight was a really fantastic pony from whom I gained a lot of confidence. Not only by winning a lot of competitions, but also he was so very well behaved on dressage competitions. I could take him all over Australia to compete and knew he would always try his best." Both worked their way up to becoming Australian National Pony Champions at both Preliminary and Novice level (A) when Jessica was just 11 years old. What seems a remarkable achievement for such a young rider, her mother feared "she would become a big fish in a small pond."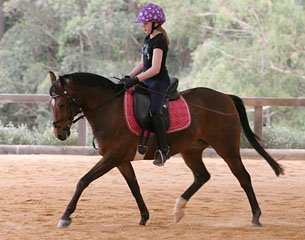 So the same year Thekla decided that in order to give her daughter the best academic as well as riding education, they had to leave Australia and move over to Europe to fulfil both aims. "In Australia we lived outside in the countryside with my ponies Bronco and Kirala Spotlight, my mum's dressage horse Southern Perception and Don Romeo who is now one of my three horses. I trained mainly with my mum, but shortly before our leave also took lessons from Grand Prix-rider Sue Hearn. However, my mother wanted to combine a higher level of dressage training with a higher level of education for me. As her family came from England, it was obvious we would move there. It is close enough to Germany and we had no trouble getting a visa."
For Jessica and Thekla it meant leaving their home and selling both ponies. "I was excited about moving to England, but it was the hardest thing leaving Spotlight and Bronco behind, though they went to wonderful new homes. We also had to leave our two dogs and cats behind and of course at the beginning I missed my friends and school back in Australia." Leaving a part of the family, the beloved pets and friends appears an incredibly hard sacrifice for a 12-year-old child, but Jessica has settled well in her new life. "I now love it here and also going over to Germany to train in my holidays," she admitted.
Settling Down in Gloucestershire

As the Blackmores had been looking for a place in England not far from good dressage trainers and a good college for Jessica to attend, the choice was Eldersfield in Gloucestershire. They bought the wonderfully situated Hooze Farm which used to be Carl Hester's yard before he bought his current one. Hooze Farm has an indoor and outdoor arena, stalls for almost 20 horses, great hacking opportunities and extensive fields, all located at an elevated position with the Cotswolds just in sight. It became the new home for Jessica, Thekla and the two horses they had flown over with them in December 2008.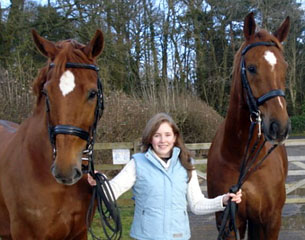 "Apart from my mum's older FEI horse Southern Perception on whom I made the transition from ponies to horses we brought Don Romeo over in April 2009. Mum bought him a 5-year-old back in Australia, but he turned out to be very temperamental and badly behaved, so after an accident in which mum broke her arm, we sent him to Sue Hearn and she did a great job with him. I started riding him in July 2009 and he taught me a lot about riding more difficult horses. Now he is very quiet and easy to handle, though still has his stroppy moments when being ridden."
The liver chestnut is bred in Australia, but descends from the Donnerhall line and is a huge horse for a petite lady like Jessica, but both seem to form a well working partnership.
Two years after relocating to England where Jessica attends the renowned The Cheltenham Ladies' College the Australian equestrian federation allowed her to represent her native country at the FEI junior classes at the CDI Addington in April. At age 13 then, she was the youngest rider from Australia ever to do so.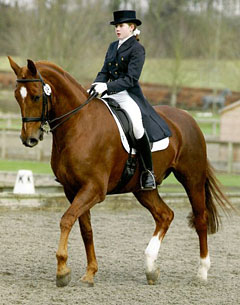 Don Romeo has improved a lot since moving over to Europe and so far he has wins and placings up to Prix St. Georges level with scores up to 70%. He is now working towards Grand Prix. The big framed gelding is not only Jessica's most successful horse so far, but also the only one with which she jumps as well!
"Until a few years ago I still didn't want to 'leave the ground' while riding until when I was at Germany and wanted to earn my bronze riding badge. I just had to learn it!
I was still nervous back then, but now I really love my jumping and I am very confident with it. Last year I taught Don Romeo to jump and he does it very well and thoroughly enjoys it. At home I often ride him bareback and also jump him like that. We also take part in jumping competitions together."
Both profit a lot from thinking out of the box. Jessica admits that she became much more confident and that her seat has improved a lot since starting to jump. Don Romeo's dressage also profits from him switching to jumping regularly. The gelding adapted very quickly to his second discipline and behaved impeccably at every jumping outing, but as a bonus he is also more willing and enthusiastic about his dressage work.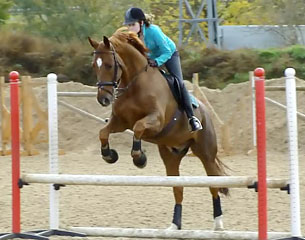 "I started jumping only as a preparation for my BHS and Riding Performance Medal exams, but now I enjoy it that much. It helps the horse's dressage and on the other way around dressage helps Romeo with jumping as he already has a good straight canter which you can collect or extend in a split second." Don Romeo is the oldest and most experienced of three horses Jessica trains and competes.
Most of the year he stays in England, but in her Easter and summer holidays the gelding comes with her to Germany where her two other mounts, Sterntaler (by Show Star x Frühlingsrausch) and Ventoux W (by Relevant x Donnerhall), are permanently residing at Germany's national dressage coach and three times Olympic champion Monica Theodorescu near Warendorf.
Training Holidays in Germany

While Jessica initially had lessons at Pammy Hutton's yard at the beginning of her time in England, her mother was always sure that "for Jessica to truly become a good rider she needed to go and train at the home of dressage, Germany. We always hoped that one day Jessica can go there to train and compete."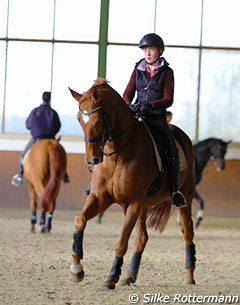 This hope realised sooner than expected when mother and daughter participated in the "Australian Young Rider Tour" in which a bunch of Young Riders from Australia and New Zealand travelled across The Netherlands and Germany to visit famous dressage stables.
One morning was spent at Monica Theodorescu's barn "Lindenhof" not far from Germany's equestrian mekka Warendorf and Thekla found out Monica was the perfect person to train her daughter.
"I was impressed with Monica's competition record from such a young age (Monica won the Hamburg dressage derby at age 18) and also how someone as petite as her could ride these big horses so well. I believed that if Jessica wanted to be serious about dressage she needed to be with a trainer who was virtually the same physical size. So I approached Monica the following year to take her on with her then two horses and she agreed," Thekla explained.
Since then the mother-daughter-duo travels back and forth more than 1000 km during every of Jessica's school holidays to meet Sterntaler and Ventoux W. Both horses are stabled permanently with Monica and Jessica only trains them when she is in Germany. She also uses the opportunity to compete them both at German shows.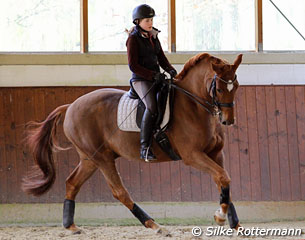 Ventoux (Tout), the now 10-year-old gelding who is a look-alike of Don Romeo, was bought three years ago and turned out to be a challenge with his spookiness in the dressage arena. "When we got him he was very spooky at competitions, managing my lowest ever score of 48%. It took a year for him to behave in competitions and to show his potential. He then started to earn over 70% at M-level, but unfortunately he tore his suspensory ligament in his near foreleg in autumn 2010 and had 8 months off after which his spookiness problems reappeared. By the end of 2011 however he got 83% at M-level in England, then moved permanently to Monica a month later, since my school work commitments are taking up so much time that I can only keep one horse to ride at home."
The other horse living at Lindenhof is the bay Sterntaler who is a lovely cuddly horse in the stable, but challenging to ride for Jessica in the sense that "he is very sensitive in the contact and also has much bigger movement which is something I had to get used to. At the beginning he tended to be backward-thinking and dead to the leg when we got him, but he has hugely improved in the last year."
Jessica feels she is very lucky having three so different horses from which she can learn different things and help her become more experienced. Particularly training with Monica improved her riding very much and continues to do so. "Monica has a very systematic approach with a focus on basics, on suppleness and forwardness. And of course there is no question that you do sit up a bit straighter when you are in the arena with an Olympic gold medalist," Jessica said with a twinkle in her eye.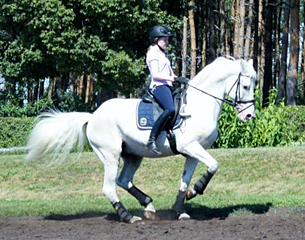 As helpful and enjoying lessons from Monica are Jessica equally cherishes just  watching her coach train many different types of horses. It gives the young Australian the possibility to see how Monica implements what she told her student and therefore helps her to understand what it means. Blackmore also picked up a lot of insight into dressage from the legendary Balagur, the snow-white professor on four legs. Jessica stressesd that it had been this Orlow trotter, a two time Olympian under Russian Alexandra Korelova, that gave her the feeling of proper collection and that when she asked the right way he was giving his all, in particular his copybook piaffe.
Even though Monica Theodorescu trains some riders and has working students at her barn, the treatment at her comparatively small barn is very personal and individual what Jessica appreciates. She doesn't feel "just being on a production line of students. Because of this Monica is really interested in the specific development of each of my horses and my riding. I also really appreciate that a rider of her calibre takes care of much of her horses' needs herself and spends as much time as possible with them. She really wants to bond with her horses and form a close relationship with them what is what I want to do as well. I admire in Monica how important the welfare and happiness of the horse is and how that must always come first."
The Future Lies in Europe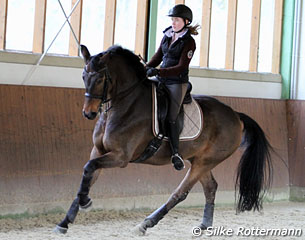 Whereas many of Jessica's peers in Europe focus on competing in national, international and European championships in their age divisions, as an Australian citizen Jessica cannot take part. Even though her results at juniors and Young Riders levels in England and regional shows in Germany are competitive and more than encouraging, for Jessica it is not enough just to take part. "With respect to competing at the European Championships I want to get some very competitive scores before I sought an invitation. My aim now is to try to compete for Australia again in CDI-JYR competitions on Ventoux and Sterntaler next year."
There are no plans at all escaping the ever-grey rainy weather of England and return to sunny warm Australia in near future. On the contrary. "For the foreseeable future, I definitely plan to stay in Europe. The system with training with Monica and competing on the continent works extremely well for me and there is no reason to change it. Having competed a fair amount in Germany the past season, I can see that the standard required is so much higher than in Australia, or even England and the judging is much stricter. Germany has been the most successful dressage nation in the history of competitive dressage and if you can ride successfully there you stand a good chance."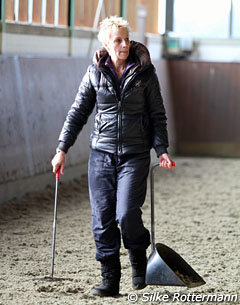 Thekla has to write down all of Jessica's results in Europe and sends it over to the High Performance Manager of the Australian federation once or twice a year to keep the authorities at home updated on her daughter's progress in far away England. Leaving her home country at a very young age and spending a life in England consisting of hard school work and dressage training, the 16-year old Jessica has sacrificed a lot to pursue her dream of representing Australia in international dressage one day.
"It is true that I have very little social life away from school and the horses, but I have wonderful friends who understand me. Also I wouldn't give up dressage for anything and my main reward is not being successful in competitions, but just being together with my horses and also to see them progress."
The petite teenager's days are busy as can be with leaving for school in Cheltenham at 7.30 am in the morning and only coming home at 5.30 pm where Romeo is waiting to be exercised. After that Jessica does exercises prescribed by German physio Dr. Christian Peiler to improve her flexibility and upper body strength as a rider before a long evening of school work is awaiting her.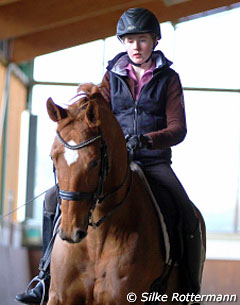 "It is hard to fit in riding in my schoolwork. It is very important to me to get the best grades at school as after I want to go to university. Currently I am working towards my A Levels in Chemistry, Biology, Geography and Maths. I am also studying German and I am training for my BHS exams with Sara Gallop at the Summerhouse Equestrian Centre one afternoon per week."
Jessica wouldn't be able to do this very strict programme without her mother supporting her that incredibly much, taking care of the horses during the day, driving her around and planning the training and competitions. "I couldn't do what I do without her. But I think the main thing was that she was prepared to bring me to the other side of the world," Jessica said.
Both had the opportunity to attend the 2012 Olympic Games in London as spectators, which gave Jessica quite some inspiration watching so many different riders and horses and seeing that it can be done at a comparatively young age.
"I in particular enjoyed watching Desperados and Diva Royal as they look so harmonious and rideable. Kristina is still a very young rider and she does a great job on such a big, powerful horse. I also loved watching Valentina Truppa. She too is young and petite", she commened.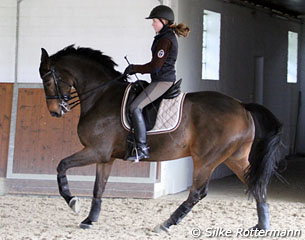 Blackmore is working hard to find the perfect balance between riding and school. "My near future goal is to represent Australia in junior internationals next year. I am also planning to sit my BHS 2 and 3 exams, as well as the German Silver Performance Medal. In particular the English system and exams require a high level of knowledge, reason why I do the exams, so I learn more about horse and stable management outside of just riding. My dream as a rider of course is to represent my country at international level, and perhaps eventually the Olympics, although for now that is a long way away."
With a dedication and passion as big as Jessica's and an approach to an equestrian career as professional as can be at that age, the ideal preconditions are set to make dreams come true one day.
Jessica Blackmore - Profile
Date of Birth:  08/04/96
Nationality: Australian
Place of Birth: Singapore
Sign/Horoscope: Aries
Profession: Student
Hobby: I don't have time for a hobby, between horses and school work! If I did have time, I would like to ski more often. 
Best personal quality: Probably my dedication and self-discipline in my school work and riding
Personal defect: I am incredibly indecisive on everything!
Favourite book:  The Hunger Games
Favourite film: National Velvet
Favourite actor:  Hugh Grant
Style of music: Current pop music, and 70s and 80s R&B and country
Favourite singer or band: Robbie Williams, Simon and Garfunkel, and John Denver
Favourite car: Mini
An unforgettable holiday: A trip to Iceland in summer 2012
Favourite food: Chocolate ice cream
by Silke Rottermann for Eurodressage
Photos © Private - Silke Rottermann
Related Links
Monica Theodorescu: Backed by History, Facing the Present on Home Bred Horses
Reka Kristof Seeing a Bright Future for Hungary
Ema Jancarova, Czech Her Out
Angela Sklavounos, Overcoming Dyslexia with Dressage