2012 PSI Auction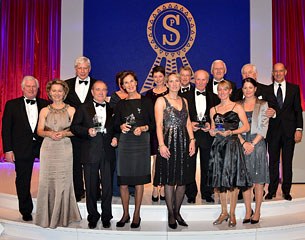 The Performance Sales International in Ankum is not only the most important private riding horse auction worldwide, it is also the perfect setting for its two organizers, Ullrich Kasselmann and Paul Schockemöhle, to say thank you.
The P.S.I. Awards, symbolized by a horse sculpture made from Swarovski-crystals, are meant to express appreciation and gratitude for extraordinary personalities. In 2012, four outstanding horse people were again honoured in four different award categories the evening before the auction.
The German National Dressage Coach, Monica Theodorescu, honoured the German Olympic dressage team and its trainer Jonny Hilberath with the P.S.I. Award "Sports". With their team spirit and their fantastic sports performances, Helen Langehanenberg, Dorothee Schneider, Kristina Sprehe and Anabel Balkenhol convinced not only judges, but also the audience. The message of elegant riders, sitting beautifully on supple, elastic and powerful horses, was a fantastic advertisement for German dressage sport.
The P.S.I. Award "Supporter" is designed to highlight the commitment for the equestrian sports. The internationally well-known Swedish dressage judge Eric Lette presented the award to Brazilian Dr. Jorge Ferreira da Rocha. The Brazilian lost his heart to dressage, and he also inspires other people in Brazil. Dr. Jorge Ferreira da Rocha has also been an enthusiastic tournament rider for many decades. He does not only support dressage in Brazil, but also in Europe and in the US, and thanks to his generous promotion, this sport has obviously improved a lot in South America.
The P.S.I. Award in the category "Media" went to Gudrun Bauer (Bauer Media Group) for her relief campaign "Riding against Hunger". Gudrun Bauer shows strong commitment to the Welthungerhilfe (German Agro Action), and without hesitating, she managed to get the heads of Horses & Dreams in Hagen a.T.W. and of the event "Turnier der Sieger" in Münster on board for this relief campaign with the result that a five-figured amount for the benefit of the Welthungerhilfe was achieved. Dr. Ursula von der Leyen, German Minister for Labour and Social Affairs, honoured the publisher's wife for her exemplary commitment in her laudation with the introductory sentence "Actions speak louder than words".
Extraordinary accomplishments are rewarded each year in Ankum with the P.S.I. Award "Lifetime Achievements". And the accomplishments of Herbert Meyer are certainly more than exceptional. The former German National Show Jumping Coach is also called "architect of success". Under his aegis, German show jumping riders won 24 medals when he was National Junior Coach, 5 gold medals at four Olympic Games and 17 medals at World and European Championships. In his laudation in Ankum, FN President Breido Graf zu Rantzau painted the picture of a smart and clever sports man and a brilliant trainer.
For more information on the collection, auction, contact persons and services, visit www.psi-auktion.de