Dutch Dressage News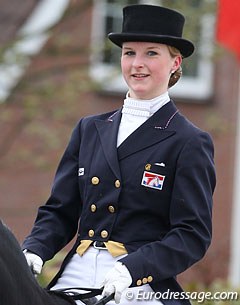 The foundation "Dutch Olympic Horse," which used to support Olympic potential horses in the 1990s, has been rekindled by the Dutch Olympic Sports Committee (NOC-NSF). The NOC-NSF has committed to investing in future Dutch Olympic prospects.
The Dutch Equestrian Federation (KNHS) will be getting 1.22 million euro per year from the NOC-NSF between 2013-2016 to promote Dutch elite dressage, show jumping and eventing riders en route to the 2016 Olympic Games in Rio.
The NOC-NSF has also agreed to make funds available to keep Dutch (potential) Olympic horses in The Netherlands. This commitment has rekindled the foundation "Dutch Olympic Horse" (NOP), which used to support Dutch horses in their Olympic campaign. These NOP sponsored horses competed with the Olympic suffix, such as Olympic Bonfire, Ferro, Silvano N.  The NOP has been hibernating since the 2000s due to lack of funding.
The Dutch Equestrian Federation and the NOC-NSF still have to discuss the details of this new NOP partnership but 200,000 euro per year will be made available by the NOC-NSF if the KNHS adds 100,000 euro to that amount. Director KNHS Theo Ploegmaker is still negotiating with external financiers to gather these funds.
Maarten van der Heijden, KNHS technical director, told Dutch magazine De Hoefslag. "It concerns confirmed horses as well as potential top horses in show jumping, dressage, eventing and para dressage. You have to see it as a financial support for the owners for their expenses. For instance you can think of a contribution to the insurance of the horse or the costs of training it. However, we can only keep one or two medal horses for the Dutch sport this way. With this project I think we are striking the competition hard."
Source: De Hoefslag
Photo © Astrid Appels
Related Links
Dutch Olympic Committee Provides Extra Funding for Dutch Dressage
Tineke Bartels Appointed Board Member of Dutch Olympic Committee