Westfalian Breeding News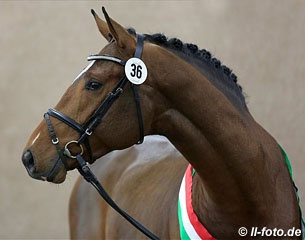 Like a Diamond (by Laureus x Lord Sinclair I) was named champion of the 2012 Westfalian Stallion Licensing held in Munster-Handorf on 26 - 28 November 2012. Thirty-five stallions in total out of a collection of 70 were approved. A very generous 15 colts were bestowed with the premium title.
No less than 12 of the 24 licensed dressage stallions received a premium title. Striking for this year's Westfalian licensing was the amount of foreign owned or bred stallions. The top dressage producer at this approval was the KWPN licensing champion Ampere who had 7 colts at the approval, of which four were licensed.
The champion of the licensing was one of the crowd favourites, the 1.64 m standing bay Laureus x Lord Sinclair I x Coriander. Bred by Ludger Budde, Oelde and owned by the Swiss Barbara Huwiler, this bay stallion named Like a Diamond stood out with his excellent suppleness and strong movements in trot and canter. Even though the length of the stride was limited in walk, the horse was able to maintain a clear 4-beat rhythm. Typewise the colt was not a shining light of modern breeding but he makes a wonderful sport horse for sure. The champion sold at auction for 240,000 euro to Stud farm Massener Heide.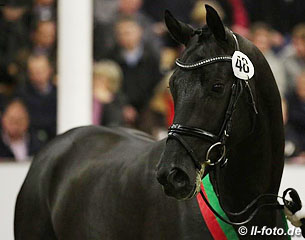 The reserve champion was the KWPN branded Van Vivaldi (by Vivaldi x Olivi x Biotop). Bred by the Dutch E. Schuiling and owned by German Olympian Sven Rothenberger, this youthful looking black colt has three quality basic gaits and a modern look. He has been leased to stallion station Holkenbrink.
The third ranked stallion was another KWPN bred stallion, All at Once (by Ampere x Gribaldi x Jazz). Bred by Willeke Bos (former owner of Vitalis), this black colt is a modern type stallion with very good potential in trot and canter, but like most Ampere offspring the walk was slightly limited. This colt is owned by Bos and Team Nijhoff and has been leased to the Warendorf State Stud.
Further top selling dressage premium stallions were a very interesting Westfalian bred Ampere x Carabas x Parademarsch, which sold at auction for 170,000 euro, and a KWPN bred Ampere x Jazz x Zeoliet, which sold for 120,000 euro.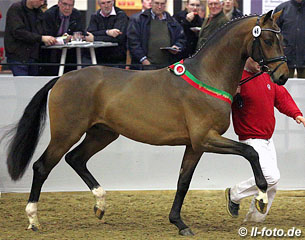 The other dressage colts which received were Furst Fohlenhoff (by Fidertanz x Mephistopheles) , Farbenspiel (by Florenciano x Dimension, leased to Warendorf state stud),  a Rock Forever x Furst Heinrich (moves to Gerd Sosath), Starlight Express (by Sir Donnerhall I x Rotspon - sold at auction for 70,000 euro to Massener Heide), a Monte Bellini x Polydor, a De Niro x Furst Piccolo x Sandro Hit, a Diamond Hit x Roh Magic, and an Estobar x Rubiloh colt.
The show jumping licensing champion was a grey Coupe de Coeur x Cornet Obolensky, bred and owned by Jan Sprehe. He sold his colt at auction for 150,000 euro.
The average price for a licensed stallion was 71,444 euro, while the average price for a non-licensed colt was 11,722 euro.
Photos © LL-foto.de
Related Links
Dubrovnik NRW, Champion of the 2011 Westfalian Stallion Licensing
A La Carte, Champion of the 2010 Westfalian Stallion Licensing
Silbermond, Champion of the 2009 Westfalian Stallion Licensing
Flanagan, Champion of the 2008 Westfalian Stallion Licensing
Coronas, Champion of the 2007 Westfalian Stallion Licensing
Estobar NRW, 2006 Westfalian Licensing Champion
Cornado 2005 Westfalian Licensing Champion
Fidertanz, 2004 Westfalian Licensing Champion
Dancing Dynamite, 2003 Westfalian Licensing Champion
Rosencharmeur, the 2002 Westfalian Stallion Licensing Champion
Don Bedo, 1998 Westfalian Stallion Licensing Champion