Oldenburg Breeding News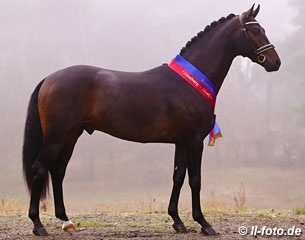 Follow Me, the strapping Furstenball x Donnerschwee x Alabaster offspring, was named champion of the 2012 Oldenburg Stallion Licensing in Vechta, Germany, on Saturday 24 November 2012. This year's colt collection was of extraordinary quality with several real highlights as well as many super nice stallions with a great career, most likely in sport, ahead of them.
From day one there was no doubt that Follow Me out of elite mare Cariana, bred by Jurgen Fetzer and owned by Susanne Limbecker, was the star of the show. A spitting image of his sire, this bay colt was the most noble and beautiful looking stallion of the collection with three world class gaits and even more power in his engine than his sire. This youngster, however, could have been a bit more pronounced in the withers.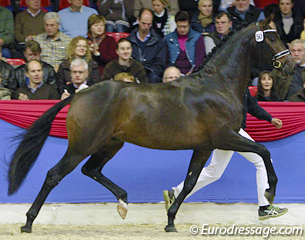 Follow Me moved strongly on hard surface and kept his elegance and lightfootedness on the lunge line. His major elasticity and uphill tendency in trot and canter set him far apart from the rest. An outstanding walk is a trademark Furstenball passes on to his offspring and this colt from the sire's first crop was no different. The 2,5 year old presented the complete package which none of the other candidates were able to offer at such a high standard.
The champion automatically became the price highlight at the auction on Saturday afternoon. The Swiss owners of the Dressage Performance Centre Lodbergen in Germany were "eager for the sieger", just like last year when they got For Romance, and manager Urs Schweizer acquired the colt for 400,000 euro. The price could easily have been higher if this Furstenball had had better X-rays. Some foreign customers refrained from bidding on the winner because  opportunities for getting him approved abroad -- in Denmark or The Netherlands for instance -- will be limited.
The Oldenburg licensing committee appointed 8 premium stallions out of a collection of 27 licensed colts from the 40 presented for approval. The reserve champion was Sansibar, a Sir Donnerhall II x Don Schufro x Sevillano xx x Rigorosus offspring with much presence and self carriage. Bred by Theo and Sabrina Vagelpohl and owned by Johannes Westendarp, Sansibar showed great cadence and power in trot and had fantastic flexion of the hocks in canter with the hind leg constantly moving towards the gravity point. The walk was good in ground cover but the rhythm was not always ideal. While he was less the eye-catcher compared to the Furstenball this horse has Grand Prix written all over his body. At auction the dark bay colt was acquired for a 16-year old junior dressage rider from Cologne who had the last bid on 280,000 euro. She was bidding against Andreas Helgstrand, who missed out on a fantastic horse!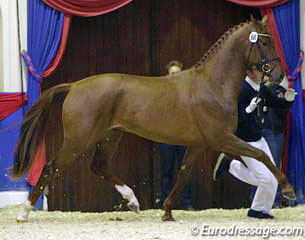 Another highlight of the collection was the third ranked premium stallion bred and owned by Blue Horse in Denmark. This long legged, gorgeous chestnut colt by Vivaldi out of Oldenburg Elite Mare Champion Fabina (by Donnerhall x Pik Bube I x Unkenruf/T) was a stunner. He has inherited Vivaldi's typical traits: an impressive frontleg with much shoulder freedom but dam Fabina's D-blood could not compensate enough for the lack of strength in the hind leg. While this colt worked well on the lunge line and showed himself super in hand, he missed real power and push from behind, which the reserve champion had in abundance. The Vivaldi, however, did have a superior walk though. This stallion was not for sale.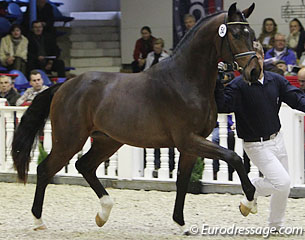 Quateron (by Quaterback x Stedinger x Lord Sinclair I x Grannus) became the number four in the premium ring. This impressive, chunky bay stallion probably had the most powerful and suspended trot of all and a good canter, but when breeders Aloys and Christian Hinxlage combined Quaterback with Stedinger they must have known that no good walk can come from that. The stallion had decent overtrack but the rhythm was poor. Nevertheless Spanish owner Gregorio Pena Varona has a wonderful stallion and he hopefully will make his debut in the show ring in a few years time.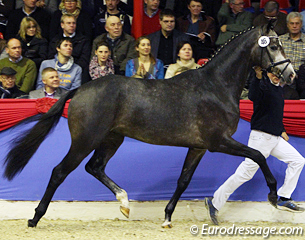 Kerstin Klieber and Norbert van Laak's youthful grey Full Moon (by Florencio I x Rubinero x Caprimond x Sion) is a charming, talented horse. The  elegant colt has very pronounced withers and a neck that still needs filling out on top, but he moves very well, especially in trot. The colt has much ground cover and reach in trot, but tends to push himself a bit high in the neck. The canter showed good hind leg usage. In walk the horse covers much ground but quickly loses the quality when he gets tense. At auction he was unable to achieve a good price and the owners bought him back for 35,000 euro.
Bernd Huslage's Sir Donnerhall I x Florencio x Dormello colt finished sixth in the premium ring.  This dark bay colt was a solid mover but not a show stopper. He tends to go a bit wide behind in trot  but had a good walk. On the lunge line he lost the uphill tendency and needed to improve on the self carriage, but he is still a nice interesting young sport horse. He sold for 50,000 euro to Belgium.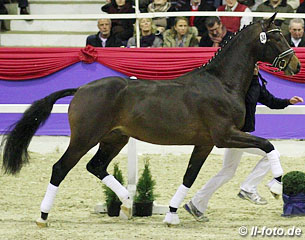 Why the seventh and eight premium stallion even made it into the premium is a mystery. The seventh placed Bordeaux x Rosier x Tin Rocco was spectacular on hard surface but crosses the front legs in walk. On the lunge line this good looking bay lost all shine. The walk had limited ground cover. In trot he was quick from behind but never really moving the hind legs under the body. The canter was tense. In the at liberty phase the bay stallion showed off good knee action but he always hollowed the back and could not properly engage from behind. The walk remained mediocre, also in hand. This colt is bred by Gestut Lewitz and owned by Andreas Helgstrand. The second Bordeaux in the collection  (out of a Sir Donnerhall I x Singular Joter I dam) seemed to be the better one of the two.
While the 2011 Oldenburg licensing was a Furst Romancier extravaganza, this year the Furst Romancier crop failed to impress. The fact that Rene Tebbel's Furst Romancier x Don Larino x Royal Dance made it in the premium ring, or even get licensed, was puzzling. The chunky, big-boned colt struggled on the lunge line. In trot he paddled  and hollowed the back and in canter he lost all balance and completely fell apart.  Also in the at liberty phase the horse had a poor connection between the front and hindquarters. Though he is quick from behind he is not carrying the weight. This colt sold for 75,000 euro to Bavaria.
The average price for a licensed colt at the auction following the licensing was 75,682 euro. However, the price for a non-licensed colt dropped to 14,667 euro which means owners must have sold their colts at a loss.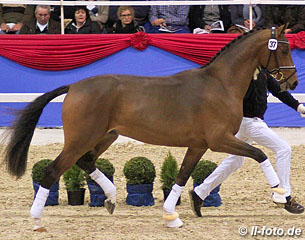 A nice number of stallions were licensed and stood out as highly interesting sport horses. The third most expensive colt was  a Gribaldi x De Niro x Sion), which sold for 150,000 euro to State Stud Celle. Bred by Maik Kanitzky this colt has a beautiful front and makes an impressive appearance. He has a nice hindleg, moves elegantly and lightfooted in trot but does not have enough shoulder freedom. In canter on the lunge line he lost the uphill tendency and was tense. In freedom the hind leg was quite stiff in canter but the trot was well suspended.
One of the horses that stood out the most on the lunge line was the refined bright bay stallion Dimanche Royal (by De Niro x Sion x Figaro). His trot was powerful, lightfooted and off the ground and the canter had a great uphill tendency. In freedom the 1.64 m standing colt preferred to canter and didn't show off his strong side. He sold at auction for 50,000 euro to the Cologne based company Next Generation Dressurpferde der Zukunft and will be based at Johann Hinnemann's Krusterhof.
The chunky and compact chestnut by Desperados x Manhattan x Kostolany caught our eye with its fantastic hindleg. It was always quick, powerful and pushing. His canter was massive as well. This hot ginger head was quite a handful and appeared very frisky, distracted and wired. He was unable to show a proper walk in hand, nor on the lunge. Still he is an energetic stallion, descending from one of the most famous Trakehner dam lines in the world, and could be suitable for long-lined mares who need some spunk and power. His owner Matthieu Beckmann bought back this colt for 100,000 euro.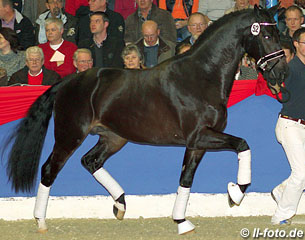 Ferro's breeder and owner Adriaan van de Goor was represented in Oldenburg through Ad Valk's Grey Flanell (by Gribaldi x Clavecimbel x Ferro), which was licensed and sold to Gestut Bon homme for 72,000 euro. This infusion of Dutch blood will be interesting for the German market.  The dark bay colt gave a very consistent and decent impression on all three days.
Blue Hors stud's Romanov out of Don Schufro's full sister Fiesta Girl (by Donnerhall x Pik Bube I) was a gorgeous horse and a mirror reflection of sire Romanov, in all aspects. The long legged bay is a very sympathetic colt who needs to be more powerful from behind. He has a fantastic walk. This colt was not offered for sale.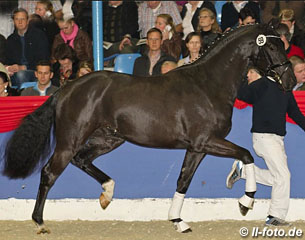 One of the most talked about stallions at the licensing was the Finnish bred Riverbank Sancreo (by San Amour x Riant x Come Back II x Sorell). This massive black colt, bred by Marjo Vainikka, had a very quick and elegant hindleg that was always very flexed, active and working. The stallion showed great work ethics on the lunge line. The canter could have been more uphill. He sold for 85,000 euro to Gerd Sosath.
Sire Furstenball had only one colt from his first crop at this licensing but the phenomenal quality of that stallion made up for the low quantity. Sir Donnerhall II also presented his first crop and became the talk of the show as many spectators were positively impressed by the strong hindleg of his offspring. SD II passes on a much better hind leg, as well as a shorter, stronger back compared to his full brother. However, SD I passes on prettier faces than his younger brother. Johannes Westendarp's chestnut Sponge Bob (by Sir Donnerhall II x Weltmeyer x Ludendorff) paddled quite a lot in front but he had that powerful Weltmeyer infused hindleg which gave him much self carriage, cadance and push. Also in canter his balance was unshakeable on the lunge line. The Swedish Nyrerod family struck a great deal by buying this lovely chestnut for only 22,000 euro at auction. The chestnut Sir Donnerhall II x Bolero x Walzertraum was equally interesting, especially on the lunge line, but he lost some of his flair in hand on the last day of the licensing. Paul Schockemohle acquired him for 20,000 euro.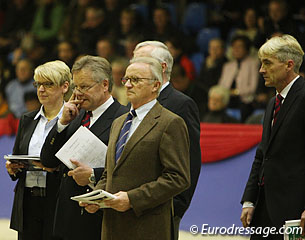 Dutch Grand Prix rider Johan Rockx bred the KWPN branded Fandango (by Chinook x Rousseau x Flemmingh) and his stallion did not get licensed. The dark bay colt was true eye candy. He had a beautiful face and neck. On the lunge line he was presented below tempo and his hind leg became slow. In the at liberty phase he was very playful and frolicky but showed a good canter. The trot needs more activation from behind. The walk was good.
We were a bit surprised about the licensing of Gestut Vorwerk's Fidertanz x Latimer x Corlando. This very handsome bay colt was good on hard surface and decent on the lunge line with good elasticity and engagement in trot and a solid canter. In hand he showed good shoulder freedom but lacked understep. In none of the three presentations this colt was able to walk properly. He sold for 40,000 euro at auction. The licensing of Johan Ifverson's San Amour x Florestan x Master was also strange. The beautiful colt, with a gorgeous face, was not just at his best at the approval. He was weak in trot, uneven in walk and in canter he was croup high and did not show enough flexion of the hocks. The approvals of the Wilkens x Zardin Firfod and the Zack x Hertug were equally eye-brow raising to us. 
Text by Astrid Appels
Photos © LL-foto.de - Astrid Appels
Related Links
Viva Vechta: Autumn Sunshine Shines on Outstanding 2012 Oldenburg Stallion Collection
For Romance 2011 Oldenburg Licensing Champion, Tight Junction Steals the Show
De Martino Captures Champion's Title at 2010 Oldenburg Stallion Licensing
Fairbanks, Champion of the 2009 Oldenburg Licensing
Furstenball, Champion of the 2008 Oldenburg Stallion Licensing
Sieger Hit, Champion of the 2007 Oldenburg Stallion Licensing
Sandro Hit Euphoria At 2006 Oldenburg Stallion Licensing
Marketing Above Quality at the 2005 Oldenburg Stallion Licensing
Furst Heinrich Fledglings Fly High at 2004 Oldenburg Stallion Licensing
Don Kennedy, Champion of the 2003 Oldenburg Stallion Licensing