2012 CDI-W Stuttgart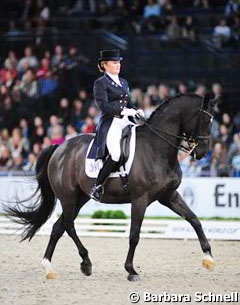 Performing a highly impressive Kur at this year's World Cup Qualifier in Stuttgart, Danish rider Sidsel Johansen was delighted with her result and especially proud to have the crowd behind her. When her impressive score of 77.100% flashed on the board, the crowd was not pleased with the judges' assessment and booed and whistled in discontent.
"I had a really good freestyle and was very happy with Schianto. Plus, I still have the feeling that there is still more in him and more success for us to come, so that is great," the 30-year old told Eurodressage. "I think the reaction from the crowd showed that they wanted a higher score for me and maybe the marks for the artistic part could have been higher.  That is perhaps what I think they wanted."
Designing the Kur herself, Sidsel called up Lis Christensson to apply the music, which the two chose together. Her 77.10% Kur score in stuttgart placed Sidsel sixth in a field dominated by Olympians Langehanenberg, Sprehe, Truppa and Vilhelmson.
"The score was great and I was really happy when I finished and got out to see that Rudolf Zeilinger, who helped me in Stuttgart, was also satisfied with the test. We were talking for a pretty long time right outside the main arena, so we heard the reaction live from the crowds. Rudolf said to me, 'listen - listen to the people, they disagree with the result'. I was surprised and so happy that the crowd also liked my test, and possibly had as much fun as I did riding my freestyle.
Danish team coach Zeilinger replied with "Prima" according to Sidsel and the German born coach told her he was happy because the marks for the technical execution were higher than those for their World Cup ride in Odense.
Sidsel's equine partner Schianto is owned by the Danish Rosbøg family, who approached Sidsel in August 2008 and offered her the ride on the rising Grand Prix horse.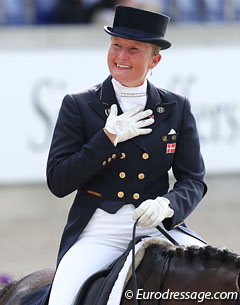 "Actually, Schianto was given up by the rider before me, as a Grand Prix horse, so the Rosbøgs asked me if I would like to give him a try and I said yes," Sidsel reminisced.
The now 13-year old Schianto is a Danish warmblood gelding by Gribaldi x Schwadroneur. He came in training with Astrid Gemal in June 2003 and together they won the 2004 Danish Young Horse Championships and finished 7th at the 2004 World Young Horse Championships. The next year they were second in the Danish YH Championships and 10th in Verden.  In 2007 they made their international small tour debut and Gemal aimed at preparing the horse for its Grand Prix debut in 2008, but in the summer the Rosbøg family decided to switch riders.
Believing in this horse after the previous rider called it quits, Sidsel was up for the challenge and is now happy to see the good results.
"He is a really calm horse and he always tries to do it the best he can, in spite of the fact that some of the things in Grand Prix are pretty difficult for him," she admits. "To accommodate this we have been a little alternative in our teaching, working on his piaffe and passage together with Morten Thomsen."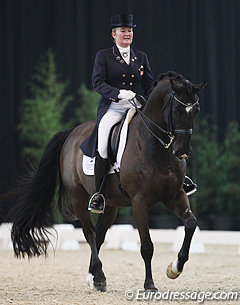 Working as a governmental environment consultant as a daytime job,Sidsel works professionally 18 hours a week and devotes the rest to her horses. With her own stable on Zealand in Denmark, Sidsel trains weekly with Rune Willum and once or twice a month with Andreas Helgstrand.
Still hoping to get the best piaffe and passage in the main arena and improve the canter half-passes, Sidsel is set for a big 2013. "My aim is to try and qualify for the World Cup final in Gothenborg and hopefully get on the Danish team for the Europeans," the 2012 Danish Olympic short listed rider stated.
With more youngsters on the way Sidsel is certain they are not too far off, but of course is always after more additions to her stables. "Right now I would love to have a good small tour horse, but I have to wait," she said.
by Sarah Warne for Eurodressage
Photos © Barbara Schnell - Astrid Appels
Related Links
Scores: 2012 CDI-W Stuttgart
Langehanenberg and Damon Hill Secure Impressive Victory at 2012 CDI-W Stuttgart
Danish Olympic Short List Reduced to Five Riders
Denmark Obtains Individual Olympic Spot for Fourth Rider