FEI Dressage News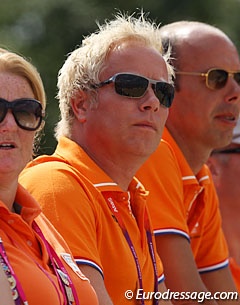 Eleven judges were seeking promoting  of their CDI judging level by participating in an FEI judges' exam which took place at the 2012 CDI-W Stuttgart last weekend. Seven judges are seeking promotion to judge at CDI3* level, four for CDI*4 level.
An international mixture of judges gathered in Stuttgart for an exam. Those participating for the 3* level exam were the Dutch breeding specialist Karin Retera and the Dutch Equestrian Federation's technical director Maarten van der Heijden. The others are Colombian Cesar Torrente, American Sandra Hotz, Finnish Paula Nysten, Spaniard Miguel Jorda Fortesa, and the German Henning Lehrmann.
Four more experienced judges are seeking promotion to the CDI 4* level: Ukrainian Laryse Velika, Russian Irina Maknami, New Zeeland's Susan Hobson, and Algerian Fouad Hamoud.
The definite promotions for these judges will be announced by the FEI on 1 January 2013.
Photo © Astrid Appels
Related Links
Asmyr Reveals Veiled and Unveiled Changes FEI Has in Store
Wust and Ernes on Training Judges
New Clearer and Simpler Process for British Judges Announced