2012 CDI-W Stuttgart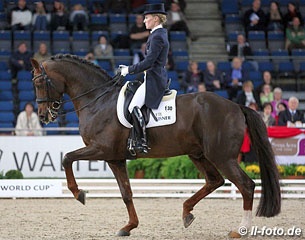 German Olympic team silver medallist and individual fourth placed rider Helen Langehanenberg made a move to the top of the leaderboard in the World Cup qualifying Grand Prix at the 2012 CDI-W Stuttgart on Friday 16 November 2012. The 30-year old Langehanenberg and Christian Becks' Westfalian licensed stallion Damon Hill scored a personal best of 82.766% for a flawless ride.
Not even breaking a sweat on his return to the show ring since the 2012 Olympic Games, the 12-year old liver chestnut Damon Hill appeared fresh and fruity in the ring and made no mistakes. While the piaffes were slightly travelling forward he kept the rhyhtm and executed passage for a 10. The delighted winner said, "it was unbelievable just how easy he was dancing his way through the test today."
The panel of judges consisted of Markowski, Gardner, Holler, Saleh, and Schule and they placed her first unanimously, though her scores ranged from 79.468% (Gardner) to 87.234% (Markowski).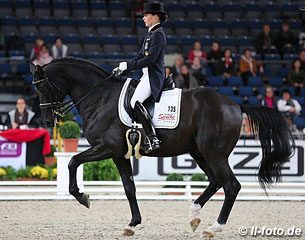 German Olympic team mate Kristina Sprehe followed Langehanenberg in the ranking covering second place aboard her 11-year old Hanoverian licensed stallion Desperados FRH (by De Niro x Wolkenstein II) with 77.255%. The young Sprehe rode her black stallion a bit more open in the frame and looser in the collection in passage in an attempt to even out the problem-point movement of the horse. It did not always work, but the test had plenty of highlights with trot extensions showing massive overtrack and uphill pirouettes.
"He was in good shape, but a little too fresh so that it took me a while to get going," Sprehe said. Just one year ago, Sprehe was the undisputed winner of the 2011 German Piaff Forderpreis Finals for Under 25 riders and the Dinklage based rider has made a seamless transition to senior Grand Prix level.
Sprehe's scores ranged from 75.212% (Saleh) to 79.787% (Schule).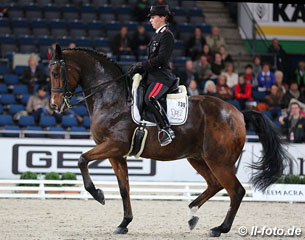 Back in her strict looking Carabinieri uniform, Italian Valentina Truppa rode her 11-year old Italian bred gelding Eremo del Castegno (by Rohdiamant x Weltmeyer)  to a third place with a 75.362% score. "I'm so happy to come third behind two Olympic medal winners," said the delighted Italian. Truppa's scores veered between 72.979% (Saleh) and 77.128 % (Markowski).
Stuttgart show director and international judge Gotthilf Riexinger commented about the top three ranked horses that "all three horses showed sensational pirouettes which is a sure sign the horses have enjoyed a solid basic training."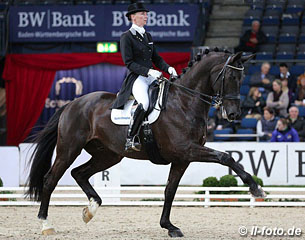 Dutch Imke Schellekens-Bartels made her return to the show ring aboard her huge black gelding Toots (by Jazz x Havidoff). The tall, shiny black gelding makes quite an impression in the show ring, but due to his 1.88 m size he needs longer to develop and still lacks the proper strength behind to carry himself in the passage. Also in the piaffe he's not yet able to sit well and steps on his own coronet bands with the hind legs. The canter work, however, is very impressive with very solid tempi changes and great pirouettes.  Schellekens scored 73.191% with her marks swaying between 70.851% (Gardner) and 75.212% (Holler).
The 15 top pairs in the class are qualified for the World CupDressage Grand Prix Freestyle on Saturday at 3.15 pm.
Text by Astrid Appels
Photos © LL-foto.de
Related Links
Scores 2012 CDI-W Stuttgart