German Dressage News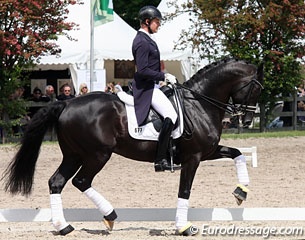 Matthias Rath and Totilas will not be returning to the show ring in 2012 and have post-poned their long-awaited come back until 2013. The German newspaper Franfurter Rundschau reported this news following an interview with the rider in Frankfurt.
Rath and Totilas' last competition was the 2012 German Dressage Championship in Balve, Germany, 1 - 3 June 2012, where they finished in silver medal position behind Helen Langehanenberg and Damon Hill. Rath withdrew the black stallion from Olympic contention when the rider got diagnosed with Pfeiffer disease.
A healthy 28-year old Rath attended the Sport Presse Ball in Frankfurt on 10 November, where he told Frankfurter Runschau that his come back will totally depend on the progress he makes with his new trainer Sjef Janssen.
Rath has been travelling to the Dutch town of Erp, The Netherlands, on a regular basis to train stallions Totilas, Bretton Woods and Furst Romancier under the tutelage of the controversial Dutch LDR-coach Janssen.
"It is going well," Rath said but also indicated that it has to click on a personal level, "and that you don't know beforehand."
Franfurter Rundschau published that Rath will need at least four months to get ready.
It is expected that the duo's public come back will most likely be at the Paul Schockemohle stallion shows in February 2013.
Photo © Silke Rottermann
Related Links
Helen Langehanenberg Crowned Queen of Dressage at 2012 German Championships
Matthias Rath and Totilas Withdrawn from 2012 Olympic Contention
German Branch PETA Files Charges Against Totilas' Owners
Matthias Rath to Train with Sjef Janssen