Dutch Dressage News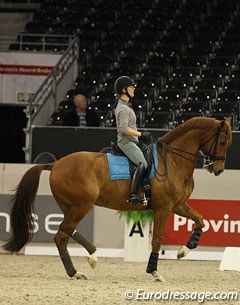 Former Dutch team trainer Sjef Janssen has been weeding out students to reduce his band to just three or four. After Patrk Kittel's break from long-time coach Janssen, the world's number one Adelidne Cornelissen has announced that she and Janssen have gone their separate ways.
Dutch equestrian magazine De Hoefslag went public with the news that Cornelissen and Janssen ended their partnership. The 32-year old Cornelissen is the 2012  Olympic silver medallist. At press conferences  she regularly attributed her major progress and success aboard Parzival as well as her leap in scores and on the rider's rankings to Janssen's help. Now she has decided to break the bond.
Janssen told Hoefslag that because of private reasons and him redefining his priorities, he has said goodbye to several top students. Janssen has reduced his band to "only those who can come over to train very frequently and with whom I can work according to a strict frame."
Janssen's current top students include German Matthias Rath and Australia's Kristy Oatley. Janssen's partner Anky van Grunsven trains Spanish Morgan Barbancon and Madeleine Witte-Vrees. The 62-year old trainer has been struggling with health issues after being operated on a benign brain tumor.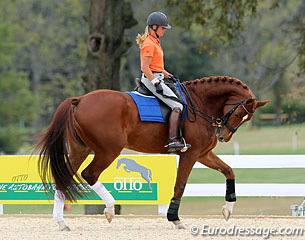 Cornelissen told Hoefslag that she quit training with Sjef after the 2012 Olympic Games. "It's true. I haven't been to Sjef's since the Olympics," she said. "I've had much success thanks to him and therefore think it's a pity. Now my boyfriend Sjaak is the one helping me from the ground. He knows darn well how to warm up a horse and my recent scores prove that it's not going too badly. But I am keeping my eyes and ears open for a possible new trainer."
Under Janssen's tutelage, Cornelissen won team gold, individual gold and silver at the 2009 European Championships, team and double gold at the 2011 Europeans, and team bronze and individual silver at the 2012 Olympic Games. At the 2010 World Equestrian Games she was eliminated when Parzival bit its tongue and bled from the mouth in the Grand Prix test. In 2011 and 2012 the pair won the World Cup Finals.
Source: De Hoefslag
Photos © Astrid Appels
Related Links
Cornelissen's Fitness Program: "Train Hard or Die"
Cornelissen Back on Top as World's Number One on FEI Dressage Riders' Ranking
Cornelissen and Parzival Pass 2012 Olympic Go-See Trial in Ermelo
Parzival Not Competing at 2012 Dutch Championships
Adelinde Cornelissen, Head Turner of the 2008 CDIO Aachen