Danish Warmblood Breeding News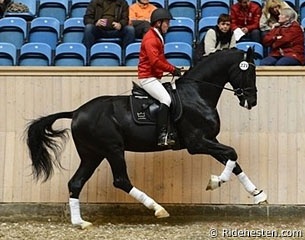 Andreas Helgstrand's and Arlette Jasper-Kohl's 3-year old Danish warmblood stallion Sezuan (by Zack x Don Schufro) became the 35-day Danish Autumn Stallion Performance Test winner with a record breaking result of 987.5 points out of 1,000.
The black stallion, whose DNA test recently proved that he's not sired by Romanov but by Zack (by Rousseau x Jazz), scored ten times 10 and three times 9.5 on his testing. On the final testing day the trainer judges and test riders agreed that this stallion has world class gaits and potential.
Sezuan, who did not become a premium stallion at the Danish licensing because he has a remark for OCD in his knee, scored 10 for walk and canter, 9.5 for trot, 10 and 9.5 for rideability and 10 for temperament.
Dressage judges Ulrik Sørensen and Kurt Christensen have never given such high scores as for this stallion. They joined performance test riders Torben Frandsen and Michael Tourbier in praising the stallion for his energetic, uphill gaits, and his self carriage. The Danish Stallion Licensing Committee does not award any scores at the testing, but just observes. On the final day of the performance testing the dressage horses were ridden by guest judge rider Jan Christensen.
The second highest scoring stallion at the autumn testing was Blue Hors Zatchmo (by Zack x Donnerhall) who totalled 872.5 points. He scored 8 for walk, 8.5 and 9.0 for trot and 8.5 for canter.
The third highest scoring horse was the 2012 Danish warmblood licensing champion Zorba Højris (by Zack x Romanov). The chestnut stallion totalled 861 points and got 9 for walk, 7.5 and 8.5 for trot and 8.5 for canter.
The 4-year old Denver TT (by Jazz) scored 832 points and passed the performance testing, but he still needs to appear in front of the Danish Licensing Committee in order to be approved for breeding.
Complete results: 3-year old stallions - 4-year old stallions
Photo © Ridehesten.com
Related Links
Sezuan Sold to Patrik Kittel's Sponsor Arlette Jasper-Kohl
DNA Research Reveals New Sire for Licensed Danish Warmblood Stallion Sezuan
Sezuan Stands Out at 2012 Danish 10-day Stallion Performance Test
Zorba Hojris, Champion of the 2012 Danish Warmblood Stallion Licensing