2012 CDN Toronto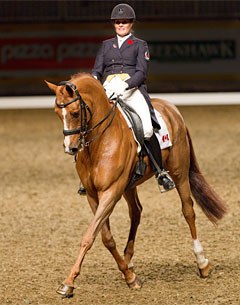 It was Ashley Holzer's night to shine, and shine she did, with her long-time partner Pop Art piaffing and passaging to one last victory together at the 90th Royal Horse Show in Toronto, Canada on 8 November 2012.
While the scores for tonight's $20,000 Dominion Regalia Royal Invitational Dressage Cup Freestyle to Music were closer than might have been expected, the level of confidence and maturity which exuded from Holzer and Pop Art put them in a class of their own. It takes a lot of guts to passage into piaffe at "C" (smack in front of three judges.) If you're going to do it there, you had better do it well. Holzer and Pop Art did it flawlessly tonight.
"I think tonight, "Poppy" did the best he's ever done," said Lorraine MacDonald, the judge at position "E" tonight. "She rode an extremely technically difficult test and the horse was so fluid and so obedient. It was fabulous. Tonight it was a question of obedience and relaxation - Jacquie Brooks' horse D'Niro was a bit tense, she had a few miscues, she missed her music a couple of times. Pop Art never did - he never missed a beat. Pop Art was the clear winner tonight."
"This is my last show with Poppy," declared Holzer with clearly mixed emotions. "He owes me nothing. He's going to be 16 next year and he's happy and fit and feeling good. It's so great to go out on a high note - so great to have your last ride be one of the best rides you've ever had. He was thrilled to be in front of the crowd. It was easy for me to ride. He wanted to be good. I think that's the best way to say 'that's enough!'"
Runner up Jacquie Brooks officially retired her long-time partner Gran Gesto in a ceremony in the ring tonight, after contesting the class with her London Olympic mount D'Niro.
"D'Niro has wonderful music, and fantastic choreography," explained MacDonald. "On another day, he could easily win. He has great potential, when he's more relaxed, but this is the first time the horse has shown indoors. He was much better tonight than yesterday, which is encouraging."
Related Links
Scores 2012 CDN Toronto
Holzer and Breaking Dawn Top Grand Prix at 2011 CDI Toronto
Holzer Makes it Three In a Row, Rocking Out Dressage Night at 2010 CDI Toronto