Young Guns in Dressage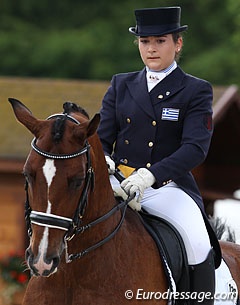 Awarded the best score ever to a Hellenic rider at the 2012 European Young Riders Championships, Greek rider Angela Sklavounos was very happy with her results as this year's Europeans held in Berne, Switzerland. Aboard her 13-year old bay gelding Quanderas (by Quando Quando x Paradiesvogel) she went on to win the 2012 Balkan Championships at small tour level.
Taking up dressage for two main reasons, the 21-year old Angela was following her mother's orders, which funnily proved to be of great benefit to her personal health!
"When I decided to start riding competitively my mother gave me an ultimatum: It could only be dressage because she wanted me to get a good grasp of flat work. After a few weeks of training my perfectionism kicked in and I was hooked."
Dealing with Dyslexia
Angela's mom also hoped it would help her daughter with her dyslexia, "for which it did wonders," the rider said. While most peope think that dyslexia affects only reading, writing and mathematics, the truth is that it also affects many other aspects of a person's everyday life. Angela knows that for a dyslexic person everything requires double effort, whether that is school, dressage, or even getting a driver's license.
"Space and time management, short-term memory, hand-eye coordination, as well as the ability to concentrate on a specific test for a long stretch of time are just some of the other skills that are affected by dyslexia," Sklavounos explained.
Riding in general and particularly dressage is a way for those like Angela to work on those difficulties without them even realizing it.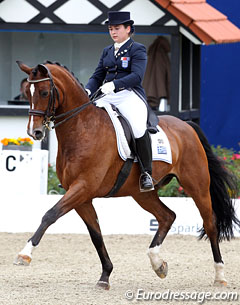 "You still have to try twice as hard but at least you are not alone, you have your partner, the horse," said Angela. "By listening to your trainer while coordinating your body to perform the exercises and at the same time keeping an eye on the other horses around you, helps you improve your eye-hand coordination as well as the ability to process and carry out instructions and information As a result, you are more productive in the classroom, like for instance, copying the notes from the board while listening to your teacher and at the same time processing the information."
Angela adds that in dressage it is rather problematic if you confuse left and right, or you cannot visually calculate distances, like circle sizes, but by practicing and correcting your mistakes you can improve your space management skills.
"You also improve your memory by learning the tests and needless to say you improve your time management skills since you work in a very specific time frame," Angela added. "You just cannot afford being late for your Prix St. Georges."
The horse has played the most critical role in Angela's journey to a better life.
"No horse, to this day at least, has ever condemned me for my spelling! They simply don't care," she stated. "They only care about what you have inside your heart! This may sound simple and obvious, but to a child that has almost no friends and is being labeled 'lazy, stupid or inattentive' it means the world. In dressage training, for the first time in my life, a trainer, as a teacher, gave me praise without "buts" and praise for the effort."
Summarising the role of the horse in her life in just three words, Angela says it comes down to love, understanding and support, the "L.U.S" of it!
"If only the people in the immediate environment of a dyslexic child could show the same L.U.S. it would make all the difference," she said. "This simple mechanism is what makes you never give up in the face of disappointment and 'breeds' this positive kind of obstinacy because you really never stop making mistakes. You just learn to correct yourself without anyone else realizing it."
A life in Germany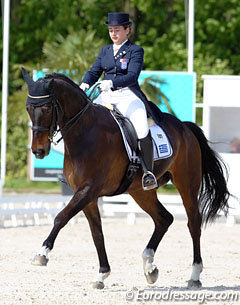 Originally trained by Eleni Myrat in Greece as well as by Tina Sederholm, who was visiting the country from England, Angela has attended regular private clinics with a variety of brilliant training minds.
"In Greece I trained with Joanna Georgopoulou, and in Germany with Mr. Johan Hinnemann, Steffi Wolf, and Alexa Engel. Currently I train with Heike Hamel at Hof Kasselmann stable in Germany under the watchful eye of Mrs. Bianca Kasselmann."
Certain that every trainer has given her an invaluable gift by sharing their knowledge, Angela hopes to stay with Hamel long into the future.
"I am very privileged to have had many good lessons," she said. "It is very difficult to choose my best ever. One lesson that stands out for me was when I tried seven young P.S.I. Auction horses under the instructions of Heike Hamel. I cannot put my finger on a specific thing that I learned but that lesson changed the way I ride. I got the feeling of raw talent and promise for the future. Not coming from a "traditional horse family" for me this was a unique experience."
Enjoying the way that Heike Hamel varies her style according to the situation, Angela has a training program which includes ample diversity. At certain times the pair focus on competition riding, which includes tests, exercises and appropriate posture, and at other times they work on gymnastics and basics.
"Her main priority is for me to ride in a very correct and classical way, but what I really enjoy most, is that she always takes the time to explain - in a way that I can understand-  why she has asked me to do each exercise," said Sklavounos. "I feel like her instructions go directly in my brain and stay there! During a test I can almost hear her: 'lower leg on the horse, small fingers come together'."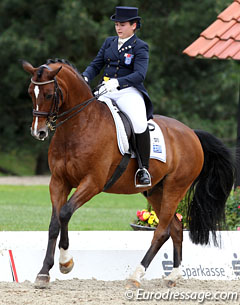 At Hof Κasselmann Angela usually starts her day early, riding her own horses and any other ones that her trainer selects for her.
"In the afternoon I try to walk my horses by hand, do some complimentary physical exercise for myself, as well as watch the other riders train. I always try to keep my eyes and ears open at every moment spent at the stable, it is a learning experience."
On her trips home to Greece, Angela trains at the Hellenic Riding club with Eleni Myrat and despite her continued link to her home nation, all of her horses were bred in Germany.
"One of the biggest problems that I face is the distance from my country to the rest of Europe and the fact that even though dressage in Greece has made great progress over the past 10 years it is not yet fully developed," she explained. "It takes a great deal of effort and dedication from me, my horses and my support team in order to compete Internationally."
Carrying the Banner for Greece
Putting all her attention over the last 14 months into her "golden boy" Quanderas, Angela owes much of her success to this talented dressage master.
"The last 18 months have been very fulfilling for me as I have won with Quanderas 6 classes in two CDIs (Casele di sommacampagnia, Italy and Radzionkow, Poland) and have been placed 3rd and 4th in Moorsele, Belgium and also several S classes in Germany. Also in September I won the title of Senior Balkan champion 2012."
After the recent retirement of her schoolmaster mare Dynastie, Angela is currently in search of a Grand Prix/U 25 horse, to take her to that next step.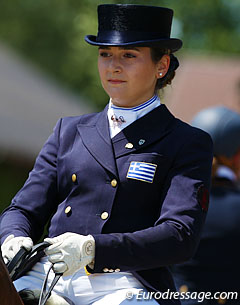 "I also have a 5-year old mare Sanssoucie (P.S.I. auction horse by Sir Donerhall x Sidney) who is under training and I hope she will be ready for the new season."
After her university semester in Greece, Angela plans to return to Germany, do some international shows and also help to promote the sport of dressage, not just for her nation, but for people with her condition.
"I would like to start competing in the U25 and Grand Prix and help increase awareness of dyslexia. The condition made my life so difficult at school, so I wish that no child in the future has to face the humiliation that I, and many other children, have suffered," said Angela, whose ultimate competitive goal is riding for Greece at the World Equestrian Games or Olympics.
Angela feels it is not well known to what extent riding helps dyslexia.
"That is why I have made it a personal challenge and goal to share my experience with people in the hope of making more children believe in themselves, discover this magical bond, and make themselves and their parents smile while discovering their true potential. I managed to rise from being a lonely, unhappy "labeled" child, to a happy successful University student, while making great progress in my sport, despite all the difficulties I faced, and am still facing. Each child is a star. And stars are meant to shine."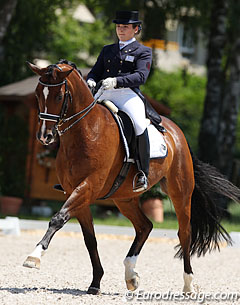 Claiming that no dyslexic achiever totally "owns" their achievements, Angela feels a part of her success must be "returned" to other children struggling with the negative experiences that these learning differences cause, so that they don't have to suffer through school and early social life.
"Dyslexic achievers have a mission to create more awareness for this condition," she said. "I believe greater awareness can bring about more Love, Understanding and Support, and make these children feel appreciated, motivate them to keep on trying, so they can achieve great things in their lives. Having the opportunity to be heard by more people is a very strong second motive for me to try harder and become better."
by Sarah Warne for Eurodressage
Photos © Astrid Appels - No Reproduction Allowed!
Related Links
Greek Riders Claim Lion's Share of Medals at 2012 Balkan Dressage Championships
Photo Report: Dutch Young Riders On a Roll at 2012 CDIO-PJYR Moorsele
Fantastic Conclusion of 2011-2012 Ankum Dressage Club Competitions
Timpe and Dixieland Kick Off Fourth 2011 Ankum Dressage Show with a Win