2012 FEI World Dressage Challenge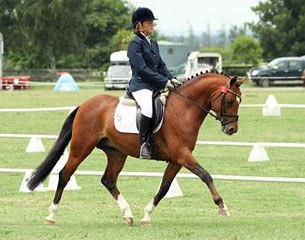 The New Zealand Dressage selectors have named 40 combinations to contest the 2012 NZL section of the FEI World Dressage Challenge in Taupo at the National Equestrian Centre on Saturday 10 November 2012.
New Zealand will be the first country to be judged this year so riders will just have to throw down the gauntlet and set some high scores for the other countries to chase in an effort to retain the team title.
The trot up will be on Friday afternoon 9th Nov following a practice run of the World Challenge test, and the competition which offers free admission, will begin at 8am in Saturday 10th . The prizegiving will be at 4pm followed by a video review of the day's competition for riders, judges, coaches  & all interested dressage enthusiasts
On Sunday 11 November 2012, the 16 best performed riders will be luck enough to receive a one on one training session with one of the World Challenge judges. These sessions are free to watch for all interested
"Dressage wishes to thank the sponsors for this event , primarily the FEI who organise the competition and sponsor the international judges travel, the Lion Foundation who have granted funding to support the event and the class sponsors for each section of the event," said the press officier of the New Zealand Equestrian Federation.
The FEI World Dressage Challenge aims to give the less experienced dressage riders who, under normal circumstances, cannot take part in international Dressage competitions and live in the more remote countries, the opportunity to compete internationally without having to leave their own country.
CHILDRENS PRELIMINARY
1      Aitken                    Willa            Maxwelton Roger Rabbit                            
2      Alexander               Sophie         Picture Me Painted                                    
3      Lally                      Caitlin          Prima Donna Girl                                       
4      Ryan                      Kayleigh      Storm Magic                                             
5      Sinnamon                Chelsea       Kirkwood Appeal                                       
6      Vollebregt               Danielle       Woodlands Park Whisky Galore
ADULT PRELIMINARY                          
1      Hamilton                 Alison          Inconspicious                                            
2      Kann                      Simone        Balmoral Henton                                        
3      Waihi                      Renee          Entourage                                                 
4      Wilson                    Cate            Frederico
Reserve (for Balmoral Henton)    
Kann                      Simone        Balmoral Oakey
CHILDRENS ELEMENTARY          
1      Dolley                      Lucarne       Sherwood Travelman                                  
2      Donovan                  Rebecca      Whistledown Kristopha                              
3      Faulkner                  Renee          Boots and All                                            
4      van der Horst           Hannah        Spiceacool                                                
5      Moss                       Lily              Te Peka Gabana
ADULT ELEMENTARY   
1      Bowden                  Danielle       Armani II                                                   
2      Malcolm                  Julie            Gigolo                                                      
3      Parker-Bansal          Shelley        Dream of Angels                                        
4      Ross                      Sheena        Parkridge Disco SW                                  
5      Kitcheman              Nikki            Fraggle Rock RE
MEDIUM                                                      
1      Clapperton              Alana           Aranui Xcelle                                             
2      Winspear                Jacqui          JW Darjeeling                                            
3      Lloyd                     Angela         AMS Ginsling                                            
4      Blackmore              Tracey         Vollrath Wildfire
Reserve (for AMS Ginsling)               
R     Lloyd                      Angela         Ruanuku R
ADVANCED               
1      Bayliss                   Charlott        JL Champs Elysee                                    
2      Cooper                   Vaughn        Kiteroa Leila                                              
3      French                   Nicola          Don Freese                                               
4      Tomlin                    Susan         Guisto                                                      
5      Baker                     Kylie           Woodsbee                                                
6      DeLangen               Amy            Hilken's Denali                                          
7      Smith                    Tracy           Don Diego DC
PRIX ST GEORGES               
1      Callaghan                Chelsea       Royal Aspen                                             
2      Green                     Shiwon        Da Vinci                                                   
3      Thom                      Chelsea       Ananique                                                  
4      Wallace                   Diane           Caithness Masquerade                              
5      Weal                      Christine      Superior Hit                                               
6      Littlejohn                 Mandy         Angeleen                                                  
7      Pedersen                 Britta           Upendo                                                     
8      Bank                       Andrea         Doringcourt or Northern Fortuous                
9      Smith                     Tracy           APH Sailor
Reserves
R1  Bank                      Andrea         Doringcourt or Northern Fortuous
R2   Wall                       Victoria        Astek Gymnast
R3   Aitken                     Willa            Jubilee Fine Print                                       
R4   Lally                       Caitlin          Prima Bella                                                        
R5   Webb                      Frankie       Northern Ivanthus
Related Links
Louisa Hill Wins 2012 New Zealand Grand Prix Championships
Australia and New Zealand Qualify for 2012 Olympic Dressage
Don Qudos, Ghisella, Bogart Win 2012 New Zealand Young Horse Championships